Author: MSE e-Bulletin 2021
Welcome to our 2021 Outreach Bulletin! This publication is intended to share news stories and features about departmental accolades, research being conducted by MSE faculty, and alumni interviews that highlight our students' diverse accomplishments post-graduation.
We hope that you will find inspiration in the many ways in which UConn MSE continues to grow and diversify while remaining on the cutting edge of research and innovation.
INSIDE
3    Research 
9    Department News
13  Undergraduate Students
15  Senior Design Day
19  Graduate Students
23  Alumni
Author: MSE Assistant Professor Publishes Origami-inspired Research in Materials Horizons
By Gabby Esposito
MSE Assistant Professor Xueju "Sophie" Wang recently published her article entitled "Tailoring the multi-stability of origami-inspired, buckled magnetic structures via compression and creasing" in Materials Horizons. The study was in collaboration with Professor Teng Zhang at Syracuse University and Professor Halim Kusumaatmaja at Durham University, who led the study's theoretical work.
According to Wang, the research originates from origami, the ancient art of paper folding. "It has inspired the design of many engineering structures for a wide range of applications, including deployable systems, self-folding machines, reconfigurable metamaterials, and DNA origami," she says.
A key feature in the design of all these structures is their ability to have multiple stable states. The article lays out the foundation for the rational design of these structures. The work introduces two effective parameters of creasing and compression for tailoring the multistability of origami-inspired structures. Using ribbon structures as an example, a design phase diagram is constructed as a function of the crease number and compressive strain. The results show that the number of distinct stable states can be actively tuned by varying the crease number from 0 to 7 and the strain from 0% to 40%. These two parameters can be easily incorporated in the structure's design to maximize functionality. Diverse examples were designed and demonstrated, from programmable structure arrays to a biomimetic insect and a soft robot, which can be actuated remotely by magnetic forces.
Additionally, Wang's article explores the limits of new designs. Though the article has been published, this is a topic Wang is still working on. "It will be interesting to explore the concept of actively manipulating the number of stable states and their reconfiguration paths in the design of other types of functional structures by using alternative control parameters," she says.
Wang joined UConn MSE in the fall of 2020. She received her Ph.D. in mechanical engineering from the Georgia Institute of Technology in 2016. After completing her post-doctoral research at Northwestern University, she served as an assistant professor of mechanical and aerospace engineering at the University of Missouri, Columbia.  She is the author of over 30 publications, and she holds multiple patents and disclosures. In addition, her research has been recognized through awards from the professional society, including  ASME Orr Early Career Award, ASME Haythornthwaite Foundation Research Initiation Award, and Gary L. Cloud Scholarship Award from the Society of Experimental Mechanics.
Author: MSE Assistant Professor Awarded Twice in a Month for Her Contributions to the Thermal Processing Community
---
By Gabby Esposito
MSE Assistant Professor Lesley Frame recently won both the 2021 ASM Silver Medal Award, as well as the Fluxtrol and ASM International Professor Valentin S. Nemkov Academic Research Award. These were conferred by the ASM International Board of Trustees for her contributions to the materials science and engineering community.
Here at UConn, Frame is the director of the Center for Materials Data Processing. She is also the faculty advisor for the UConn Materials Advantage student chapter, and inspired our new Metalworking club. Furthermore, Professor Frame is now the president of the ASM Heat Treating Society.
Department Head Bryan Huey says, "Professor Frame is not just the elected leader of this major professional organization representing both industry and academia; in fact, she is the first female president since it was established more than 100 years ago in 1913. Lesley is an excellent example of the substantial impacts our MSE faculty are making—to our students, and to our profession."
The Silver Medal is awarded "for noteworthy research and collaborations that merge experiment and characterization of materials, behavior modeling, and data analytics; along with her unwavering support of diversity, equity, and inclusion within ASM international." It is given annually to one academic and one industry professional who are each mid-career.
"I am honored to be selected as one of this year's recipients for the Silver Medal award from ASM International," Frame says.
ASM International also recently announced that Frame was the winner of the Professor Valentin S. Nemkov Academic Research Award, sponsored by Fluxtrol at the Heat Treat 2021.
The competition judged the research that academics have worked on with their students. Frame was chosen for the quality and impact of her contributions to research that was part of the traditional oral program, Fluxtrol Student Poster Competition, the inaugural Strong Bar Competition, and her support as a member of the event's organizing committee and acting Session Chair.
"We are so pleased that Professor Frame has been recognized for her combined intellectual and leadership accomplishments. With major awards also announced in just this past year to professors Cato Laurencin, Jasna Jankovic, and Sophie Wang, MSE clearly features outstanding role models for our growing and diversifying student cohort," says Huey.
Author: MSE Students' Fluxtrol Research Makes Semifinals at National Heat Treat Society Conference
By Gabriela Esposito
Two MSE students made it to semi-finals at the 31st Heat Treat Contest which took place Sept. 14 and 15 in St. Louis. This year, the student/emerging professional portion of the conference hosted the Fluxtrol Student Competition and the new ASM Heat Treating Society Strong Bar Student Competition.
The talented group of rising materials engineers from UConn consisted of three undergraduate students, three graduate students, and one recent graduate.
The Heat Treating Society as a whole serves professional and aspiring material engineers who work in thermal processing. The annual competition offers awards and widespread recognition to young innovative scientists. Through this, the program seeks to encourage the participation of younger generations in the ASM Heat Treating Society. It also provides a pipeline to worldwide opportunities in the thermal processing community.
Recent MSE graduate Brittany Nelson and MSE senior Ryan Gordon were the two participants from UConn who made it to the semi-final round of the Fluxtrol Student Research Contest. "Unfortunately, they did not make it to the final winner slot, but everyone did a great job and they had some steep competition," their faculty advisor, MSE Assistant Professor Lesley Frame, says. Frame currently serves as the first female Vice President of the Heat Treat Society.
Quenten Dean, the student group leader, was one of the three undergraduate students who attended the competition. His group also included Ryan Gordon, Cole Accord, Matthew Carragher, and Jack Gibbons. According to him, the contest he participated in was to see who could make the most ductile metal bar with the highest applied load. This was tested by performing a three-point bend test.
"We prepared by first researching as much as we could the best ways to heat treat this bar to get the desired properties while also meeting the hardness requirement," Dean says. After this, the team received their bars from Professor Frame and with only a week left, were able to quench, temper, and test.
According to Dean, the team had a few problems during their competition setup because the equipment hadn't been calibrated in a long time. The biggest problem was that their oven failed to display an accurate temperature. Because of this, it was difficult to harden the samples.
However, the team did not let these difficulties hold them back. "We had to use our best guess and play it on the safe side for our hardness and not go too soft," Dean says. Ultimately, he says the team received great results in terms of the amount of martensite produced by tempering the bars.
It was at the conference that the team finally got to see their work put to the test. Dean says that though they didn't achieve the highest load, he was proud of their results.
Author: MSE Alumnus and Thermo Fisher Scientist Shares Experience Switching from Research to Business
By Gabriela Esposito
Every phone, car, computer, and even washing machine uses semiconductor chips. Though the chips are small and cheap compared to the final product, they play a vital role and in many ways are key to our economy. As a product marketing manager at Thermo Fisher Scientific, MSE Alumnus Justin Roller works on marketing and product development for an automated transmission electron microscope which helps the semiconductor industry produce more efficient chips at higher yield.
One could summarize Roller's background by saying that he has lived all over the map. After graduating from Georgia State University with a bachelors in chemistry, he received his master's in materials engineering from the University of British Columbia. Prior to pursuing his PhD at UConn MSE, he worked for the Government of Canada at the Institute for Fuel Cell Innovation in Vancouver. While working on his PhD, Roller collaborated closely with MSE professors Radenka Maric and Barry Carter. After graduating in 2013, he moved from the East Coast to Oregon where he started his career with Thermo Fisher Scientific. 
However, it was not always in Roller's plans to settle in Oregon. It was through Professor Carter that he became acquainted with an employee of Thermo Fisher. Three months later, Roller got a call from the company with a job offer. 
Eight years later, traveling is still a major theme in his life. According to Justin, it is one of the coolest aspects of his job with Thermo Fisher. "I've travelled all over China, Japan, Taiwan, Korea, and the US. Our manufacturing site is in Eindhoven, Netherlands so I usually fly there several times a year as well," he says. Throughout all these places, Roller has helped achieve Thermo Fisher's mission of using science and technology to make the world a safer, healthier, cleaner place. 
Similar to his geographic presence, Roller's job experience has made some leaps. He has gone from purely engineering to dealing with the business side of science. As a product marketing manager for the unique automated transmission electron microscope, he is now in charge of both the business and technical sides of the product. 
"One moment I'm on a call with a customer trying to understand their pain points or to share a product roadmap. In the next call I might be presenting to our VP about revenue and gross margin targets, or pitching ideas for the next iteration of the product to other areas of the organization," Roller says. 
However, this multifaceted approach took some getting used to. "For me, the jump to product marketing was a big change and I was afraid I might lose my technical edge," he says. After all, Roller's career had thus far been defined by materials science. To this day, his favorite and most significant contributions are ones he made in the field. "I co-authored a review paper on cathode materials for solid oxide fuel cells with colleagues at the National Research Council Institute for Fuel Cell Innovation back in 2010. It has since been cited by over 1000 peer-reviewed papers. However, my favorite paper was submitted to the Journal of Materials Science about the effects of selected process parameters on a jet-diffusion flame for platinum particle formation," he says.
Ultimately, Roller found that moving on from purely science did not mean he would lose his technical instinct. "Instead, I gained a business acumen," he says. 
Of course, the bridge to business was not a perfectly smooth process. Roller's boss gave him advice as he switched from applications to product marketing. According to him, his boss said, "Justin, you are going to make mistakes. Don't be afraid and don't expect to do a perfect job all the time. Just get back up and learn from those mistakes so that you are better prepared next time."
Though he has changed jobs, roles, and geographic states, Roller emphasizes the importance of moving on, but not forgetting. "The key is to keep things fresh, never burn bridges, and know when to move on," he says. 
Roller himself kept working with UConn professors and facilities after leaving. "I continued to collaborate with UConn Professor Radenka Maric and Emeritus Professor Barry Carter, Brookhaven National Labs, and former UConn Professor Bill Mustain for some time after graduating. Having access to some top-notch microscopes was like my version of having a luxury car. I enjoyed helping out their graduate students while also satisfying my own intellectual curiosity," he says. 
Reflecting on his own experience, Roller advises current MSE graduate students to network with each other, reach out to previous students, get involved in projects that have a direct industry linkage, and leverage the contacts that your advisor shares. "Don't be afraid to try something new even if it's not in your focus area. Finally, go out in the world with a positive attitude and have fun," he says. 
Author: Laurencin is Only US Professor Chosen as Royal Academy Fellow
You will be redirected shortly.
Laurencin is Only US Professor Chosen as Royal Academy Fellow
Author: MSE Welcomes Administrative Services Assistant Sarah Moore
The Department of Materials Science and Engineering extends a warm welcome to new staff member Sarah Moore, who takes over as the administrative program support for MSE.
Sarah joins the department with a strong background in administrative and customer services to local businesses and international companies.
She is married to John David Moore, a supervisor at G. Donovan Associates and is mother to a teenage son and daughter. If she is not at work, she likes to spend time with family and friends. She enjoys spending time at the pool or beach, walking her dogs, and camping.
Please join the department in welcoming Sarah!
Author: A Tribute in Memory of John Eric Morral
To the MSE community,
John Eric Morral, prior MSE department head as we made the important step to add an undergraduate degree in 2003, passed away earlier this past year. He became a fellow of ASM International in 1995, was awarded the Gibbs Phase Equilibria Award in 2017, and for many years edited the Journal of Phase Diagrams and Diffusion. Professor Pamir Alpay, Associate Dean, notes "John was an excellent researcher and a great mentor. We will all miss him." Professor Mark Aindow, Executive Director for Innovation External Engagement, and Industry Relations, recalls "John was truly a gentleman and a scholar. Although he was very modest about his achievements, his contributions to the field of metallurgical thermodynamics were seminal. His work on complex diffusion problems and phase diagrams in particular received international recognition."
There will be a memorial service at the Schoedinger Funeral Service Northwest facility in Columbus Ohio on July 30. There is also a website with his obituary and a "tribute wall" for those who wish to learn more, or to leave a memory for his wife Dot and extended family and friends to enjoy.
While John and Dot do not have one favorite charity, they regularly supported both The Cancer Society and Habitat for Humanity. If you wish to make a donation in his memory to UConn MSE in recognition of his profound influence on our program and alumni, please do so via the UConn Foundation. We recommend giving to the MSE unrestricted fund, in memory or honor of John, upon which proceeds will explicitly go towards advancing materials science through student scholarships and a special guest lecture in his name.
Terry Hennesy, PhD student with John and later an adjunct faculty member for our department, remembers "John was the smartest, wisest man I ever knew, and one of the few people I actually wanted to emulate.  Although I could never approach his prowess in theoretical physical metallurgy, I tried to adopt his gentle, encouraging teaching style, his willingness to embrace changing technology, his friendly acceptance of newcomers, his open-minded curiosity about subjects beyond metallurgy, and his stubborn commitment to his principles." Hal Brody, distinguished professor, summarizes, "we were lucky to have worked and studied with John."
Author: NAACP to Present Prestigious Spingarn Medal to UConn's Dr. Cato T. Laurencin at 112th Annual Convention
You will be redirected shortly.
NAACP to Present Prestigious Spingarn Medal to UConn's Dr. Cato T. Laurencin at 112th Annual Convention
Author: University of Connecticut solar tree will offer campus visitors a place to recharge
You will be redirected shortly.
University of Connecticut solar tree will offer campus visitors a place to recharge
Author: MSE Alumnus Leads Quality in Rolling at the World's Largest Aluminum Rolling Mill
By Katie Nejati, Student Written Communications Assistant
While working on his doctorate, Dr. Maddala had been inspired by his advisor, Professor Rainer Herbert, to continue research after obtaining his PhD. "Professor Hebert always mentioned the importance of translating fundamental research into applied research and real-world problem solving" he said. His doctoral dissertation focused on "Pathways to improve the sliding wear behavior of bulk metallic glasses: A case study of Cu- and Fe- based bulk metallic glasses". This work focused on optimizing the microstructure by thermal treatments, in order to grow a controlled number and size of nanocrystals in the amorphous matrix and/or adding suitable alloying elements to improve the wear behavior. This introduced him to the field of Tribology, which he works with even today.
After graduation at UConn, he took a role as a Senior Scientist at the Alcoa Technical Center in the Tribology and Surface Science group supporting process improvements in rolling. "This job opportunity was possible due to the connection that Professor Brody provided. That is the value of having strong industry connections. The UConn MSE program does a great job in establishing those industrial relationships" he said. His role at Alcoa Technical Center was initially an extension of what he researched at UConn, so his education provided a jumpstart to his career. It provided him with a good understanding of tribology, and especially structure-property-processing relationships. But in addition to his fundamental knowledge, the emphasis on real-world applications was critical as he established himself in industry.
His work at Arconic Technology Center (previously Alcoa Technical Center) resulted in numerous internal publications, 7 trade secrets, and 4 patents. After almost seven years in the research center, Dr. Maddala decided to move to manufacturing. "At the tech center, we worked on great projects, but the success rate of commercialization was low. I wanted to understand what is critical for manufacturability. To get that experience and take the learnings back to R&D I moved to a manufacturing role. Happily, I had strong support from the leadership to make this career move" he stated.
Dharma's current role at Arconic Davenport Works, as the Lead Rolling Metallurgical Engineer, supports quality across the entire rolling department. His team helps develop and optimize process parameters to manufacture product on a commercial scale, serving customers in aerospace, automotive, and industrial markets. Experience in R&D, manufacturing, and operations has furthered his career greatly. Dr. Maddala is now pursing an MBA with certifications in Leadership and Business Analytics at the University of Iowa with sponsorship from Arconic. This is providing more in-depth business knowledge, which will assist him with his goal of becoming an executive at the Arconic Corporation for Technology Development and Commercialization.
From graduation to his current role at Arconic, Dr. Maddala is grateful for the UConn MSE department in helping him get established in the industry. "It is so important to have a good professional network. UConn's Materials Advantage club, and participation in other professional society activities, helps establish that platform" he stated. Following his UConn graduation and moving to Pittsburgh, he immediately joined the local ASM chapter as a volunteer. Very quickly he took on several leadership roles, ultimately as the chair for one of the largest chapters of ASM international. This experience helped him further develop his leadership skills, and brough him recognition with two prestigious awards from ASM International (Emerging professional achievement award in 2015, and Bronze Medal in 2019).
"MSE is proud of Dr. Maddala, as we are of so many of our alumni, as they continue to rise in their professions and contribute to their professional societies," relates Department Head Bryan Huey. "While our undergraduate program is a little over 15 years old, UConn has been training masters and PhD materials engineers for more than 50 years. Dharma is a terrific example of what is possible for our students and the impact they can make as graduates.
Author: Graduate Student Contributes to Innovation in the Aircraft Industry
---
By: Katie Nejati, Student Written Communications Assistant
Habiba always had a fascination about experimental and laboratory-based research work. Her attraction to research started during her graduate studies in her home country, Bangladesh, which focused on ferromagnetic materials for cancer treatments and for ecofriendly refrigeration systems. While conducting this research, she realized that the impacts of materials scientists in our society are not confined just to engineering, but actually in every sector of life either directly or indirectly. This influenced Ummay in pursuing a career in materials science and engineering (MSE).
Habiba earned her Bachelor's and Master's degrees in applied physics, electronics and communication engineering at the University of Chittagong, Bangladesh. As her research drew her interests towards materials science and engineering, she decided to continue her education at the UConn MSE department. She had also been attracted by the department's large pool of talented faculties and the state-of-the-art research opportunities. Although Habiba entered the PhD program with a non-materials science background, she felt that the core courses were structured appropriately for students like herself. "The comprehensive nature of these core MSE courses helped me well in settling in to MSE based research," she said.
Habiba's current work is exploring the application of additive manufacturing in the aircraft industry. Working under the supervision of Professor Rainer Hebert, she especially focuses on the surface and thermal properties of powder using the ESI Additive Manufacturing system. This is a prototyping software which simulates a product's behavior during testing, manufacturing and real-life use. Powder spreading in particular is a crucial part of the additive manufacturing process, which if implemented well can diminish the weight and cost of various aerospace components and hence can strongly impact the industry.
Habiba shares that, "I have an 8-month-old boy. There is a myth for women that they have to choose between PhD degree and a family. Many people think that if they want a family, they do not have what it takes to be a successful researcher. This simply is not the case. There are many women and men who are both devoted parents and partners, and also highly successful researchers."
Habiba's career goal is to do something significant and revolutionary for the aircraft industry through her current research. In addition to the inspiration which comes from her research topic, and the broader support from UConn's MSE department, she appreciates the expert guidance from her advisor Professor Herbert. "I am very fortunate to get the opportunity to work with a very supportive and professional supervisor, who has provided us a very positive work environment with strong connections to industry" she said. "I absolutely love what I do, and I am lucky to be able to work on what I love."
Author: Parachutist Shatters State Record At Ellington Airport
You will be redirected shortly.
https://patch.com/connecticut/ellington-somers/parachutist-shatters-state-record-ellington-airport-video
Author: MSE Graduate Student and Army Soldier Facilitates Mass Vaccination Site
---
By Gabby Esposito, Student Written Communications Assistant
As much of Connecticut becomes vaccinated against the coronavirus, many of the mass vaccination sites are handled by not just healthcare workers but also military personnel. Materials Science and Engineering graduate student Michael Fazzino is one of the soldiers who ensures the safety and efficacy of the Middletown mass vaccination site.
After earning his bachelor's degree in the spring of 2019 from UConn MSE, Fazzino took a semester off to undergo military training before he would continue as both a member of the armed services and a UConn MSE graduate student this past winter.
Though this was a progression in both his academic and military careers, managing the two roles was nothing new to Fazzino. He had been managing higher education and a role in the army since he began both in the fall of 2015. He started the latter as a member of the Army Reserve Officer Training Corps or ROTC.
This decision may seem overwhelming to some, but Fazzino was driven by an important influence. "My uncle was the main reason I joined the Army, as he is a veteran and a large influence on my life," he says. 
Quickly, Fazzino was thrown into both graduate research and his work for the military. "I got orders the first week of February to assist with the vaccinations in Connecticut, and our Middletown Wesleyan mass vaccination site opened about a week after that," he says.
Fazzino then assumed his role as 'Officer in Charge' or OIC by day, and graduate researcher by night. "On an average day I will spend most of my time at the vaccination site, and I do what I can when I get home," he says. He is responsible for managing all of the soldiers at the site. "I act as a bridge between the soldiers and civilians, and as a point of contact at the site for other military personnel," he says.
As an MSE graduate student, Fazzino has been focused on an Air Force Research Lab (AFRL) project with Professor Serge Nakhmanson's research group collaborating with the Additive Manufacturing and Materials Data for Manufacturingteam.
Fazzino's main research project involves simulating various aspects of additive manufacturing processes with Discrete Element Method (DEM) software. This is in partnership with Professor Rainer Hebert's research group. Simultaneously, he is involved in activities for the Metal Casting Group under the guidance of Professor Harold Brody.
"I am very impressed by Mike's dedication to his duties both as a grad student and an Army officer, as well as his eagerness to learn as much as possible from MSE faculty and peers," Nakhmanson says. According to Nakhmanson, though he appreciates Michael's service, he hopes he will return as a full time student once his duties are complete.
Author: MSE Alumnus Tackles Aerospace Industry Issues With Aero Gear in AFRL and UConn Collaboration
By Gabby Esposito. Student Written Communications Assistant
When your car breaks down, one typically pulls to the side of the road and the day might be ruined. However, a plane does not have this option. "We have a saying that 'there is no breakdown lane at 30,000 ft,'" Aero Gear engineer Patrick Brueckner says.
Brueckner graduated from UConn Materials Science and Engineering in 2013 and has since worked at Aero Gear, an aerospace engineering and manufacturing company based in Windsor, Connecticut. As a materials engineering manager with the company, Brueckner oversees much of the crucial work done to ensure air travel's safety and success. "Our gears are flying all over the world in different applications in helicopters, fighter jets, and commercial planes. An engine is set up in such a way that if one of our gears fails the engine loses power. So, we take our job really seriously to make sure those parts never fail," he says.
While the significant impact of the company can be simply conveyed, the complex work that Brueckner encounters every day is harder to appreciate. According to Brueckner, his confidence took a hit when he first joined the company because of this. "When you leave school you don't know what you don't know, so you can get humbled really quickly," he says.
Ironically, what got Brueckner hired was his familiarity with a specific technology with which Aero Gear was not experienced. In fact, he brought an entirely new background as the first materials science engineer hired by the company.
When he joined Aero Gear in 2013, the company was interested in using a new carburizing machine. Through carburizing, gears are made harder and more wear resistant. The old way of carburizing was through an ambient atmosphere furnace while the new system employed a vacuum furnace. Brueckner says he did not have much experience with the vacuum furnace, but his experience as an MSE graduate was considered valuable in helping the company understand processing with the new machine.
Since then, he has gone from an engineer developing processes for the new vacuum furnace to managing the engineers and operators who work on the furnace. He also manages their metallurgical lab.
The progress he has made is even more impressive given his background. Up until his sophomore year at UConn, Brueckner was unsure of what he wanted to do and was leaning towards a business degree. According to Brueckner, it was when his parents showed him an MSE article that he thought, "this is cool" and the decision was made.
Brueckner quickly immersed himself into UConn MSE joining Professor Pamir Alpay's research group and working with Professor Harold Brody on castings. "Both had a huge and lasting impact," Brueckner says.
Less than two years after joining the major, Brueckner had the confidence to travel abroad to continue his undergraduate research there. Having been born in Germany (moving to the U.S. when he was eight), it made sense that he go back to his roots. In 2011, he worked as a research assistant with Lifetex Safety in Germany, a company that produces technologically sophisticated protective clothing for a wide range of applications.
Though the material he learned during his internship is not related to what he does now, Brueckner says the experience was valuable and is something he recommends for all MSE students. "It is definitely a good life experience. You must be open minded. People around the world approach problems differently. and seeing how someone else approaches a problem may help you in the future," he says.
Aside from studying abroad, Brueckner recommends students take the time to immerse themselves in activities outside of MSE. Having played soccer all his life, he found time to continue his hobby throughout and after college as a referee and coach in his free time. According to him, doing so can be extremely tough in college especially for MSE majors.
However, it is also very important. "Keep in mind that you have to be a well rounded person. Half of your job in industry is interacting with people. You could be book smart but if you don't know how to interact with the boss or coworkers then you won't really get anywhere. So, soccer and other hobbies or extracurriculars help you develop those skills," he says.
His confidence in MSE has solidified since college and become his guide through extremely complex projects. "Some of the parts are hilariously complicated," Brueckner says. "You go from this problem that seemed insurmountable–like there is no way you can figure out how to make it to the point where we could get to full production mode–and we are one of the main suppliers for some of these parts. I think that is one of the coolest aspects of the work I get to do."
Brueckner recalls one of his toughest experiences in which Aero Gear was hired by a company to work on creating a particular part. "We found a way to manufacture it that the company didn't even know was possible. Aero Gear made it and it was such a shock to the company that they actually ended up changing the blueprint for us," he says.
Currently, many of the projects he is involved with at Aero Gear have been in collaboration with UConn and the Air Force Research Laboratory (AFRL). 'Project Daedalus' is an expansive effort by UConn and the AFRL to build relationships with small and large Connecticut businesses in the aerospace industry to tackle bigger industry challenges. The project also hopes to educate and foster interest in these issues among Connecticut students.
According to Brueckner, within Project Daedalus, Aero Gear has focused on gauging the impact of stress during manufacturing on how a gear performs. This is mostly being done through simulations, according to Brueckner. "This is a significant problem as determining and overcoming the impact of residual stress is a time and cost-intensive process,"UConn Today says in an article about the project.
Author: Jumping for a Cause | Skydiver hopes to Break State Record to Raise Funds for Local Fire Department
You will be redirected shortly.
https://www.fox61.com/article/news/local/connecticut-skydiver-state-record-attempt-fundraises-ellington-fire-department/520-62bf310a-0fcc-43d7-9db1-7f0cc22c68bc
Author: MSE Seniors Redesign Alloy Casting of Senior Souvenir
---
By Gabby Esposito, Student Written Communications Assistant
During their final semester as UConn, Megan Hurley and Marin Bolko decided to do something different for the final project they would do as undergraduates. Due to COVID-19, their final year was anything but normal and nothing UConn had experienced before, so the mission to redesign the traditional senior souvenir was a fitting project.
The classic souvenir is a brick casting which reads 'UCONN.' Hurley and Bolko decided that they wanted to transform this version into a sand casted brick which would instead read 'UCONN MSE '21.' This brick would be handed out to all MSE graduating seniors.
Hurley and Bolko had taken Professor Harold Brody's Alloy Casting course the year prior which was when the project commenced. At the time, Brody had suggested a project to Hurley and Bolko which would involve comparing sand casting to investment casting of the souvenirs based on quality of the cast and efficiency of production.
The project, like the bricks before sanding, was not a smooth process. Difficulties began not long after the project's idea came to light, when the coronavirus pandemic interrupted the process. According to Bolko, the bricks were supposed to be for the MSE graduating class of 2020. Unable to continue the necessary in-person work, Hurley and Bolko put the project on hold.
However, instead of letting the project completely end, Hurley and Bolko picked up their work for the 2021 seniors; the class that they would also be graduating alongside.
Aside from the pandemic, Bolko and Hurley admit they confronted other obstacles throughout the project's process. The design went through three iterations before the final design was successfully tested and put into production.
Despite any difficulties, the project became a success and the moments of frustration left Bolko and Hurley with more experience. "Things won't go the way you planned, expect something to go wrong the first time you do something new," the two wrote in their project summary.
They finished making plaques just in time for the School of Engineering commencement ceremony. The souvenir plaques could not be distributed in the typical way to MSE graduates in Rentschler Field because of pandemic health precautions. Instead, graduates drove to a nearby parking lot near the field before the ceremony where Hurley, Professor Brody, and MSE Department Head Professor Bryan Huey waited to distribute plaques and to congratulate the 2021 MSE graduates.
Ultimately, the impact of the project will last beyond the brick itself. "Marin and Megan set what I expect to be a tradition for MSE majors: to design, fabricate, and distribute UConn-MSE plaques to the graduating class. We can expect each graduating class will improve on the prior year's design; and like Megan and Marin they will learn that making things is fun and that manufacturing is both art and science," Brody says.
This coming fall (with souvenirs in hand), Hurley will be entering the PhD program in MSE at the University of Florida and Bolko will be joining Haartz Corporation in Acton, Mass. as a Process Engineer.
Author: MSE Alumnus and Current GE Engineer Returns Virtually to UConn Through MEng Program
By Gabriela Esposito, Student Written Communications Assistant
In spring of 2015, James Kos was an MSE senior participating in the UConn Spring Career Fair. According to him, he never would have expected that by the end of the day he would have an offer letter from General Dynamics Electric Boat.
Six years later Kos is no longer a senior in college but instead a Materials Application Engineer in the R&D division of General Electric Aviation in Cincinnati. He has also recently received his Masters Degree through the UConn Masters in Engineering (MEng) program; a graduate engineering program often preferred by professionals who are already employed.
In between his current successes and those six years ago, Kos has enjoyed four different roles within General Dynamics Electric Boat and General Electric Aviation. While some might view his job switches in a negative light, Kos does not see it that way. "There's an impression that jumping between roles is bad for your career, but I found it was quite the opposite. The cross training and connections have helped propel my career trajectory," he says.
The necessity to adjust to a new environment and colleagues when switching roles can be unattractive to some. Moreover, being challenged with the discomfort of the unknown is an experience most tend to shy away from. To Kos, however, discomfort and the unfamiliar are to be embraced. "I would actually suggest deliberately seeking out roles and tasks you are uncomfortable with, it forces you to learn and grow."
Kos may not have given the same advice a couple years ago; this mindset and his confidence have developed with each job experience. "I've become less concerned about appearing 'smart' to my peers and trying to give answers to people right away. Learning how to say 'I'm not sure, but I'll get back to you' without feeling guilty, even when I'm 90% sure, took some time. I learned that you aren't judged or punished for doing that, and it is in fact encouraged to go take the time to double check and maybe get a 2nd opinion," he says.
Working in teams in the MSE department, students are typically with others who have relatively similar academic skills and interests. Kos says this is not the case in his current job where he often works in teams where the others have very different skills, interest, and roles. "Being a materials representative on design projects—sometimes the only one—really pushed me to learn how to work in multidisciplinary teams. This taught me the importance of self-study, as well as knowing when to seek out help from other materials engineers and mentors," he says.
In his current role as a GE Aviation Materials Application Engineer, his two major responsibilities involve performing materials development (i.e. design of experiments, testing, failure analysis, and characterization), and acting as a bridge between research projects and the design teams.
Kos is most excited by the work he does on additive manufacturing or 3D printing for metallic components. "It may seem strange but the most exciting thing to me is how far the technology has left to go," he says. According to Kos, getting to be a part of the future of materials and knowing where and what they will be used for is one of the best aspects of his job. "I get to look at a GE engine and know what my part was in its design. It makes it very real and satisfying," Kos says.
With his success in the engineering workforce, Kos sees any opportunity to further his education as valuable. Many see advanced degrees as further stepping stones to a different job or higher level management. But for Kos, his choice to pursue a masters was purely for the sake of learning itself.
"Continuing education is incredibly important," Kos says. According to James, moving on from college does not mean a person will stop being a student. Being confronted with new skills and tasks everyday is a part of any job. Opportunities to further oneself should be valued and not dismissed.
The chance to do so through formal higher education was even more appealing to Kos given the job benefits available to him at the time. Tuition reimbursement is something James recommends students look for when seeking employment.
The UConn MEng program became the perfect fit as it gave James the opportunity to pursue his degree online and at his own pace. According to Kos, it was helpful to be able to tune in to classes online, or asynchronously if he had a work conflict. Additionally, he says, the MEng program has a lot of flexibility, and the core classes are professionally very valuable.
"I would highly suggest the program, it was incredibly helpful both technically and intellectually. It also allows you to take classes and develop skills for the job you want, not the job you currently have," Kos says. According to him, the program is to thank for his success in his current job.
"My time as a MEng student at UConn was a fantastic ride, and really helped advance me professionally and personally. I learned a lot of new skills, learned from fantastic professors and had an all-around great experience," he says. 
Author: MSE PhD Student Reflects on Industry Internship Across the World
By Gabby Esposito, Student Written Communications Assistant
During his graduate research, Materials Science and Engineering PhD student Thomas Moran stepped out of his comfort zone and into the eastern hemisphere when he decided to pursue professional industry experience in Japan. With the help of his advisor, Department Head Bryan Huey, Moran was able to join the Japanese electronics manufacturer Murata as a Research and Development Intern.
Moran received his bachelor's degree in mechanical engineering from Union College in 2016. He realized his interest in materials science during this time. "I got involved in undergraduate research that dealt with materials, and by the time the research was ramping up, I took a Junior-level materials science course and from there I was hooked," he says. He ended up pursuing a self-designed interdisciplinary minor which enabled him to focus his research on solar cell materials using atomic force microscopy (AFM).
Moran enjoyed his studies related to materials science so much that he decided graduate school was the next step. "I was pretty sure I wanted to pursue MSE, but while I had some research experience, I didn't have a whole lot of coursework past the basics," Moran says.
In 2016, he chose to officially continue his education at UConn. "I liked the industry connections, and the focus I saw being put on the MSE program," he says. "I met Bryan on my accepted students' visit, and with the combination of shared research interests and my experience with AFM as an undergrad, joining his group was a natural next step," Moran said. 
Since joining the group, Moran has been led by Huey with what he calls a perfect balance between a hands-on and hands-off approach. "He has found a way to be actively involved while not overbearing, and affords us the freedom to conduct lab operations as we see fit so long as we continue to produce results," Moran says. Through his mentorship style and every other impact, Moran says that he considers himself very lucky to have found his way into his lab. 
According to Moran, some of the most exciting work he has done in Huey's group has been an ongoing project related to the development of a technique called Tomographic Atomic Force Microscopy (T-AFM). AFM is classically a surface-only technique where a sharp AFM tip touches the sample's surface to measure nanoscale topography and properties. However, with T-AFM, Moran says it can be extended into the 3rd dimension. It works by using the AFM tip to not only measure properties, but also to simultaneously dig away material. Over time, the subsurface features of the sample are exposed, and the dataset produced during the milling process is used to reconstruct through-thickness properties that are important to the functionality of nanoscale materials.
Using this method, Moran has been able to successfully perform analyses of a number of systems as part of collaborations with several companies and academic institutions. "By doing so, I like to think that I've done my part in furthering the reach and standing of UConn MSE and spreading the word about this exciting new technique," he says.
Aside from this, the ultimate impact could change the nature of modern electronics. "Every cell phone has some 1,000+ capacitors inside it, and every year trillions of these components are made for the electronics we've all come to rely on. The number of components on each electronic device continues to multiply as technology advances, and this necessitates a miniaturization of materials into the nanoscale," Moran says. According to him, this has been a major focus for industry and academia alike, and his research, analyzing phenomena that occur only at extreme scales, is a part of these efforts. 
Though this research has been for Huey's own lab, arguably the most significant opportunity that Huey catalyzed for Moran was his internship with Murata. Moran had already been collaborating with the company, who both funded the research and provided extensive guidance through their dielectric materials development team. It was Huey who influenced Moran to inquire about an internship. "My plan following graduation from UConn has always been to move to industry, and so when I expressed my interest in finding an internship to gain some industry experience, Bryan suggested we ask Murata," Moran says.
Professor Huey notes, "I personally have had several incredible experiences working with industry, in internships, and in short-term positions abroad, so I and really all my colleagues in MSE try to facilitate similar opportunities whenever possible. This one really came about because of Tom's hard work, independence, and the professional relationship he had established with our partners at Murata over the preceding few years of joint research. Tom repeatedly impressed them with his insight and hard work, and was a wonderful host when they visited our labs, so it was no surprise that they welcomed him for an extended stay. He came home having learned a great deal and made important contributions as well, both scientifically and personally."
The work with Murata in Japan was related to their joint project at UConn. "I worked primarily with my colleague Hiroyuki Kondo, using a high vacuum AFM system to study charge injection and dissipation phenomena and compare it to behavior observed at UConn in ambient or inert atmospheres," Moran says.
According to Moran, he also gained experience with new areas of research learning about the synthesis of the materials, including producing samples himself. "I found this really valuable, as most of the work we do in the Huey group involves studying incredible materials and devices from elsewhere in the world, rather than us producing the materials," he says.
Aside from the different nature of his research, Moran also was exposed to a new work environment. "It was interesting to see the differences between professional life in the USA and in Japan," he says. According to him, everyone who works there wears a uniform and there is a much more structured work schedule. Despite being out of his comfort zone in this new environment, Moran says he quickly adapted thanks to his hosts and coworkers. Moran particularly remembers great experiences at restaurants and rock-climbing. "I never felt too overwhelmed, even in such a different environment traveling alone for the first time, and this is no doubt mostly due to my fantastic hosts. Regardless, I feel that I've grown in my ability to communicate, and I hope to bring this with me to whatever comes next," he says.
In particular, Moran spent a lot of time working closely with Dr. Keigo Suzuki, another member of the materials science team and the lead at Murata for the joint work with UConn. Suzuki became someone he also spent time with outside of the lab. According to Moran, his favorite experience in Japan was a trip he took with Suzuki and his family to Aichi prefecture. "After seeing a Japanese baseball game, we went to Keigo's parents' house, a traditional Japanese home, where we ate an amazing homemade meal, and brainstormed with his parents and kids how to write my name in Japanese characters," he says. Later, Suzuki's father painted the characters in calligraphy, Moran's most treasured gift from the entire experience. 
Though the trip only lasted a few months, the experiences, relationships, and growth that came with them will last Moran a lifetime. "It can be tough to be away from your comfort zone, but take the opportunity to embrace it," he says.
One of the lasting impacts of his trip materialized in March when Moran's first first-author research paper was published in the Journal of American Ceramic Society, presenting some of his work with Keigo Suzuki and Murata.
To those who decide to step out of their comfort zone and into an internship, even in another country, Moran suggests learning as much about that local culture as possible—including the language. "People love to talk about their culture and if you express a genuine interest then you can get along with most anyone," he says. "While I picked up enough phrases to manage on my own in town, Google translate is a truly great invention."
Author: Professor Dongare Discusses Developments as part of 'CREDDS' and the UTC Professorship
By Gabriela Esposito, Student Written Communications Assistant
Professor Avinash Dongare joined the Department of Materials Science and Engineering (MSE) at the University of Connecticut in 2012, almost a decade ago. Over these years, he has transitioned from an Assistant to an Associate Professor, been appointed to prestigious positions, expanded his research group, and collaborated with various institutions and organizations. Dongare has witnessed many changes in this past decade as part of the growth of the MSE Department. "MSE was a program in a joint department when I joined in 2012. Within a few months, the MSE department formed and has been accelerating ever since. Unfortunately, so did my receding hairline," reflects Avinash.
Notably, the department has grown in the number of faculty, adding to the research diversity in materials at UConn. Dongare mentions that the MSE Department is "a young and dynamic department that provides creative and novel research platforms to many researchers, students and collaborators across the country. This growth reflects the excellent leadership and guidance of Professor Pamir Alpay, previous Department Head; Professor Bryan Huey, the current Department Head; Professor Steven Suib, the Director of the Institute of Materials Science; and Dean Kazem Kazerounian of the School of Engineering. Of course, the contributions of the staff and the students of the department form the foundations of the success."
Over the years, Dongare's innovative research has received recognition nationwide. He has expanded his research portfolio, increased the number of members of this research team, and taken new leadership roles. After receiving his tenure and being promoted to Associate Professor in 2018, Dongare's recent success story includes the Center for Research Excellence on Dynamically Deformed Solids (CREDDS) funded by the U.S. Department of Energy's National Nuclear Security Administration (DOE/NNSA). CREDDS is one of four new Centers of Excellence at universities across the nation and received 12.5 million dollars over five years. Dongare serves as one of the four principal investigators as UConn partners with Texas A & M University (lead), University of California, Santa Barbara, and the University of Michigan, Ann Arbor.
"Our focus at UConn is to understand the role of interfaces in structural multiphase metallic materials when subjected to extremes of shock and high strain rate deformation," Dongare says.  This development aims to revolutionize such materials, fabricated using advanced manufacturing methods. "Computational methods which can explore the phase space of materials and their responses in extreme environments allow us to run numerous virtual experiments at a fraction of the cost, letting us especially focus on new materials development and design," Dongare adds.
CREDDS research has led to several new developments in Dongare's research group, the "Computational Materials and Mechanics Group" (CMMG).  Postdoctoral researcher Avanish Mishra and graduate student Marco Echeverria are the researchers from his team involved in CREDDS. They run virtual experiments of shock deformation of metallic materials and use simulated diffraction patterns and misorientation maps to characterize defect structures equivalent to experimental measurements. Such atomic-scale simulations, and the virtually generated diffractograms and maps, complement the interpretation of experimental in situ characterization of deformation modes (slip, twinning, phase transformation) under shock loading conditions performed by CREDDS collaborators and scientists at several Department of Energy national labs. "This ability to compare the results of our simulations with experiments, for the same microstructures and under identical extreme conditions, is critical for the validation of the computational methods that exist today to guide the experiments of tomorrow," Dongare mentions.
Also in 2018, the School of Engineering named Dongare as the United Technologies Corporation (UTC) Professor in Engineering Innovation. The professorship was established in 2000 to recognize exceptional achievements among young faculty exemplifying excellence in the impact of their research, teaching, and service contributions. This professorship provides a three-year funding award for professional development and growth. "The UTC professorship has enabled me to add certain flavors of research to my group over the past couple of years," Dongare says. The funding award sponsored a Senior Design Project that used machine learning methods to identify layered materials for battery applications. The students ultimately won the 1st prize in the 2018-2019 Senior Design Competition. Continuing this research direction, graduate student Shayani Parida is currently working on a machine learning model to discover and design new layered materials for battery technologies. 
Dongare's research group especially focuses on developing modeling capabilities that can be compared with those of experimental collaborators at UConn and nationwide. This often requires modeling the behavior of materials at the mesoscale, such as the quasi-coarse-grained dynamics (QCGD) developed by Dongare. Graduate students Garvit Agarwal, Sergey Galitskiy, Ke Ma, Sumit Suresh, and Ching Chen used the QCGD simulation method to understand material responses during shock deformation, laser-material interactions, and cold-spray deposition, all at the length and time scales of real-world experiments. Dongare emphasizes the need for collaborations with researchers nationwide and especially at the national labs as a career development opportunity for the students. Dongare says, "We have active collaborations with several research groups in academia and at the US national labs. These collaborations have evolved over time and provide students excellent opportunities to publish with scientists and engineers from across the country. I try to make sure every member of my group gets such an experience, ideally as a summer intern or a visiting researcher at the labs. This helps give them exposure to opportunities for the future."
As to the pandemic crisis, Dongare mentions that it brought some unanticipated challenges but also opportunities. For example, throughout his career Dongare embraced traditional classroom teaching—he enjoys deriving thermodynamic equations on the board, and more recently with an iPad. Department head Bryan Huey notes that he regularly hears compliments about Avinash' classes from undergraduate and graduate students, whether it be core classes like thermodynamics or more focused electives on modelling or mechanical properties.
Over this past year, Dongare 'flipped' his classes as part of the necessary transition to virtual teaching starting last March. Students watch recorded lectures in advance of class sessions, so that the time 'together' can be spent actively discussing course topics and problems instead. This helps to leverage the online format and encourage student discussion and participation. Interactions with his group have also had to shift. "While we interact virtually all the time, the inability to be in the lab together or visit collaborators is difficult. Especially as a mostly-modelling group, though, we're more used to it and it's not really slowing down my hard-working students," Dongare shares.
Looking ahead, the future is bright to Associate Professor Dongare. The MSE Department and the Institute of Materials Science have become a home. The growth in research capabilities and the research over the past decade have been especially exciting. Dongare reflects, "In my heart, I feel like I joined UConn just yesterday. However, when I see myself in the mirror and see the completely receded hairline, I realize a lot has changed. And while there is always a challenge related to establishing new directions, the interactions with my colleagues in MSE and IMS encourage me and help me every day. There is also an unparalleled sense of satisfaction in seeing my students graduating with a Ph.D. and being successful in their own careers."
Author: National Academy of Sciences Elects Two More UConn Scientists
You will be redirected shortly.
National Academy of Sciences Elects Two More UConn Scientists
Author: UConn's STEAM Team: Solar Trees and the Power of Community
Your will be redirected shortly.
https://www.energy.uconn.edu/uconns-steam-team-solar-trees-and-the-power-of-community/
Author: MSE Graduate Student Inspired by Interdisciplinary Research to Pursue Entrepreneurship
By Gabriela Esposito, Student Written Communications Assistant
When Moe Daeipour was in high school, he witnessed something life-changing— a liquid-nitrogen frozen marshmallow. While this may sound insignificant to some, it was the catalyst for Daeipour's career in materials science and engineering. "I had never heard of material science prior, but the experience was cool enough that I decided to pursue a degree in MSE," he says.
Fast forward several years and Moe is working on a graduate degree with the goal of soon starting his own company.
In 2017, Daeipour graduated with his bachelor's degree from UConn MSE and made the decision to stay for his graduate studies. It was during this time that he began working with Professor Serge Nakhmanson's Research Lab. "What initially caught my interest was that his group members were publishing some really cool papers and clearly developing skills that allowed them to computationally investigate complex material systems at different length scales," he says.
However, Nakhmanson is not the only advisor Daeipour gets to work with. He also performs casting and solidification research with Professor Hal Brody, in the Institute of Materials Science (IMS) experimental foundry. "Not many students have the benefit of working with two main advisors; some may even consider it a curse, but I see it as an opportunity to learn from two very skilled individuals," he says.
Part of the challenge and excitement posed when one has two advisors is undertaking two different research projects. Currently, Daeipour is working on a project related to the thermomechanical and thermoelectric behavior of polycrystalline ceramics with Nakhmanson.
"It is difficult enough to develop competence and become a leader in one specific area of research. Moe is doing that in two areas simultaneously – experimental metallurgy and computational materials science – which is a huge undertaking," Nakhmanson says.
Aside from Nakhmanson, a lot of Daeipour's interdisciplinary research has been inspired by his work with Brody on casting. "The experience working in the lab with him during my graduate studies has molded the way I approach engineering design problems and conduct experimental research," he says about Brody.
Brody confirms that the interdisciplinary work which Daeipour embraces stands out. "He volunteers to be involved in and to lead all aspects of our research group's activities in outreach to K-12, undergraduate teaching and mentoring, individual research and collaborative research with colleagues and with industry partners," Brody says.
According to Daeipour, the bulk of his current research is focused on the solidification and design of non-ferrous aerospace castings.  This research is meant to decrease the amount of time engineers need to spend in the laborious design stage for new castings. "Ideally, it will help improve the quality and reliability of non-ferrous casting processes by helping casting designers make iterations virtually, rather than on the manufacturing floor," he says.
According to Daeipour, the hope is that designers and manufacturers will be able to use this research to reduce scrap rates and energy consumption, ultimately saving the company time and money. "It's satisfying to think that the experience I'm gaining through my research here at UConn can easily be applied to a variety of different fields and industries," he says.
According to Daeipour, this is the reason he initially became interested in the MSE field. "Although the fundamental research we do is centered on materials science, we use aspects of mechanical, electrical, computer, civil, and chemical engineering to solve the challenges that we are facing," he says.
Daeipour's appreciation for the interdisciplinary applications of his work also connects to his interest in pursuing entrepreneurship–something he has had in mind since his undergraduate years. "Just the idea of starting my own company and being my own boss has always appealed to me."
This past year, Daeipour says he became better acquainted with the world of entrepreneurship when he participated in Accelerate UConn, UConn's National Science Foundation Innovation Corps (I-Corps) Site. The mission of this program is to kick-start entrepreneurial teams whose technology concepts are likely candidates for commercialization. It provides them with the resources they need to start a company and get an idea out into the market. "I felt it was an excellent experience that opened my eyes to a lot of opportunities worth pursuing," he says.  
Daeipour says he is still working on his big idea. "My research and education in the department and at UConn have helped give me the design experience, motivation, and confidence to actually come up with an idea and apply it," he says.
"Moe is taking full advantage of the UConn academic experience," Brady says. Whether Daeipour recognizes the abundance of opportunities a large state university offers, or it is simply in his nature to exercise many fields of interest at once, Daeipour proves that MSE students need not commit to just one passion.
Author: MSE Alumna Appointed CTO of the Connecticut Center for Advanced Technology
By Gabriela Esposito, Student Written Communications Assistant
Ten years after graduating with her doctorate – and a nearly decade-long career at  Raytheon Technologies (formerly United Technologies Corporation) as an engineer and leadership development program manager – Dr. Jacquelynn (Jackie) Garofano has been appointed the Chief Technology Officer of Connecticut Center for Advanced Technologies (CCAT).
As CTO and lead principal investigator, Garofano will focus on developing and directing new technology projects and programs in collaboration with CCAT's partner organizations: primarily federal agencies, national labs and consortiums, universities, global industrial corporations and subject matter experts. 
Garofano began her career as a research scientist at United Technologies Research Center. Much of her career was spent solving technical challenges, providing failure investigation, and developing innovative technologies for the company's aerospace and building industries. She was a driving force behind utilization of combinatorial high throughput methodology to rapidly execute and assess multivariable design of experiments, focusing on materials informatics approaches, for advanced materials development (including additive manufacturing) and corrosion mitigation.
She has 11 technical publications to her credit, including the Applied Physics Letters, the Journal of Materials Science, the Journal of the American Ceramic Society, and Additive Manufacturing, and holds two U.S. patents.
"I am thrilled to join Ron Angelo and the team at CCAT. It's an honor to have the opportunity to play an integral role in developing the company's technical vision, strategic direction and future growth," Jackie says in a CCAT press release.
Author: MSE Alumna Serves U.S. Air Force as NRC Research Associate
By Gabriela Esposito, Student Written Communications Assistant
Every day at 5 p.m., the national anthem plays base-wide at Wright-Patterson Air Force Base in Dayton, Ohio. At this moment each day, Tulsi Patel is reminded of her duty to her country as an NRC Research Associate with the United States Air Force. "While I am just a speck in this complex ecosystem, having this higher purpose is what inspires me every day," she says.
Just three years ago, the former chemical engineering undergraduate was in the midst of completing her PhD from Materials Science and Engineering (MSE). It was during this time that Patel says Professor S. Pamir Alpay introduced her to UConn alumnus and Air Force Research Laboratory (AFRL) CTO, Tim Bunning. At that time, Bunning was working as the Chief Scientist of the Materials and Manufacturing Directorate at AFRL. According to Patel, Bunning invited her out to the laboratory for a visit. Once she was there, she says she immediately knew she wanted to work there. 
Patel now conducts her own Air Force related research as part of the ceramics research team in the Materials and Manufacturing Directorate. From her time at UConn, her research portfolio has expanded from ferroelectrics and ceramics for energy storage and conversion to structural ceramics and composites. Currently, her main project pertains to the design, fabrication, and characterization of multifunctional ceramic matrix composites. This work is an extension of her prior PhD research on integrated functionalities for metallic aerospace components.
According to Patel, she is looking at different modes of structural health monitoring for various materials systems. "One of the five strategic capabilities, outlined by the U.S. Air Force 2030 Science and Technology Strategy, is global persistent awareness. This technological opportunity asserts the need for powerful sensing capabilities including low-cost sensors integrated on distributed platforms. I hope my work contributes to the efforts tasked by our National Defense Strategy," she says.
Aside from her main research topic, Patel says she has also contributed to many of the ongoing projects within the ceramics research team. This includes advances with preceramic polymers, and polymer/ceramic nanocomposites.
Fabricating nanocomposites and characterizing them with in-situ SEM mechanical testing and TEM tomography is something that Patel says she never thought she would do. But then again, she also never thought she would live in Ohio. Patel had spent over a decade at UConn and the entirety of her life in Connecticut. She describes the decision to leave this life as a big one because she never imagined herself living outside the Northeast.
However, without the ambition to take this risk, she would not have enjoyed the challenge of so many new experiences. Patel's ability to face the discomfort of change that came with taking the job could not have been possible without the people and places that came before. "Both Dr. Alpay and Dr. Hebert have had a significant impact on the researcher and person I am today," she says.
According to Patel, her former advisor Professor Rainer Hebert guided her towards experiences like the NSF fellowship in Korea and AAAS science policy workshop in Washington, D.C. "These experiences have shaped me to be a better engineer and citizen in society," she says.
Patel says that Professor Alpay is to thank for encouraging her to pursue a PhD. "He pushed me to learn everything from ferroelectric modeling to metal additive manufacturing, and most importantly, how to think outside the box," she says.
"It has been rewarding for me and Pamir to see Tulsi develop her skills as a scientist and engineer as she succeeds first with a prestigious NRC award and now even more so in the field at a government lab," Hebert says.
However, her former advisors taught her more than just MSE skills. "Dr. Alpay and Dr. Hebert have taught me the importance of humanity and integrity. They always put their students first and were consistently role models," she says. She finds these traits increasingly important working in a government laboratory, and necessary to be an effective leader. "They are what I strive to achieve in the years to come. I am just so lucky to have had them as advisors and role models to look up to," she says.
The new opportunities that her mentors pushed her towards have made her a champion of embracing the unfamiliar. "Be open to new possibilities and take risks," she says. "Don't pigeonhole yourself to one job, one location, or one opportunity. There is just so much out there—perhaps a job that you may not know even exists."
According to Patel, stepping outside of her comfort zone during the past two years at AFRL helped her gain confidence in who she is and what she has the potential to do. "It took me ten years of higher education and a postdoctoral position to finally be able to truly identify myself as an engineer and researcher. I have become confident in my skills, expanding on what I learned in undergrad and grad school, knowing that the sky's the limit," she says.
Patel says that she realized this opportunity is not present at all in some parts of the world. "During my graduate studies, I had the privilege to live and travel to other countries, learning firsthand that the boundless opportunities available in the U.S. are very much limited elsewhere," she says. This recognition adds to the immense gratitude she has for her parents, who emigrated to the United States from India to give her these opportunities.
Author: MSE Undergraduate Student Receives a Research Aide Appointment with Argonne National Laboratory
By: Katie Nejati, Student Written Communications Assistant
Samuel Schaefer, working alongside members of MSE Assistant Professor Yuanyuan Zhu's Electron Microscopy Group, uses transmission electron microscopy (TEM) to study problems of importance to electrical power generation and its impacts on the environment and human health. As part of a collaboration between Dr. Zhu's research group and staff scientists at the IVEM-Tandem Facility at Argonne National Laboratory (ANL), Schaefer has been offered a Research Aide Appointment. Using TEM techniques combined with machine learning, his work will focus on improving our understanding of the effects of irradiation on materials used in nuclear reactors. He believes that the different settings for collaboration offered by the position at ANL will provide him with new perspectives on research that will be useful as he moves forward in his career.
Schaefer's project currently focuses on training a machine-learning algorithm to identify and track defects in irradiated nickel samples. The defects can be imaged in real time at nanometer length scales as they form, move, and disappear utilizing in-situ TEM experiments conducted during a reaction process. His task is to go through consecutive images acquired during the process and annotate the defects observed within them to generate a set of ground truth labels. Other members of the research group will then use these labels to train a program to recognize particular defects in these and other images. Working in collaboration with ANL scientists Dr. Meimei Li and Dr. Wei-Ying Chen, the goal is to improve the current state of understanding of factors controlling the formation of defects in structural materials used in nuclear reactor cores.
Now a fourth-year MSE undergraduate student, Schaefer plans to continue his work on materials for energy applications, and hopes to enter a PhD program next year. He has been passionate about  issues surrounding energy and the environment since he began his undergraduate studies, and this passion attracted him to pursue a degree in MSE. He notes that the numerous opportunities available in MSE for conducting research has enhanced his undergraduate experience. "Doing undergraduate research with Dr. Zhu has helped me further my studies in a laboratory setting" he said. Expressing appreciation for the opportunities provided by his research mentors in MSE and at ANL, his career aspirations have grown, and ultimately, he hopes to pursue a career in energy technology that will benefit people in their everyday lives.
Author: Correlated Solutions Inc. Highlights Professor Frame as 'Woman In Engineering'
---
By Gabriela Esposito, Student Written Communications Assistant
UConn MSE Assistant Professor and Director of the Center for Materials Processing Data (CMPD), Lesley Frame, was recently featured by Correlated Solutions Inc. on their Facebook page as a part of their '#womeninengineering' series. Throughout the month of March, the company, a leading supplier of Digital Image Correlation (DIC) measurement systems, is honoring Women's History Month by highlighting women in engineering who use digital image correlation in their research.
Frame was the third highlighted in the series, for the work she has led on alloy manufacturing and processing-property relationships. Her team's work involves building realistic models that describe the behavior of materials during manufacturing sequences. Digital image correlation is what allows the Frame research group to capture detailed deformation behavior during thermomechanical processing.
In the post, Frame is quoted offering advice to young women interested in pursuing MSE. "Don't be afraid to fail. Often, you will learn more from doing something the wrong way, than getting it right the first time. Science and engineering is all about asking questions, and the individuals who do well often share a passion for figuring things out," she says.
Frame received her BS from the Department of Materials Science Engineering at MIT, followed by her MS and PhD from the University of Arizona in the same field. She began teaching and leading research at UConn in 2018, after a professorship at the University of Bridgeport and a position as Director of Product Development at Thermatool. Her research interests include metals processing, manufacturing, corrosion, residual stress, phase transformations, and structure-property-processing relationships.
Author: New Addition to MSE External Advisory Board
By Gabriela Esposito, Student Written Communications Assistant
UConn alumnus Lei Chen is the newest addition to the MSE External Advisory Board. The Board comprises more than 10 industry and alumni representatives, serving to provide guidance on our curriculum, support strategic initiatives, and enhance the entire department at the university, state, and national level.
Chen graduated from UConn in 2006 with his master's in chemical engineering. He has also received degrees from the Harbin Institute of Technology in China, the University of Utah, and Carnegie Mellon University.
With numerous publications and patents, Chen is a researcher, engineer, and entrepreneur. He currently serves as the Associate Director and Discipline Chief of Pratt & Whitney where he leads teams in Surface Engineering and Process Chemistry. In the past, he worked as Associate Director and Project Manager at UTC Climate and spent almost 15 years as a Principal Investigator for the United Technologies Research Center (UTRC).
Lei's work in the materials engineering industry has been recognized by an R&D 100 Award, UTRC Outstanding Achievement Award, UTC CCS Bravo Award, and UTC, Collins, P&W and Carrier Patent Awards.
Notes Department Head Huey, "As with all of our External Advisory Board members, we are eager to benefit from his expertise, leadership, and advocacy on behalf of our program and especially our students."
Author: MSE Assistant Professor Wang Wins 'DURIP' Award for Advanced Laser System
By Gabriela Esposito, Student Written Communications Assistant
Materials Science and Engineering Assistant Professor Xueju "Sophie" Wang was recently awarded a one year grant by the United States Department of Defense (DOD) for her proposal for "High-Performance Laser Etching System for Multi-Layer Soft Electronics." According to Wang, the grant will be used to acquire an advanced laser etching system that offers selective, precise, and reproducible patterning capabilities of multi-layer soft materials and electronics. "Such capabilities will allow the design and manufacturing of soft, flexible structures and electronics for applications including power-efficient, pressure-tolerance oceanographic measurements as well as wearable/implantable bioelectronics," she says.
Wang and her collaborator Biomedical Engineering Professor Yi Zhang were among 150 university researchers who received grants out of almost 800 proposals totaling $50 million under the Defense University Research Instrumentation Program (DURIP).  The highly competitive selection process is administered by the Air Force Office of Scientific Research, Army Research Office, and Office of Naval Research.
Ultimately, decisions are made with the goal of equipping universities that enable them to "perform state-of-the-art research that boosts the United States' technological edge, while ensuring that our future STEM workforce remains second to none," the program's website states.
As one of the recipients responsible for utilizing this advanced technology, Wang says she is in the process of acquiring an advanced laser and using it for the design and manufacturing of soft, flexible electronics.
In the real world, Wang says her research will be applicable to a number of fields. "Our developed power-efficient, small, and non-invasive electronic sensors are suitable for many platforms including soft robotics and biomedical devices for health monitoring and disease treatment, like neurological diseases," she says.
The interdisciplinary applications of her research makes sense considering Wang's multidisciplinary educational background. She received a bachelor's degree in chemical engineering, a master's and PhD in mechanical engineering at the Georgia Institute of Technology, and did a postdoc in materials science and engineering at Northwestern University. Before settling at UConn, she also was an assistant professor of mechanical and aerospace engineering at the University of Missouri, Columbia. "I collaborate with people in electrical engineering, biomedical engineering and the School of Medicine too," she says.
She is the author of over 20 publications, and she holds multiple patents and disclosures. In addition, her research has been recognized through awards from the professional society, including  ASME Haythornthwaite Foundation Research Initiation Award and Gary L. Cloud Scholarship Award from the Society of Experimental Mechanics.
Her diverse knowledge of scientific fields is something Wang values. "To me, a lot of great research is created at the boundary of different fields" she says.
This belief extends into the Wang Research Lab—her research group which conducts interdisciplinary research on mechanics, materials, and structures for energy and human health applications. Their current research interests include mechanics and materials for multi-physics systems such as energy storage and conversion, design and manufacturing of stretchable 3-D programmable architectures and electronics, and soft materials and systems.
More impressive than Wang just winning the 'DURIP' award is that she did so while adjusting as a new assistant professor to UConn during the coronavirus pandemic this past fall. "It has been great despite the pandemic. I still have gotten to interact with our great faculty and students," she says. "There has been some delay in research due to the materials and supplies, and initially diminished access to some shared facilities. But overall, my students still made some great progress even with the pandemic."
This semester Sophie teaches MSE 3056 (Mechanical Behavior Laboratory). "In response to surveys of our alumni and our External Advisory Board, in fact Professor Wang is redesigning this class to focus on modelling and finite element analysis, topics of ever-growing importance to the materials engineering workforce," Department Head Bryan Huey says.
 According to Wang, the class triggers students' interest by connecting what is being taught in class to real applications including heat transfer and structural design.
Author: MSE Undergraduate Seeks to Reduce COVID-19 Transmission through Research on Air Filtration Systems
By: Katie Nejati, Student Written Communications Assistant
---
Robert Williams is one of 17 students selected for the University Scholars Program (USP), a challenging and prestigious program for undergraduates at the University of Connecticut. Working in the Adamson Research Group under the supervision of professors Douglas Adamson (Chemistry) and Seok-Woo Lee (MSE), he has been conducting research over the past year on a project entitled "HEPA Filtration Through Graphene Addition". 
What started as an idea conceived during his application for admission to the scholars program has developed into promising research area with the potential to reduce the impacts of the ongoing pandemic. His research centers on improving high-efficiency particulate air (HEPA) filtration systems used to remove pollutants from heating, ventilation, and air conditioning systems. Initially, Williams intended to focus his work on improving the efficiency of these filters at certain particle sizes. He later recognized, however, that his research might also have implications for reducing COVID-19 transmission. By combining HEPA filters with electrostatic precipitation technology, Williams seeks to develop a filtration system can capture small airborne virus-containing respiratory droplets. His work on this topic involves a collaboration with Johns Manville, a company based in Denver, Colorado that manufactures insulation, fibers, and other engineered materials, including the nonwoven products used in filters. 
Williams was initially a biology major, but soon realized that his career interests were better aligned with materials science and engineering. He is currently an MSE undergraduate honors student and is pursuing a concentration in biomaterials and a minor in molecular and cell biology. He believes his background in MSE will uniquely prepare him to attain his career goals. After graduation, he plans to attend medical school, and hopes to pursue research in biomaterials for applications in orthopedics. He also believes that graphene, one of the materials used in his USP filtration project, has the potential to pave the way for other advances in medicine. "To be on the forefront of research that I could potentially apply during medical school is really neat" he says. Apart from advancing his career aspirations, Williams says he chose to complete his undergraduate degree in MSE because the department provides a close-knit academic environment where he is able to get to know both his professors and his peers in many one-on-one interactions. 
Williams attributes his success in academics and admission to the USP to his research advisors and other members of the MSE faculty. In particular, he acknowledges Dr. Fiona Leek, Director of the MSE Undergraduate Laboratory, for providing him with valuable experience in a laboratory setting and instilling in him an appreciation for the skills needed in research. His advisors, Drs. Lee and Adamson, were his biggest motivators, giving him the reassurance he needed to realize his potential. Without them, he would not have had the confidence to apply for the scholars program, and so would not have acquired the skills and independence he presently enjoys.  
Williams now recognizes that nearly any idea can have unseen potential, and with proper guidance, may result in a new research direction. Thus, he encourages every student with an exciting idea, and the curiosity and drive to pursue it, to apply to the University Scholars Program.
Author: MSE Graduate Gives Advice to Fellow International Students
By Gabriela Esposito, Student Written Communications Assistant
As graduate student Shuyang Xiao prepares to publish his first lead-author paper by the end of this semester, he reflects on the past three years he's spent navigating his second degree in a foreign country.
When he graduated in Beijing in 2018, Xiao was not like some of his fellow graduates who were unsure of where they wanted to go next; he had his mind set on traveling all the way across the world to continue his academics. "I first had the thought of pursuing my PhD in the United States when I was a sophomore," Xiao says.
Xiao began his career in 2014 studying at the University of Science and Technology in Beijing where he received his bachelor's degree in MSE. When it was time to choose where to go, his decision to travel to Connecticut was not random. "UConn has the better climate, security and diversity compared to all the other universities of the same level. Plus, being away from big cities can help me focus on my research and daily life," he says.
Though his environment completely changed, Xiao found a home within  Dr. Seok-Woo Lee's Lab. Like most new PhD students, advisor matching occurred during the first Fall semester, when Xiao chose to join Dr. Lee's lab which focuses on in-situ mechanical characterization of superplastic intermetallic compounds.
"Shuyang has a great sense to capture the most important information from his data. So, I always enjoy listening to what he discovers and seeing how his idea contributes to his research project. It is really fun to work with Shuyang," Dr. Seok-Woo Lee says.
According to Xiao, finding a group to get involved with is especially important for international students. "It's not easy for students to spend five years pursuing a hard goal like a PhD degree, not to mention that some of us are thousands of miles away from home."
Department Head Huey notes, "Professor Lee and many of the rest of our faculty had very similar experiences when we were graduate students—exploring far outside what is familiar, both geographically and also culturally. We know the importance of creating an inclusive space for our students no matter where they come from. 
And that starts in the lab. While participating in research is typical even for MSE undergraduate students, it is important aside from the degree requirements or professional benefits. Research groups also give students a sense of belonging in a close-knit team. "The lab-group helps to make new friends and learn about other cultures and backgrounds. It helps us get over the inevitable homesickness and have a better connection here," Xiao says.
Two years later and Xiao is glad he made the choice he did. Xiao says that for the past couple years Dr. Lee has provided him with the certainty and confidence that he is going in the right direction in materials science.
Xiao says it is important for foreign MSE students to "be brave and step outside their comfort zone." He says he did this when he decided to run for president of the Materials Research Society (MRS). His first year at UConn, Xiao was elected as the group's president. He currently serves as a senator for the chapter.
Xiao also suggests that foreign students find a hobby unrelated to their studies. "Although it's really important for us to excel academically, we need something to relax ourselves especially in a rural place like UConn. I personally play guitar and video games and they really help me out when I'm stuck with hard problems," he says.
When Xiao is not playing guitar, video games, or leading MRS, he works on his research which aims to discover new classes of shape memory materials. This spring, he will lead a publication on this work for the first time.
His research can be applied to shape memory materials that are used in aircraft, spacecraft, automotive vehicles, robotics, and more. "In the real world, my research is to replace the applications of old-fashioned shape memory materials that are used nowadays when you need larger elastic strain limits and higher fatigue life," he says.
"Shuyang nearly finished writing his first manuscript which reports a new superelastic material that exhibits probably the largest elastic deformability among all types of crystalline solids. I strongly believe that his ground-breaking results will make a significant contribution to the discovery of new superelastic and shape memory materials. I hope that Shuyang receives a lot of attention from materials research communities once his paper comes out. I think it will happen," Dr. Seok-Woo Lee says.
Despite his success in forging his own path in the United States, Xiao says he would like to eventually return to China, especially in the current tense circumstances brought on by the pandemic.
"But who knows what will happen in the future," Xiao says about his career after UConn. "I would love to work in those high-tech companies like Intel, Qualcomm or Apple which really match my skills of micro nanoscale fabrication and mechanical engineering."
If the right opportunity comes along, Xiao has no fears of following it— just as he did three years ago when he traveled across the world to UConn MSE.
Author: MSE Graduate Student Researches Alternative Energy Sources
By Gabriela Esposito, Student Written Communications Assistant
UConn's Materials Science and Engineering (MSE) graduate student Sara Pedram is from Iran; a country known for its energy exportation — specifically, oil. Ironically, the dependency much of the world has on her home country's industry, is one of the forces that drove Pedram to focus her graduate research on renewable energy.
Before Pedram ever started this research, the Iranian oil industry had influenced the direction of her undergraduate studies. "I have always enjoyed and excelled in math and science, and because Iran has a big oil and gas industry, I thought becoming a chemical engineer would be the most sensible career path for me," she says. 
Prior to moving to the United States, she had pursued her bachelor's and first master's degrees in Chemical Engineering from Shiraz University and Amirkabir University of Technology, respectively, in Iran. She then worked as a researcher at the Chemistry and Chemical Engineering Research Center of Iran (CCERCI) and at the Pierre and Marie Curie University in France.
It was during this time in France that Pedram thought she might like to travel again. "I became highly interested in continuing to do work in another country," she says. "The U.S. is a very diverse country with many opportunities for everyone, so I decided to build a career here."
While the idea of pursuing highly technical studies in three entirely different countries might scare some, it excited Pedram. In 2017, she packed her bags and moved to the United States to begin looking for jobs related to chemical engineering.
However, according to her, it was very difficult to find a job having no previous work experience or degree from the U.S. "This led me to pursue a master's degree instead. I already had my master's in Chemical Engineering, so I wanted to study something related to my background but not the same thing," she says.
Materials science and engineering was something that Pedram says she had become familiar with and interested in during her past research in Iran and France. "It is a highly interdisciplinary field that deals with a number of research areas, and I found it an appropriate area for my long-term career goals. Through my research, I discovered UConn's MSE program, which is highly-ranked and well-regarded," she says.
Ultimately, she decided that UConn's MSE program would be the best choice. "The main things that attracted me to UConn were the Innovation Partnership Building , which is filled with the latest and newest technology, the department's deeply collaborative nature with industry partners and amongst professors internally, and the outstanding faculty," she says.
Aside from her hard work, it was through these opportunities and relationships that Pedram says she has become successful since beginning at UConn in 2018. "I have had many opportunities to collaborate with industry partners, which have led to summer internships and good relationships with industry professionals," she says. One of these professionals is her advisor and mentor, Assistant Professor Jasna Jankovic.
"Professor Jankovic is an extremely supportive and inspiring person, which is one of the main reasons I wanted to join her lab group. I knew that I would not only be working on innovative research but also that Professor Jankovic would emotionally support me," Pedram says.
The Jasna Jankovic Research Group focuses on advanced imaging spectroscopy techniques, nanomaterials for clean energy applications, fuel cells, batteries, and structure-property- performance correlation.
"Sara is a very mature, smart and responsible student. She is resourceful and always finds solutions for research challenges. I can rely on her to do everything properly and on time. It is such a pleasure having Sara in my research team." Professor Jankovic says.
Pedram's research focuses on using renewable energy for transportation applications, specifically proton exchange membrane fuel cells. Fuel cells electrochemically combine hydrogen and oxygen to create electricity, with water as the only by-product.
In our modern-day society where almost everything depends on energy, and fossil fuels are exhaustible, Pedram's work is extremely important. "We must reconsider or innovate our energy sources in order to continue to sustain our civilization for future generations," she says.
Pedram's favorite and most recent paper (out of a dozen she has published), "Review on Bio-Inspired PEM Fuel Cells," was recently published in the Advanced Energy & Sustainability Research Journal and it deals with more on this topic. In the paper, Pedram confronts the climate crisis and addresses the promise and obstacles associated with using PEM fuel cell technology. "It shows how we can design inspiration from nature and implement it into modern-day applications," she says.
And though fossil fuels can run out, Pedram's interest in her work doesn't seem like it will. "Knowing the relationship between the microstructure and properties of materials can allow us to create more useful products with higher efficiency. Using materials characterization techniques to image and visualize from the surface of the material to its atoms is still something that fascinates and inspires me each time," Pedram says.
During the summer of 2019, Pedram participated in an internship with Giner Inc., a Boston-based electrochemical research and development firm. Professor Jankovic's group had been collaborating with the company. "It gave me an opportunity to experience an industry environment and see how my research can affect real-life applications, which was really rewarding," she says.
Pedram is heavily involved with the Center for Clean Energy Engineering, where she conducts her research and where she participated in events to teach high school students the importance of engineering and its role in producing clean energy.
It seems only natural that teaching comes easily to Pedram, as an individual whose unique identity can inspire in so many ways. She has assumed the role of foreigner, immigrant, student, female engineer, environmentalist, and more. The diverse experiences she has embraced have set her up to be successful in many ways.
"Having these experiences in different countries has allowed me the ability to look at problems from many different perspectives. I can solve engineering problems in creative ways because of my exposure to so many research environments. These experiences have also significantly improved my communication and interpersonal skills. When there is a language barrier or culture barrier, you must find other ways to communicate what you want to say effectively," she says. 
Her worldly experiences translate to her research which ultimately works to solve a universal problem: sustainable energy.
Though Pedram says she decided to pursue her masters in hopes of increasing her job opportunities, her goals have shifted. "I initially wanted to get a job immediately after my masters degree, but my experience at MSE and with Dr. Jankovic's research group has been extremely rewarding and inspired me to continue into a PhD program," she says. Sara is currently pursuing her PhD studies to develop a novel design for efficient fuel cells, something that she and Dr. Jankovic are hoping to commercialize in the future.
Author: UConn-Technion Collaboration Develops Model for Affordable Fuel Cell Catalysts
You will be redirected shortly.
UConn-Technion Collaboration Develops Model for Affordable Fuel Cell Catalysts
Author: MSE Assistant Professor Receives American Chemical Society Grant
By Gabriela Esposito, Student Written Communications Assistant
Yuanyuan Zhu, Materials Science and Engineering Assistant Professor and Director of the IN-siTu/Operando Electron Microscopy (InToEM) center at the Innovation Partnership Building, was awarded the American Chemical Society Grant for "Structural Basis for the Optimal Promoter Concentration and Distribution of Metal-promoted Oxide Catalysts for Selective Oxidation of Alkane."
The grant is worth $110,000 and will last two years. During these two years Zhu and her collaborator, Professor Steven L. Suib (the Director of the Institute of Materials Science (IMS)  and Co-director of InToEM) will perform research related to the fundamental understanding of the heterogeneous catalysts used for converting refinery gas (in particular, its components—ethane, propane, and butane) into high value petrochemicals such as ethylene.
According to Zhu, "Conversion to high-value petrochemicals like ethylene poses a dual challenge for heterogeneous catalysis: the catalyst must be capable of activating the first C-H bond of highly saturated alkane, while maintaining a high selectivity."
This is groundbreaking considering most oxidation catalysts developed so far cannot achieve both. "Using state-of-the-art transmission electron microscopy including our new MEMS-based NanoReactor ETEM system, we are excited about solving this catalyst design problem by establishing a clear structural picture of some of the best alkane oxidation catalysts" Professor Zhu says.
Zhu joined UConn MSE as an assistant professor in 2018. She previously worked as a postdoctoral research associate and later as staff scientist at the Pacific Northwest National Laboratory, both in the Physical & Computational Sciences Directorate and the Reactor Materials and Mechanical Design group in the Energy and Environment Division. 
Zhu has already published nearly 50 publications on her research, many of which have won Editor's Choice awards or were front page and feature articles. She is also a reviewer for the European Research Council's Scientific Proposals Review Board and for the National Center for Electron Microscopy. She is an active member in the Materials Research Society, the Microscopy Society of America, and the Minerals, Metals & Materials Society. 
Author: Jasna Jankovic Receives the Prestigious NSF CAREER Award
By Katie Nejati, Student Written Communications Assistant
---
Two years after joining UConn, MSE Assistant Professor Jasna Jankovic has received a National Science Foundation CAREER award. The award will provide funding over 5 years, allowing Jankovic to advance her research on clean energy technologies, as well as to develop educational programs designed to reach out to young audiences. "Earning the prestigious faculty early career development (CAREER) award gives me the means to realize what I envision as novel and transformative research, and helps me to inspire new generations to study and work in STEM fields and clean energy," she says.
Jankovic's research focuses on developing novel analytical techniques for characterizing degradation mechanisms in fuel cells, which she will also extend to electrolyzers and batteries. Specifically, her work investigates degradation occurring in tiny fuel cell membrane electrode assemblies that mimic industrial fuel cells. Identical location transmission electron microscopy (IL-TEM) allows for imaging the cells before and after exposure to conditions that stimulate operation in a working fuel cell. Although IL-TEM technique has been used previously, Jankovic will employ a novel, specially designed micro-testing setup used in conjunction with other advanced characterization techniques, such as 3D electron tomography and multi-scale operando imaging.
Apart from her development of advanced imaging techniques and her goal of realizing a clean, zero-emission, sustainable energy future, Jankovic's other main interests center on revitalizing education to inspire students to reach their full potential. To expose young audiences to research in material science, clean energy, and microscopy, she will develop virtual reality (VR) modules, such as "I LoVR Clean Energy" and "I LoVR Nano". She also plans to create a training module for undergraduate and graduate engineering students called "Engineering Entrepreneurs—Under the Microscope", to better prepare them as future leaders in the innovation and commercialization of clean energy technologies. These activities fit well with an ongoing project known as "STEAM TREE", which is already well underway. Together with UConn faculty collaborators, Professors Chris Sancomb (Art/Industrial Design), Stacy Maddern (Urban & Community Studies), Sung Yeul Park (Electrical & Computer Engineering), and Cynthia Jones (Ecology & Evolutionary Biology), Jankovic has received a UConn STEAM (science, technology, engineering, arts, mathematics) Innovation grant to build a solar tree on campus. The tree will serve as a functioning, energy-producing tree, as well as a real-world laboratory, and a gathering place for the university community.
Jankovic's career started at the University of British Columbia (UBC), where she completed her MS in chemical engineering and conducted research on oil heavy upgrading. Following an introduction to fuel cells by one of her respected colleagues, she fell in love with renewable energy technology, thereby refocusing her career aspirations on clean energy. Following her passion, Jankovic conducted research at the National Research Center – Institute for Fuel Cell Innovation (NRC-IFCI) and earned a PhD at UBC in 2011. UConn's strong focus on initiatives in clean energy, its numerous industrial affiliates, and the availability of some of the world's best microscopy capabilities, attracted Jankovic to UConn in 2018. Along with the extensive facilities, the supportive research environment at UConn greatly influenced her decision to join the faculty.
Although Jankovic's research career is rapidly accelerating, one of the most enjoyable aspects of her job is working with students. Her group includes graduate students Amir Soleymani, R. Andres Godoy, Sara Pedram, Aubrey Tang, and Mariah Batool, all of whom are focusing on the characterization of materials in clean energy devices. Her teaching and advising style embodies a holistic approach that not only includes formal instruction in science, engineering and research, but also focuses on practice-oriented education in professional ethics, communication, team-work, and positive thinking.
Her advice for students pursuing engineering is to "be proactive – take that first step; ask for help and offer help to others; leave a great track record in whatever you are doing; keep expanding your network; and show appreciation to everyone who contributed to your success."
Author: MSE Undergrad Is Paving the Way for Underrepresented Women in the Field of Engineering
By Gabriela Esposito, Student Written Communications Assistant
In the field of Materials Science and Engineering, black women are highly underrepresented. When she graduates this Spring, University of Connecticut MSE undergraduate Brittany Nelson will stand for the less than 4% of black, Hispanic, and Native American women who are awarded a bachelor's degree in engineering in the United States. She will also be the first generation of her family to earn a college degree.
As a young black woman in a field dominated by men, Nelson has found inspiration to work harder. "I see this as an opportunity for change. I would not be an MSE student without the support of those who invested in me academically, financially, emotionally, etc. I feel that it is my job to return the favor by setting an example and being a resource to those who are interested in pursuing MSE," Nelson said.
The MSE senior has strived to do that since discovering her affinity for engineering in middle school. "In the 7th and 8thgrade, I attended UConn's Pre-Engineering Program (PEP) and gained an interest in engineering," she said. According to Nelson, it wasn't until high school that she learned about MSE by attending UConn's Explore Engineering (E2) Program. At the time, she was considering Chemical Engineering (CHEG) and Mechanical Engineering (ME). "MSE was not only fun, but it was a perfect combination of the two fields," she stated.
Her positive experience with the UConn MSE department impacted her decision to study there. "I was specifically impressed by how informed and passionate the MSE faculty and students were about their work. In addition, I gravitated towards the wide range of lab equipment, the friendly atmosphere, and the numerous options of areas to focus on within the MSE program," Nelson said.
Since deciding to join the UConn MSE program, Nelson has been mentored by Dr. Lesley Frame and she recently joined the Frame Research Group. Nelson enjoys the sense of community the group has. "All of the group members willingly provide support and advice to each other in any way possible."
Whether it was her mentorship with Dr. Frame, sense of community, passion, ambition, or a combination of all of the above that motivated her, Nelson was able to pursue research as a Ronald E. McNair Scholar during the Summer of 2020. The McNair program prides itself in promoting talented UConn undergraduate students for doctoral studies in (STEM) disciplines, specifically for those from underrepresented populations in our fields, from under-resourced communities, or who are first-generation graduates in their families.
Nelson has also been honored as a Gates Millennium Scholar, Louis Stokes Alliance for Minority Participation (LSAMP) Scholar, Ronald E. McNair Fellow, and UConn Day of Pride Scholar.
The research that Nelson is currently conducting within the Frame Research group focuses on the effects of tempering processes on the mechanical properties of alloy steel. The results of this research will inform fundamental understanding of phase transformations and changes in strength due to tempering process parameters and will also have direct impacts on heat treatment in a wide range of industry applications.
"Brittany has really taken charge of this project. Even though we were operating remotely for much of last summer, Brittany was able to pick up the project, learn the fundamentals of steel tempering processes, and analyze a very large amount of data to discover new trends and materials behaviors. She is currently working on preparing a manuscript on this project for submission to a peer-reviewed journal. I have been so pleased to have Brittany as a member of our team!" Says Dr. Frame.
Though this project and her undergraduate career will end in May, Nelson's career in MSE is really just beginning. She hopes to continue doing research and is strongly leaning towards graduate school. "It is a bittersweet feeling. Graduation is a huge accomplishment for me, especially as a first-generation college student with parents not born in the U.S. I am definitely going to miss the great people that I have met within the MSE department and the UConn campus," she says.
Her future continuing research also holds the potential to continue inspiring young underrepresented girls who are interested in MSE. "To any female students interested in materials science and engineering, I would say go for it! Being an MSE student is extremely rewarding. You will learn so much about yourself and contribute to making a difference in the world of STEM," she stated.  
Author: MSE Graduate Student Tackles the Future of Energy Innovation
---
By Katie Nejati, Student Written Communications Assistant
Third-year MSE doctoral student, Amir Soleymani, working alongside members of Assistant Professor Jasna Jankovic's Research Group, is conducting research at the forefront of energy innovation.
Soleymani began his research career working on ways to reduce the emission of carbon dioxide during the processing of engineering materials. In the course of his studies on this topic, he began to question if his efforts should instead focus on reducing the main source of greenhouse gases—fossil fuels. His subsequent investigations into this challenging problem convinced him to enter the field of renewable energy research.
Soleymani is currently working on the characterization of materials used in clean energy devices, with a focus on polymer electrolyte fuel cells (PEMFC). His research seeks to develop structure-property-performance relationships using analytical techniques such as ex-situ and in-situ transmission electron microscopy (TEM), scanning electron microscopy (SEM), X-ray computed tomography (XCT), and electron tomography (ET). His main goal is to determine how the structure of a material influences its function in real-world devices. "In materials science it is essential to understand the structure of any material, as it is the bedrock for designing new materials and improving the performance of any device" said Soleymani. Jankovic's Research Group actively works with both academic researcher and industrial partners to advance clean energy technology. As part of an ongoing collaboration, Soleymani participated in an internship at Ford Motor Company during the summer of 2020. This experience sparked his interest in pursuing a path in the automotive industry. "Fuel cells are the future of energy for stationary power plants and transportation; the heart of the fuel cell is the catalyst layer, and we are looking at the catalyst material to understand its behavior through the structure" he stated.
Soleymani was attracted to the MSE program at UConn because of its state-of-the-art facilities for materials characterization, its diverse connections with industry, and its large network of researcher working in the area of renewable energy. Although opportunities to access exceptional facilities and engage in industrial collaborations were key factors in his decision to join UConn, Soleymani states that the chance to work under the supervision of Professor Jankovic was paramount; "it is important to have a good advisor because they can shape your professional and personal characteristics". He describes Professor Jankovic in one word as 'professional'. "She is inspiring and motivates students, making them feel that they are a part of the breakthrough, not just a tool to get to that breakthrough" he adds.
Soleymani anticipates completing his doctoral degree in MSE sometime in 2022. Previously, he earned a BS (2011) and MS (2014) in materials science and engineering at Isfahan University of Technology, and an MS (2018) in mechanical engineering at Tennessee Technological University. Upon completion of his PhD, he hopes to continue his research in clean energy and to land a position in the automotive industry. As he wraps up his dissertation research at UConn, Professor Jankovic states, "Amir was the first student to join my group in 2018. I am so lucky to have him, as he is extremely hard-working, committed and professional in everything that he does. I see a great future for Amir."
Through his academic work and research activities while at UConn, Soleymani has greatly strengthened his technical, leadership, and collaboration skills, all of which will assist him in his future endeavors. His advice for students considering doctoral work is: "For pursuing a PhD, it is all about curiosity—if you are curious you will be successful. It is a tedious process, if you have perseverance you would finally love what you are doing."
Author: In Memoriam: Professor Harris Marcus
You will be redirected shortly.
https://www.ims.uconn.edu/2021/02/10/in-memoriam-dr-harris-marcus/
Author: MSE Professor Recognized as a Fellow of the Most Established Materials Information Society
By Samantha Bertolino
Professor Alpay, Ph.D., has recently had the honor of being selected by the Board of Trustees of ASM International as a Fellow of the Society. This position recognizes his distinguished contributions in the field of materials science and engineering. It allows a broadly based forum for technical and professional leaders to serve as advisors to the Society. According to the Board, Alpay was elected for his "exceptional contributions and leadership in materials theory, computational materials science, and multiscale materials modeling towards an understanding of aerospace alloys, functional materials, and surface properties."
Alpay is the General Electric Professor in Advanced Manufacturing in the Department of Materials Science and Engineering. He joined UConn's MSE department in 2001 and served as its program director and subsequently as its department head from 2011 to 2017. He is the Executive Director of the Innovation Partnership Building at UConn Tech Park, leading the University's efforts to increase strategic partnerships with businesses in a state-of-the-art research and development facility.
He is also an elected member of the Connecticut Academy of Science and Engineering (CASE) and a Fellow of the American Physical Society (APS) as well as the American Ceramic Society. He is the recipient of several awards including the NSF CAREER grant in 2001, the UConn School of Engineering Outstanding Junior Faculty Award in 2004, the UConn School of Engineering Outstanding Faculty Advisor Award in 2013 and the AAUP Excellence in Career Research and Creativity Award in 2018. Alpay has over 200 peer-reviewed journal publications and conference proceedings, four invited book chapters and a book on functionally graded ferroelectrics.
Author: Army Research Laboratory Internship Later Influences Student's Doctoral Dissertation Research
By Samantha Bertolino
Cassidy Atkinson earned her B.S. in MSE before matriculating into the UConn MSE graduate program. While still an undergraduate student, she took advantage of an outstanding opportunity to work as an atomistic modelling intern at the Army Research Laboratory (ARL). This experience helped to shape both  her research interests and her career goals.
Cassidy's experience at the Army Research Laboratory (ARL) was hands-on but heavily research focused. The project she joined was already ongoing, but her contributions to it were significant. She performed density functional theory (DFT) calculations on silicon carbide (SiC) and compared predicted crystal structures with those reported in the literature. Cassidy's research on this topic expanded over time to incorporate the recommendations of her team members, as well as her own ideas for further work. Her research on this topic continued during the following school year under a co-op project, and not long after, ARL offered to sponsor her senior design project as well.
Her work with ARL introduced Cassidy to computational modeling, which is now the central focus of her doctoral dissertation research. She continues to employ first principles calculations to determine the impact of dopants on the structure and properties of SiC. Cassidy is a member of Professor Alpay's research group that specializes in functional materials and multiscale modeling of materials. She is currently conducting a systematic study to understand how a series doping elements affect the energetics and crystallography of SiC. The aim of this research is to improve the resilience of SiC as a material used in body armor.
During the execution of these investigations, Cassidy found that the facilities available to MSE students accelerated her research significantly. "The Department offers optimal access to brilliant academics and professors, as well as various high-performance computing systems. The resources provided have greatly improved my studies. Without them, I doubt I would be able to complete such high-level calculations." 
In fact, her experiences in the MSE department as an undergraduate are what led Cassidy ultimately to return as a graduate student. In particular, she felt that her research interests were thoroughly aligned with the project opportunities offered in the program. "I have expanded my research in so many ways, and MSE has truly advanced my own personal growth." One of the more defining aspects of her experience, though, has been working in post-Covid conditions. "The professors within MSE have made the department feel as connected virtually as it would have been in person."
Professor Alpay shared, "I had the pleasure of working with Ms. Atkinson as her advisor in her senior design project. I am excited that she is pursuing a Ph.D. degree with us on a groundbreaking research topic that will provide the necessary knowledge and information to improve materials used in armor applications for the US Army." 
Author: MSE Undergraduate Student Receives Grant to Research Titanium Metallurgy on the Moon
By Samantha Bertolino
Sarah Myrick has just received a $5,000 NASA Connecticut Space Grant Consortium (CTSGC) Award for research she is conducting in MSE. Though she has been pursuing an undergraduate degree in biomedical engineering since spring 2018, she works alongside MSE graduate student Sharon Uwanyuze in Professor Schaffoener's research group, which studies the corrosion and thermomechanical properties of high temperature ceramics for advanced alloy manufacturing.
The work in Schaffoener's lab has synergy with Sarah's research, which seeks to investigate the processing of titanium on the Moon, where NASA has found an abundance of titanium ore deposits. Titanium and its alloys are important in aerospace applications, primarily as materials used in structural components. However, current techniques for producing titanium alloys are very cost-intensive and could not effectively utilize the abundant titanium ores found on the Moon. Melts containing titanium and its alloys are very reactive, and the purpose of Sarah's research is to identify novel ceramic materials that are suitable for use as crucible materials. Limiting the corrosion of the ceramic crucibles may eventually enable NASA to produce titanium cost efficiently on the Moon.
Author: Graduate Student's Research Aids Green Technology Revolution
---
By Samantha Bertolino
MSE graduate student Richard Andres Ortiz Godoy is hoping his research can be part of the effort to liberate society from fossil fuels. His research focuses on fuel cells, which provide an efficient, reliable and environmentally friendly next-generation energy alternative. Such prospects, however, wouldn't be possible without access to the advanced research facilities, faculty expertise and dedicated technical staff available to him as a student in the MSE graduate program.
He received his B.S. in materials science and engineering from Universidad del Valle in 2011 before joining the University of Texas (UT) as a research assistant. There Andres was in charge of sample preparation and transmission electron microscopy image acquisition for projects involving Proton-Exchange Membrane Fuel Cells (PEMFC). In 2017, he decided to go back to school. MSE Assistant Professor Jasna Jankovic – who would later become his advisor – was the reason he chose UConn. "I got many offers from universities with high rankings and good standing. But Dr. Jankovic assured me that I would be embraced in a safe and caring environment. She is compassionate in her work, something that most people within academia lack. I knew that she would help me to grow . . . not only as a professional, but as a person as well," Andres said.
Since joining the MSE program, Andres has had the opportunity to expand greatly his knowledge of his chosen field. His research investigates the dominant degradation mechanisms in PEMFCs at the nanoscale level of the platinum (Pt) catalyst, as well as the carbon corrosion that occurs after potential cycling. His research group is also proposing to enhance the stability and durability of fuel cell catalysts by different novel mechanisms, such as shielding parts of the catalyst system with a protective ultra-thin corrosion-resistant film. This work is supported by the National Science Foundation (NSF) and is conducted under the supervision of Professor Jankovic at the Center for Clean Energy Engineering (C2E2) and the Center for Advanced Microscopy and Materials Analysis (CAMMA). It is carried out in collaboration with Pajarito Powder, The Technion – Israel Institute of Technology and the Colorado School of Mines, among other institutions and private companies. Their research has the potential to provide insights that can unravel the true nature of catalyst degradation, as well as provide a deeper understanding of electrode architecture at nanometer length scales, which in turn can lead to more stable fuel cell operation. 
Andres is driven by the real-world applications of his research to end society's adverse reliance on fossil fuels. "Our dependency on certain technologies has trapped us in this toxic narrative where the systems we rely on devastate both the environment and our health." Andres hopes we can eliminate the need for fossil fuels by converting the chemical energy of hydrogen and oxygen into electricity, with water as a by-product. PEMFCs represent promising energy conversion capabilities in transportation, and in stationary and portable applications. This technology, in fact, is currently being employed in countries like Japan and South Korea, which is attempting the construction of three hydrogen-powered cities by the year 2022. The widespread use of hydrogen as a fuel for cooling, heating, electricity, and transportation would be the culminating achievement of the type of research that Andres is conducting.
Andres's research on this topic has afforded him a range of opportunities for collaboration. He worked for three months at the International Iberian Nanotechnology Laboratory (INL) in Portugal, where he also ran several experiments at The University of Porto. This allowed him to learn new techniques in electron microscopy and electrochemistry, as well as to meet and connect with many exceptional researchers. Andres  also tries to stay involved in any activity that includes outreach or assistance to new students. He was a senator in the Materials Research Society (MRS) until this year, and hopes someday to be the doctoral advisor of one of the students he has already mentored.
Together with the rest of Jankovic's research team, Andres has recently published a paper in Advanced Functional Materials that describes work carried out in collaboration with the Israel Institute of Technology, Istituto di Chimica dei Composti Organometallici and The University of Toledo. He is also writing a review paper on carbon support corrosion in PEMFCs. Additionally – and for the second year in a row – he has received the General Electric (GE) fellowship, which provides Ph.D. students with opportunities for professional development and enrichment. Next year Andres will participate in a 6-month-long NSF funded internship at the National Renewable Energy Laboratory. He is also planning to apply for a prestigious fellowship in France, with the prospect of working at either Sorbonne or Grenoble University sometime in the near future. In Europe, Andres hopes to work in a laboratory where he can explore new corners of his research. Once he receives his Ph.D. he hopes to obtain postdoctoral position that will allow him to continue his studies to Asia. His ultimate goal is to secure a permanent position as an academic researcher or a professor.
In advice to future MSE students, Andres highlights the importance of respecting everyone, regardless of their professional status. He warns students to always remember that any published work will have their name attached to it, and will therefore go on public record. It is essential that they always put forward their very best effort and are able to communicate effectively as a team. He also encourages students to make time for themselves. "Your physical health is closely tied to your mental health, and they are equally important. When you are rounded out, you can take yourself wherever you want to be," Andres shared.
Author: Diverse Experiences in MSE Doctoral Program Help Shape Alumna's Career
By Samantha Bertolino
The MSE program at UConn often announces employment opportunities that are available to graduating students across a wide range of industries. That is how MSE alumna Dr. Bahareh Deljoo ('20) ultimately secured a position at Intel as an integration engineer. Her main responsibilities at Intel involve designing and conducting experiments in order to meet engineering specifications, as well as critically examining production data to maintain yield and identify any production issues. She was initially attracted to the company's state-of-the-art technologies, in addition to its strong sense of community.
Bahareh found that she was well prepared for the range of technical and interpersonal skills that are necessary for success at Intel. As a doctoral student in the MSE program, she conducted her dissertation research under the guidance of Professor Mark Aindow. In her work as a microscopist, she investigated a number of material systems, which gave her an opportunity to enhance the research and problem-solving skills that are now essential in her work in industry. She also collaborated with researchers both within the university and at other universities, and networked with industry affiliates. These interactions helped her to delve deeper into her research topic, develop her career vision, and hone her communication skills.
In addition, Bahareh was an active participant in several student-lead organizations, many of which facilitated new connections with students of varied backgrounds and fields of study. She served on the board of the Student Organization of Graduate Engineers (SAGE) and on the Graduate Student Senate (GSS). Her membership in these organizations promoted a great deal of professional and personal growth. "You learn about different people and make great friends. From there, you can start to build a powerful network. Those groups were the perfect addition to my graduate life," Bahareh stated. While many technical subjects can be mastered in a semester or two, certain skills take much longer to build. In this regard, the varied experiences available to Bahareh during her time in the MSE program played a key role in helping her to build competencies in networking, leadership and teamwork.
In her advice to current MSE students, Bahareh noted that a career in materials science allows ample room for a person to both explore their interests and grow their skills. She urges students to take their time investigating the different career paths that can be taken. "The connections that a person will make throughout their academic career will become very valuable in the future."
Author: Garofano Named a Woman of Innovation
The Connecticut Technology Council and Connecticut Center for Advanced Technology announced the winners for the sixteen annual Women of Innovation® during a digital awards ceremony on November 12. The winners in 10 categories were selected from 50 finalists, drawn from 150 women who were nominated earlier this year.
Jacquelynn Garofano was one of the finalists in the Large Business Innovation and Leadership Category.  "As a CT native and fierce STEMinist, this achievement means so much," she says. "It's been a goal of mine to be named WOI again in my professional career." Garofano has, in fact, been honored twice now, having received the collegian award back in 2011. At that time, she was finishing her doctorate at the UConn School of Engineering and preparing to step into a career at UTC as a research scientist.
Earlier this year she received the Women in Science Leadership Award from the Petit Family Foundation as part of the Connecticut Science Center annual STEM Achievement Awards.
Author: MSE Graduate Student Develops Novel Hybrid Convolution Neural Network
By Samantha Bertolino
Rajat Sainju, a third-year MSE doctoral student, has quite literally broken the mold of typical semantic segmentation for electron microscopy images, a technique that his research group has since applied in the development of computer vision-based algorithms for microscopy data. The opportunity to work in this new field would not have been possible without the support of his advisor, assistant professor Yuanyuan Zhu, and the MSE department. In fact, Rajat found the resources existing within UConn MSE to be crucial in guiding him toward his career goals, providing him with access to many renowned academics and a dedicated staff, and with opportunities to present and discuss his ongoing research in a highly collaborative, engaging environment. Utilizing these resources, Rajat co-authored one of the top 100 most downloaded materials science papers published in Scientific Reports in 2019.
The paper, entitled, "Deep Learning for Semantic Segmentation of Defects in Advanced STEM Images in Steels," focuses on the development and application of deep learning-based semantic segmentation algorithms, which can be used to automatically identify and segment nanoscale crystallographic defects in electron micrographs. Semantic segmentation involves the process of assigning each object – a type of defect in this case – to a corresponding class. The algorithm is able to make a prediction of all pixels that represent or belong to an object. Depending on the type of material, the defect type, and the number of defects, labeling each pixel manually in an image can take hours, even for seasoned researcher.
In this particular study, however, Rajat worked with his collaborators to develop a new convolution neural network architecture 'DefectSegNet,' which is now able to learn and identify any type of defect (such as dislocation lines, precipitates, and voids in steels) from a set of very small yet high-quality Scanning Transmission Electron Microscopy (STEM) images. When compared to the manual quantification of defect metrics, the prediction of defect-maps by DefectSegNet is significantly faster, and can now be completed reliably within seconds. These automated image analysis capabilities were demonstrated using micrographs acquired on HT-9 martensitic steel.
Rajat's paper on DefectSegNet has become the foundation of his future research. The lessons learned while demonstrating the feasibility of deep learning-based semantic segmentation for identifying defects that form under a complex-contrast mechanism have also opened exciting avenues for other applications of computer vision to S/TEM-image processing.
His current research focuses on the development of computer vision-based algorithms for automated high throughput analysis of images. Specifically, he seeks to understand material dynamics by combining in-situ environmental S/TEM and deep learning-based analysis. Depending on the experimental conditions and the information that needs to be extracted, a given project may include solving a combination of vision-based challenges such as object defection, object tracking, semantic, and instance segmentation. This can be used to better understand the fundamental processes and reactions within materials, like redox reactions, defect motion, catalysis, and phase transformations to name a few. These scientific tools contribute to reliable extraction of statistically significant, high-quality information from microscopy data. The implementation of deep learning algorithms removes human subjectivity, making the measurements robust, reliable, replicable, and comparable. Being able to take advantage of such algorithms will "save a lot of human hours."
"The bigger picture is to understand the material dynamics and behavior under various conditions." Rajat says of his work when applied to the real world, "Our hope is to create a positive impact through fundamental researchon the lives of as many people as possible." The driving force behind his work is to continue developing such tools, and he aims to make them accessible to people across different fields. Building these image-processing tools is not limited to the materials science domain, but can also be applied to medical images, robotics, and satellite imagery, among other things. With this in mind, Rajat hopes to attain a job as a researcher in academia sometime soon.
He thanks his advisor, Dr.  Zhu, for helping him to get this far. "She is a great role model with an infectious passion for materials science," he says. Her vision for the future of in-situ electron microscopy and the integration of deep learning/computer vision for the advancement of microscopy has deeply influenced his research. "Becoming a scientist requires a broad range of scientific skills, critical thinking, imagination, integrity, independence, and of course, a very supportive mentor. By providing an environment of growth, Professor Zhu has helped me to acquire those skills and build an aptitude for scientific discovery."
Author: MSE Alumna Jacquelynn Garofano Honored from the Society of Women Engineers
MSE alumna Jacquelynn Garofano was awarded the 2020 Spark Award for fostering long-term mentorship grounded in mutual empowerment; and for positivity and motivational drive that spurs others, especially women, to pursue success on their own terms. Additionally, she received the Patent Award Recognition for the two patents that she holds, the first patent is from her time at UCONN. Read more.
Author: Rajiv Naik Hired to Advance Education on Composites
By Samantha Bertolino
Professor Naik has recently joined the School of Engineering (SoE) as a Visiting Professor, after serving as an adjunct professor in MSE for almost 4 years.
Naik obtained his Ph.D. from Old Dominion University, and has been teaching graduate engineering courses in the field of composite materials for over a decade, while simultaneously working full-time at a major aerospace company as well. With this teaching and industry background, Professor Naik hopes to impart his vast knowledge and experience in the field of composite materials to the next generation of engineers. 
This new position within SOE involves teaching and developing new graduate level courses in the Composites Engineering Certificate program here at UConn. In it, Professor Naik "hopes to advance the education of composites engineers in the local area and grow the CEC program to be one of the finest in the state and beyond."
Author: Dr. Cato Laurencin Named Recipient of 2020 Herbert W. Nickens Award
By Samantha Bertolino
University Professor Cato T. Laurencin, MD, PhD, has distinguished himself throughout his 40-year career as an outstanding physician-scientist and a courageous leader in social justice, equity and fairness.
Through his combined national, regional and community efforts, Dr. Laurencin has worked towards reversing racial and ethnic health disparities in medicine and science. He co-founded the W. Montague Cobb/National Medical Association Health Institute, which works to address such health disparities. Dr. Laurencin was also among the first to publish a peer-reviewed article on COVID-19 and black Americans, and is the founding editor-in-chief of the Journal of Racial and Ethnic Health Disparities, now in its seventh year. He worked with the Young Innovative Investigator Program for Black and Latino students, and the UConn Presidential M-1 Mentoring Program, where he mentored over 200 scientists- and physicians- in-training. Throughout these mentorships, Dr. Laurencin helped to guide individuals underrepresented in medicine, and worked to found several programs and initiatives improving diversity in the sciences. He has been recognized for his great work in medicine and the sciences throughout the years, and most recently has been the recipient of 2020 Herbert W. Nickens Award.
The Herbert W. Nickens Award is given to individuals who have made significant contributions to promoting justice in medical education and health care equity in the United States. The awardee has the opportunity to present the Nickens Lecture on November 18th in a virtual setting at Learn Serve Lead 2021: The AAMC Annual Meeting.
Author: MSE Doctoral Student Benefits from Collaboration with Aerospace Company
By Samantha Bertolino
Hannah Leonard knew early on that she wanted to study materials science in graduate school, and found UConn has a vibrant MSE program. The large number of industry partnerships ongoing with the department specifically caught her attention. In fact, her current research is conducted in collaboration with Collins Aerospace, and investigates a new generation of rapidly-solidified aluminum alloys that form metastable phases and microstructures resulting in an unusual combination of properties. Though her research on this problem is now coming to fruition, it took lots of time and effort to get there.
While Hannah was an undergraduate at Stony Brook University, she had the opportunity to spend two summers at Lawrence Berkeley National Laboratory as a participant in the Science Undergraduate Laboratory Internships (SULI) program. During that time, Hannah studied electrode materials for electrochemical reactors, which was her first experience getting truly involved in scientific research. She claims to have enjoyed being able to "fully invest herself" in a research project, and that she loved "both the pursuit of knowledge, and the creativity it involves." She also reflected on the inspiration she drew from one of her research mentors in the program, who served as a role model and helped "spark the desire" in her to pursue graduate school.
Now Hannah is a fourth-year doctoral candidate conducting research on a Collins Aerospace sponsored project that investigates phase stability and micro-structural development in powder-processed aluminum alloys. Working in MSE Professor Mark Aindow's research group, she is seeking to develop a quasi-crystalline dispersion-strengthened aluminum alloys reinforced with dispersions of icosahedral quasicrystals, which could be potentially used as lightweight, high-strength structural materials for aircrafts, particularly in external applications where good corrosion resistance is also needed. Her dissertation research focuses mainly on the microstructural characterization of these alloys using electron microscopy techniques, but also examines their thermo-mechanical properties.
Upon completing her degree, Hannah hopes to continue working in the aerospace industry, but is also receptive to other opportunities. Professor Aindow has helped her to make many connections, including through participation in a virtual internship with the Air Force Research Laboratory (AFRL) this past summer. As her dissertation nears completion, she offers a piece of advice to current undergraduate students of MSE, challenging them "not to be afraid of moving out of their comfort zone." This is something that Hannah sometimes struggles with as well, but the times where she pushes herself are usually met with "some of the most rewarding experiences." She says of these, "you would be surprised at what you are capable of if only you give it a shot."
Author: Dr. Laurencin Named Recipient of 2020 Von Hippel Award
By Samantha Bertolino
University Professor Cato T. Laurencin, MD, Ph.D., has been widely recognized for his exceptional achievements in engineering, science, medicine and technology.
Most recently he has been named the 2020 recipient of the Materials Research Society's Von Hippel Award, the organization's highest and most prestigious honor. This award is made to recognize an individual with qualities most prized by materials scientists and engineers—brilliance and originality of intellect, combined with vision that transcends the boundaries of conventional scientific disciplines. It is presented annually at the MRS Fall Meeting, where the recipient is invited to speak at the Awards Ceremony.
Dr. Laurencin's accomplishments span a wide range of fields. He is an elected member of the National Academy of Engineering and received the Simon Ramo Founders Award for his work. He is also an elected member of the National Academy of Medicine, and received the Walsh McDermott Medal for his profound leadership within that role. Dr. Laurencin is a Fellow of the American Association for the Advancement of Science as well, and was awarded the Philip Hauge Abelson prize for his significant contributions to the advancement of science within the United States. He is also a Fellow of the National Academy of Inventors, and received the highest honor for technological advancement in America, the National Medal of Technology and Innovation, from President Barack Obama in ceremonies at the White House.
Author: MSE Alumna Receives Women in Science Leadership Award
By Samantha Bertolino
MSE alumna Dr. Jacquelynn (Jackie) Garofano, (M.S. '09; Ph.D '11) has been named the 2020 Petit Family Foundation Women in Science Leadership Award Honoree.
This award recognizes a woman working in STEM who is both a leader in her field and a significant contributor of efforts made to encourage young girls in the sciences. Garofano's aim has been to share her own journey with others, and to provide a platform in which women in engineering can be seen and heard.
She is the program manager of the prestigious Margaret Ingels Engineering Development Program at Raytheon Technologies. In this role and in her community leadership, Garofano is committed to mentoring and empowering the next generation of engineers and scientists who will shape our future. She has served as a community leader for United Way, Women United, and has recently been appointed to the Board of Directors for the Girl Scouts in Connecticut and is a member of its diversity, equity and inclusion committee. She has been named one of Connecticut's Women of Innovation® twice. First, as a recipient of the Collegian Innovation and Leadership award in 2011 and, most recently, as a finalist in the Large Business Innovation and Leadership Category for 2020. Garofano also earned the unique distinction of landing on the Forty Under 40 outstanding young professionals list for Connecticut Magazine (2013) and Harford Business Journal (2015). She is recognized as an active member of the Society of Women Engineers and was named the 2018 Future is NOW awardee by the CT Women's Education and Legal Fund for her work to advance women and girls in the STEM field. Garofano strives to be someone that young women – especially those in under-served communities – can look up to. "You can do anything you set your mind to," she says.
Author: MSE e-Bulletin 2020
Welcome to our 2020 Outreach Bulletin! This publication is intended to share news stories and features about departmental accolades, research being conducted by MSE faculty, and alumni interviews that highlight our students' diverse accomplishments post-graduation.
We hope that you will find inspiration in the many ways in which UConn MSE continues to grow and diversify while remaining on the cutting edge of research and innovation.
INSIDE
3   Research 
7   Department News
9   Undergraduate Students
14 Senior Design Day
17 Graduate Students
18 Alumni
Author: MSE Graduate Student Discovers Career Path During Difficult Times
By Harrison Raskin
Third year MSE graduate student Marco Echeverria spent a second highly productive summer at the Lawrence Livermore National Laboratory (LLNL).
Echeverria says his research focused on using simulations to model the generation of metal ejecta from high-energy experiments with metals and lasers.
"The focus of the simulation effort is to provide an atomistic insight on the process, and to study the microstructural and defects effects on the ejecta formation. Results such as strength values, dominant dislocation types and free surface morphology can be then used in higher length-scale simulations, such as continuum mechanics, to fill the gaps these models have due to their larger scale"
LLNL physicist Alison Saunders, Echeverria's internship supervisor, said that gaining a better understanding of ejecta interactions has a broad range of applications including spacecraft shielding, cold-spray welding, additive manufacturing and understanding material strength at small scales.
These findings will contribute to LLNL's primary responsibilityof ensuring the safety, security and reliability of the United States' nuclear deterrent. The research laboratory is focused on using applied scientific and engineering advancements to support breakthroughs in counterterrorism, nonproliferation, defense and intelligence, energy and environmental security; a few of the many ways in which work such as Echeverria's can improve the world beyond the laboratory.
Echeverria likes that his work with LLNL is now a direct component to his PhD research. "My (PhD) work focuses on the behavior of materials under extreme environments, such as laser excited shock loading and piston loading. The ejecta studies with LLNL are another type of outcome in similarly extreme mechanical environments, so it all fits together well." At UConn Echeverria works under the guidance and advice of MSE Associate Professor Avinash M. Dongare, principal investigator of the Dongare Computational Materials and Mechanics research group. Echeverria says that Professor Dongare recommended he attend the 2019 Stewardship Science Academic Programs (SSAP) conference in Albuquerque where he connected with scientists from LLNL. Marco's graduate research at UConn is part of the Center for Research Excellence on Dynamically Deformed Solids (CREDDS) that is funded by the Department of Energy's National Nuclear Security Administration (DOE/NNSA). Dongare notes, "One of the top priorities of CREDDS is the ability of the students to engage with NNSA labs.
Marco has been a success story for the center wherein he has worked with the scientists at LLNL to build a strong direction for his PhD research. This is truly impressive for a graduate student."
Echeverria was one of millions of American students who found their academics restructured by COVID-19. Despite a shift to virtual research jeopardizing positions in most laboratories, Echeverria was able to obtain a completely remote internship.
"My work is in molecular dynamics, so I can do that even if I only have a computer and internet connection. LLNL did an amazing job with all the interns, especially with the tech-support and being remote."
The laboratory prioritized virtual communication by implementing weekly team meetings and daily interactions with mentors.
Returning to UConn this fall, Echeverria describes some difficulties with virtual research.
"It makes it a little complicated giving it 100 % while always staying in the same environment. Personally, I like to have a place of work and another of leisure. Now, after so many months, I've gotten used to having an agenda while working from home, although it is always hard not to take a nap after lunch!"
The positive internship experience also has Echeverria considering working within a national laboratory as a career option.
"I really like the close connection between experimental work and modeling that's possible in a national lab research environment," Echeverria said. "It's exciting to be able to reverse-engineer simulation codes based on experimental results."
Echeverria received his bachelor of engineering degree in mechatronics engineering from the Central American Technological University of Honduras in 2015, and his master's degree in mechanical engineering from the University of Puerto Rico (Mayaguez) in 2018. Echeverria joined UConn in the fall of 2018 as a graduate student pursuing a PhD in the MSE department, and is currently the secretary of the UConn Materials Research Society Chapter. His research focuses on the atomic scale modeling of the deformation and failure response of multiphase metallic materials under shock loading conditions.
(Source: https://www.llnl.gov/news/doctoral-fellow-improves-codes-used-simulate-interactions-between-particles-moving-high)
Author: MSE Welcomes Xueju "Sophie" Wang to the Department
By Harrison Raskin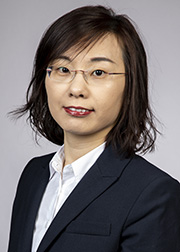 We are pleased to welcome our newest faculty member Xueju "Sophie" Wang who joins our department as an assistant professor this fall.
Wang brings an impressive academic background to MSE. In 2016 she received her Ph.D. in mechanical engineering from the Georgia Institute of Technology. After completing her post-doctoral research at Northwestern University, she served as an assistant professor of mechanical and aerospace engineering at the University of Missouri, Columbia.  
Wang's research group conducts interdisciplinary research on mechanics, materials, and structures for energy and human health applications. Their current research interests include mechanics and materials for multi-physics systems such as in energy storage and conversion, design and manufacturing of 3D stretchable, programmable architectures and electronics, and soft materials and systems.
Wang is the author of over 20 publications, and she holds multiple patents and disclosures. In addition, her research has been recognized through awards from the professional society, including ASME Haythornthwaite Foundation Research Initiation Award and Gary L. Cloud Scholarship Award from the Society of Experimental Mechanics.
"I am very excited about joining the MSE department and the Institute of Materials Science at UConn. I look forward to interacting with our great undergraduate and graduate students and collaborating with our faculty members", Wang says.
Her expertise and extensive research interests will prove essential for our department's growth and development. Please join us in welcoming her!
Author: Digging Into a More Cost-Effective Solar Technology
You will be redirected to the article shortly.
Author: Diving Deeper Into Her Hobbies Sparked an MSE Sophomore's Passion For Learning About Materials
By Ben Crnic
For sophomore Elise Bessette, materials science was always intertwined with her hobbies and interests. Being passionate about 3-D printing, Bessette was already familiar with various materials exhibiting different properties. She became fascinated with learning more about why they behaved the way they did, leading her to MSE.
"I don't think it was any single material that got me interested in MSE. Rather, it was the breadth of materials that grabbed my attention," Bessette said. Polylactic acid (PLA) is commonly used with 3-D printing because it can be annealed to increase part strength due to its somewhat crystalline nature. Acrylonitrile butadiene styrene (ABS), on the other hand, is sensitive to temperature changes and produces fumes during the printing process.
Learning about MSE also aided Bessette with her robotics team experience while in high school. She was fortunate enough to take some UConn engineering classes at the Storrs campus during this time, giving her some knowledge about plastics which she applied to the robots developed by her team. In particular, she advocated for the use of polycarbonate instead of aluminum for a certain assembly due to its availability, price, and desirable properties. This assembly ended up lasting the entire competitive season. From this experience, Bessette knew she had a passion for studying materials.
Now an MSE undergraduate at UConn, Bessette works in the lab of her advisor, Assistant Professor Lesley Frame. She helps with projects focusing on failure analysis and process improvements, many in connection with the Industry Affiliates Program (IAP)  which is run by the Institute of Materials Science. The IAP assists regional industry with short-term materials-related research and production projects, especially providing tools and expertise which companies may not have. She is also enjoying her MSE classes–her favorite this Spring was "Introduction to Structure, Properties, and Processing of Materials II (MSE 2002)" taught by Associate Professor and Director of Undergraduate Studies Serge Nakhmanson.
"The lectures are always good, and the homework always helps to reinforce the course content. It is also structured so that you have to go and find out further details for yourself," Bessette said. Of course from the faculty's perspective, that's a key part of being an engineer—utilizing what you've learned, discovering and applying more, and then assimilating it to achieve a goal.
As for what comes next, Bessette wants to return to her initial passion for materials and begin researching 3-D printing. 
"It is a big hope of mine to be able to work with 3-D printing in the future. While it's rewarding doing it as a hobby, I would love to be able to advance the science and applications of this rapidly evolving field," Bessette said. She encourages other MSE students to contact faculty about research regarding their interests.
"If you see an opportunity for research in your email that sounds interesting, reply! There are plenty of professors who are looking for undergraduate students to assist in research," Bessette said.
Author: To Megan Hurley, MSE is a Close Community As Well As a Fascinating Major
By Ben Crnic
Megan Hurley was drawn to engineering and materials science from a young age. In 4th grade, she was already carefully inspecting the different materials inside rocks she had broken open, and in high school she found chemistry and math appealing. When it came time to pick a college major, she knew she wanted to be involved in something to do with materials, and she began to explore UConn's MSE department. When she discovered the camaraderie and how tight-knit the department was, she knew that it was a perfect fit for her.
"I really like the community and the smaller class sizes. You get to know people and what they like to do, and there is better interaction with the faculty as well. They are all enthusiastic about what they teach, and everyone is nice," Hurley said.
She was made aware of the MSE department while she was participating in UConn's BRIDGE program before her freshman year, a five-week summer program designed to prepare students for the rigor of the engineering curriculum at UConn. During this time, she spoke with her tutor at the time, Francis Almonte, who she credits with helping her make the decision to become an MSE major.
Now a junior, Hurley is certain this was the right decision, and is heavily involved in the MSE community. She volunteers for the Engineering Ambassadors, a network of students dedicated to inspiring the next generation of engineers through volunteering at events that promote STEM. She volunteers at events held by the Society of Women Engineers as well, which supports the professional interests of female engineering students as they pursue their degrees at UConn. Hurley also helped younger MSE majors through working with incoming freshmen at the BRIDGE program during one of her summers, and currently assists them through her position as The Major Experience (TME) Mentor for the MSE department. Incoming students are able to reach out to her and ask questions about the major, and she will be assisting with further outreach activities in the future. 
Hurley finds it easy to be involved in the community for her major. She is fascinated by her classes, and there has never been a dull moment throughout her time at UConn.
"I think everything I've learned so far is cool, even if it's a less exciting topic to me," Hurley said.
One such course that struck her interest was MSE 3004 Mechanical Behavior of Materials, which was taught by Assistant Professor Seok-Woo Lee. In one class, Professor Lee gave a demonstration of the effects of shear force on a single crystal created at the nano-scale, which is a sample where the crystal lattice is continuous throughout. The demonstration involved a tensile tester which pulled apart the dog-bone shaped sample and recorded how the individual atoms in the crystal responded to the applied shear forces. Hurley was captivated by this demonstration.
"I've always liked how slight changes to a material can alter a multitude of its properties and characteristics," Hurley said.
Once the UConn campus opens again for research after being closed due to the COVID-19 pandemic, she intends to perform a nanoindentation study on shock-compressed magnesium single crystals. The investigation will focus on the hardness of the material, specifically how it is influenced by the presence of twin boundary defects that form from prior mechanical shock. Studying the hardness in this way is valuable because it provides knowledge of the connections between materials properties, processing, and applications. The shock loading will be performed at two different speeds and will impact the samples with two different orientations, which should create a variety of defect distributions in the structure for further analysis.
Such research is essential because single crystals are often used in engines or turbines, where uncontrolled defects can be disastrous. It is therefore crucial to understand how the material responds to stresses similar to those encountered during normal operation in the typical environment, and how the properties of the material are altered as a result of this stress.
Hurley has some advice for the newer MSE majors she mentors: they should not be afraid to reach out to professors about their own research interests in order to explore ways to pursue such subjects.
"Just reach out, it might seem daunting and scary but once you start talking to professors after class it can open doors. Suddenly, you'll find yourself doing research," Hurley said.
She would also like to share her life motto, which she repeats to herself when she faces difficult challenges and urges others to do the same:
"You got this, even when you don't think you do."
Author: UConn, Army Research Lab Collaborate on New Portable, Renewable Energy Technology
You will be redirected to the article shortly.
https://today.uconn.edu/2020/06/uconn-army-research-lab-collaborate-new-portable-renewable-energy-technology/

Author: Two Local Doctors Come Up with Alternative Greeting to Replace Handshake
You will be redirected to the video shortly.
https://www.wfsb.com/news/two-local-doctors-come-up-with-alternative-greeting-to-replace-handshake/article_3f85c5f0-a4ee-11ea-affa-1358149ca8ff.html
Author: Thanks to the Work of MSE Alumnus David Wikholm, Robots May Become Lab Assistants
By Ben Crnic
MSE Alumnus David Wikholm (2013) is used to being on the front lines of innovation: he currently works on pioneering robotics technology in his position as Product Manager and Research Engineer at Formulatrix Inc. in Bedford, MA, a company that develops laboratory automation solutions, including the next generation of liquid handlers using microfluidic technology. Wikholm considers his MSE background invaluable in preparing him for his professional life and giving him a unique perspective on the engineering problems he encounters during his projects, as well as giving him the skills needed to make breakthroughs in his work.
"The MSE department emphasized engineering problem solving as a process in the context of materials science. Through my studies in the department, I learned an approach to solving engineering problems that is transferable to any division of engineering. I would say that this, combined with the research-oriented nature of materials science, prepared me well for a career in research and development in any engineering field," Wikholm said.
One of the projects to which Wikholm is applying his problem solving skills is called the Rover, a mobile robot that helps with lab automation and serves to connect instruments together to move materials between them. The Rover assists with moving experiments between the different instruments, and is packed with sensors that make it smart and aware.
Another project Wikholm is developing is called the FLO i8 liquid handler, a robotic pipettor that transfers specific volumes of liquid to perform experiments in labs. Wikholm contributed to one of the first major developments on this project, which was a novel pipette tip design with two conductive strips down the sides and resistance-based sensing to enable real time tracking of the liquid level as it rises and falls in the container.
During his undergraduate career, Wikholm carried out research in the lab of his academic advisor, MSE Professor Puxian Gao, which centered on evaluating the behavior of certain cells when exposed to nanomaterials.  He also explored methods to create uniform growth of zinc oxide nanowires on microbeads for use in the cell biology experiments.
The focus on biology fit Wikholm's interests, as he first became fascinated by MSE through biomaterials, and was interested in the concept of creating 3D structures to grow tissues or entire organs in a lab. Professor Gao looks back fondly on Wikholm's research and is proud of his work.
"David is one of the very dedicated students who got involved in our materials research during his sophomore year. I am very glad to see the continued devotion and success in his young career," said Gao.
Ultimately, Wikholm ended up choosing MSE as a major because he viewed it as an essential field.
"I saw that materials science and engineering as a subject is quite fundamental and relevant to many fields of engineering, especially in various fields of cutting-edge research that I find interesting. I am captivated by the ability to unlock totally new applications and solutions by creating new materials," he said. His favorite course during his time at UConn was MSE 3002, Transport Phenomena in Materials Processing, taught by Professor Harold Brody.
"This course really taught me how to navigate any real-world engineering problem and work through a solution. It was a major challenge, but it was rewarding," Wikholm said.
Wikholm ended up completing a 5-year dual degree program called EUROTECH, which leads to BA in German and BS in engineering and is designed to emphasize national strengths in particular engineering fields.  In order to complete this program, he spent a year abroad in Stuttgart, Germany, taking classes for one semester and working as a research intern at the Fraunhofer Institute for Interfacial Engineering and Biotechnology for the other semester.
"I had always wanted to study abroad and had also been interested in learning and using a second language. It seemed like a great opportunity to achieve both of those goals," Wikholm said.
At his internship at the Fraunhofer Institute, Wikholm worked in the materials lab to research methods and materials to disperse nanoparticles in a solution, and carried out experiments to lay the groundwork for a study of the toxicology of nanoparticles. He credits his work in Germany as giving him the ability to recognize and navigate cultural differences, especially in a professional and technical environment.
"Ultimately, I believe this has helped me be successful in my role at Formulatrix, where I manage and work with teams of engineers based in Indonesia," Wikholm said. After his work at Fraunhofer, he took another internship at Precision Combustion, Inc. in North Haven, Connecticut, where he assisted with preparing, performing, and analyzing experiments to evaluate new catalytic formulations.
Wikholm views all of these experiences as crucial for his success, and he believes the field of MSE is vital for the whole of engineering.
"I see the UConn MSE program as a hidden gem. It is a fundamental crux to almost any engineering field. It's great for learning the essentials of engineering problem solving," he said.
He recommends that other students interested in engineering consider becoming an MSE major.
"An MSE background can bring new perspectives to develop solutions for problems in other engineering fields," Wikholm said.
Author: A Single Class Paved the Way for MSE Alumnus Ryan Noraas to Discover His Field of Study
By Ben Crnic
During his time at UConn, MSE alumnus Ryan Noraas decided to take MSE 5310 DFT Materials Modeling, and became fascinated with predicting fundamental material properties using atomistic simulations. This budding interest carried him to the field of machine learning and artificial intelligence, and ultimately led him to his current projects in his position at Pratt & Whitney. He is currently a staff engineer in the Materials and Processes Engineering lab.
"Sometimes, all it takes is a single spark to help you find a field of study," Noraas said.
At Pratt & Whitney, Noraas works with the United Technologies Research Center (UTRC) on projects related to machine learning algorithm development. He also focuses on materials modeling and quantification of process-microstructure-property relationships for jet engine applications, especially with titanium and nickel-based superalloys. He enjoys the teamwork that comes with the position, in addition to the flexibility to work in a wide variety of interesting projects.
"In general, most of our engineers are in a unique position to not only develop technology for the future, but also to support critical production and field issues as they arise. It's an interesting work environment that always keeps you on your toes. It provides a unique opportunity to network and learn about many different materials systems," Noraas said. 
Noraas cites UConn's proximity to Pratt & Whitney as a reason for choosing the school to complete his master's degree.
"Pratt & Whitney and UTC have a great working relationship with UConn, so it was a natural choice," Noraas said. He graduated from UConn in 2016 with a Masters in MSE, and his advisor was MSE Department Head Bryan Huey. 
Similar to the way he discovered machine learning, Noraas can trace his introduction to MSE to a single experience that ignited his passion for the subject. During a high school field trip to Pennsylvania State University, he witnessed an experiment where two heat-treated ball bearings, one rapidly quenched and one cooled in a furnace, were dropped simultaneously on a solid surface. The furnace-cooled bearing bounced once or twice before coming to rest and produced a dull sound upon impact, while the quenched bearing bounced up and down like a rubber ball and produced a high pitched ring. The starkly different effects of heat treating provoked Noraas's interest, and from that day on he knew he was to be an MSE major.
He encourages current MSE students to take a wide variety of classes with topics that may be unfamiliar to them, as they may find a new direction just as he did with machine learning through taking MSE 5310.
"One of my favorite quotes is 'You don't know what you don't know.' So strive to keep learning, and try new things–you may discover entire fields of study and opportunities that were 'invisible' or unknown to you at the time," Noraas said. He also has some more specific, practical advice for MSE majors:
"Learn how to code. Materials engineers work with a ton of different types of data, so learning how to code and automate things with Python or Matlab will assuredly save you and your company a lot of time and money," Noraas said.
Author: MSE Professor Inducted Into Young Academy
By Ben Crnic
MSE assistant professor Stefan Schaffoener was recently inducted into the Young Academy, which was established by the Academy of Sciences and Literature | Mainz in Germany  to support promising young scientists as they pursue their careers. The academy seeks to assist young scholars in developing their scientific talent and expanding their scientific networks, as well as to promote dialogue across both disciplinary borders and generations.
Schaffoener is looking forward to working with people in disciplines outside of engineering on his future research projects.
"Because humanity has been involved with materials for a long time and MSE is a rapidly advancing field, we can connect it to a lot of other research that has a large impact on society," Schaffoener said. He cited as one example of these connections how research into changes in geographic mobility overlaps with research on how changes in transportation affect greenhouse gas emissions, as well as the demand for certain enabling materials and other technologies, thereby bringing together investigators from a variety of fields.
Membership in the Young Academy is limited to a period of 4 years. Due to the COVID-19 pandemic the induction ceremony has been postponed to November.
On his hopes for the next 4 years, Schaffoener said, "I would like to do excellent research at UConn and work on projects that go beyond my field, which hopefully will improve the well-being of other people."
Author: Congratulations to the 2020 MSE Senior Design Project Winners!
On May 1st, 13 teams of MSE seniors virtually presented their Senior Design Projects for the annual Senior Design Day. These capstone projects, each sponsored by industry, state, or federal grants, demonstrate the engineering skills students have learned throughout their undergraduate careers. This includes the principles of design, how ethics affect engineering decisions, how professionals communicate ideas, and the day-to-day implications of intellectual property. The students research a problem, brainstorm potential solutions, and travel to the sponsoring company's site to learn more about them and the project. Throughout the two-semester project timeline, student teams maintain contact with their industrial and faculty mentors, continually reevaluate their designs, write progress and final reports, and give presentations summarizing their outcomes. Summary videos of the MSE projects are available here.
The top three Senior Design projects were awarded by a team of industry judges and alumni, as summarized below:
Lauren Heaven, Lockheed-Martin, Sikorsky
Rheanna Ward, Lockheed-Martin, Sikorsky
Vincent Palumbo, Mott Corporation
Truman Strodel, Pratt & Whitney
We are grateful to this cohort for their commitment to our program, and more broadly for all of our project mentors and sponsoring companies/agencies.
As department head Bryan Huey notes, "The winning projects and students represent just a few examples of the knowledge, skills, creativity, poise, and determination which our MSE graduates carry to the next stage in their careers."
---
1st Place ($400): Preparation Of 3D Printed Plastic Components For Waterborne Environments
By Riley Blumenfield, Christopher Choi, and Aidan Walsh
Sponsored by: Naval Undersea Warfare Center
Sponsor Advisor: James LeBlanc
Faculty Advisor: Rainer Hebert
This project focuses on finding a 3D printable material with high mechanical properties and UV resistance, as well as a coating that prevents significant degradation of mechanical properties during exposure to seawater.
---
2nd Place ($300): Controlling Residual Stresses In Alpha Beta Titanium During Manufacturing
By Kevin Sala and Cameron Sanders
Sponsored by: Pratt & Whitney
Industry Advisor: Vasisht Venkatesh
Faculty Advisor: Lesley Frame
This project focuses on a better understanding of the surface and subsurface residual stresses and microstructural damages that occur during machining of titanium alloys as well as the design of manufacturing processes that limit the residual stresses and subsurface damage.
---
3rd Place ($200): Optimization Of Adhesion Between Kapton Tape And EPR In Motor Lead Extension Cables For Use In Electric Submersible Pump Cables
By Eric Krementowski and Katelyn White
Sponsored by: Marmon Utility Co.
Industry Advisors: Michael Norton, Dan Masakowski
Faculty Advisor: Bryan Huey
This project focuses on assessing the adhesion between Kapton® tape and EPDM rubber of Chemlok® 250, Chemlok® 6150, 3M® 4799, and 3M® Primer 94 with 3M® 9485PC adhesive tape with a T-peel test in order to identify the optimal adhesive, prioritizing adhesion strength while considering ease of use and safety issues.
---
More information on these and the other 10 MSE projects can be found on the Senior Design Demonstration Day website.
Author: INTPART Grant Will Encourage Collaboration with US and European Universities
By Ben Crnic
A team including MSE assistant professor Stefan Schaffoener was awarded a 3-year grant from the Norwegian Research Council that aims to strengthen collaborations in research and curriculum development between UConn and several other participating US and European universities. The $430,000 grant is part of the Program for International Partnerships for Excellent Education, Research, and Innovation (INTPART).
The collaborating universities span three countries on two continents, and include UConn, the Norwegian University of Science and Technology (NTNU) in Trondheim, Norway, the University of Virginia, the University of Pittsburgh, and RWTH Aachen University in Aachen, Germany. The research will look into materials used in extreme environments, such as alloys and coatings for space and biomedical applications. Exchanges are planned to facilitate curriculum development that will incorporate these research topics into MSE education.
The ultimate aim of the grant is to strengthen UConn MSE's relationships with the other participating universities, as well as to promote collaborative research and joint publications.
"I'm very excited because this grant gives us more opportunities to collaborate with experts from Norway, Germany and the United States. It also gives our students more perspective with their research and more opportunities to exchange ideas and research, as well as more opportunities to attract students to UConn," Schaffoener said.
Schaffoener joined UConn MSE in the fall of 2018 after his postdoctoral fellowship at NTNU in Trondheim. He earned his doctorate in 2015 from TU Bergakademie Freiberg in Germany, a premier STEM university in Germany.
Author: MSE Graduate Student Reaches Out to Help High Schoolers Transition to College
By Ben Crnic
After graduating from the Rochester Institute of Technology, Jessica Maita came to UConn as a master's student in MSE. After her first year here, however, Maita was instead determined to pursue a Ph.D. She is now a doctoral student in MSE professor Seok-Woo Lee's group, where her research focuses on the multi-scale microstructural characterization and mechanical properties of nanocrystalline magnesium aluminate ceramics, materials that are of special interest for transparent armor applications.
When she is not spending time on her research or serving as president of the UConn Materials Research Society (MRS) Chapter (https://mrs.engr.uconn.edu), Maita volunteers for outreach activities that assist high school students in the process of applying to college. These activities are conducted with the help of the UConn School of Engineering's Bridge to the Doctorate (BD) Fellowship Program, which supports African American, Hispanic and/or Native American students pursuing graduate degrees in STEM.
As one example of her outreach efforts, Maita participated on a BD-organized graduate student panel that addressed low-income, underrepresented students in the Connecticut Collegiate Awareness and Preparation Program (ConnCap) Program at Danbury High School.
"Previously being in their position, I knew the students could benefit from advice we could provide. It is common for students from this background to feel pressured into specific career paths but we were able to provide information on the many career options they have as well as all the opportunities they should take advantage of while being an undergraduate student," Maita said.
Maita believes that it is crucial to reach high school students before they move on to college.
"Though I am a strong supporter of the programs available at the university level, I believe support needs to be provided sooner. The earlier you can reach students the sooner they can prepare for success," Maita said.
Her background makes her sympathize with students who may be in a position similar to the one she was once in, and it motivates her to participate in these outreach activities.
"I know how it feels to have to go through the college experience with very limited help from your family. Their minimal English and elementary level education made it difficult for my parents to help me, whether that be financial or emotional help. I want to provide the information students need to be successful, so that they can take advantage of the opportunities I didn't know about," Maita said.
Maita herself received The National Science Foundation Louis Stokes Alliance for Minority Participation (LSAMP) BD Fellowship award.
"This fellowship made it possible for me to pursue my graduate degree without the financial burden I was originally going to shoulder," Maita said.
After joining MSE, Maita formed a close bond with other BD fellows.
"Not only did I receive financial support but I also gained a family at UConn. All current BD fellows meet on a biweekly basis to discuss our professional and personal development. BD provided a group of friends that are experiencing similar issues as me and which I know I can turn to when I need help," Maita said.
Maita plans to continue with her outreach activities in the future.
"When an opportunity presents itself, I make an effort to help," she said. Ultimately, after completing her Ph.D., Maita would like to work in industry.
Professor Lee wants other MSE students to learn from her example.
"Jessica is a truly wonderful student who takes care of others a lot. She has already made a significant contribution to outreach as well as university-level service more than any other student I know. I hope that many students will look to Jessica as their role model and follow Jessica's career path. I really appreciate her considerate leadership."
Author: Alpay Named UConn Board of Trustees Distinguished Professor
You will be redirected to the article shortly.
Author: Professor Hebert Leads Successful Research Collaboration Between UConn MSE and Industry
By Ben Crnic
MSE professor Rainer Hebert recently led a study in collaboration with the Collins Aerospace Center for Advanced Materials at the UConn Tech Park. Collaborating partners also included Pratt & Whitney, Schlumberger Reservoir Completions Technology Center, and UTC Additive Manufacturing Center of Excellence. The study, entitled "Novel Al-X alloys with improved hardness," centers on high-strength aluminum-based materials for use in 3-D printing, an additive manufacturing process. 
This research is of strong interest to the aerospace industry because materials such as aluminum that are light and strong are used to manufacture small aircraft parts with complex geometries that are difficult to produce with traditional manufacturing.
"Working with Collins and Pratt & Whitney helped us remain focused on the end goal of aerospace applications, and their input is invaluable for bridging the gap from fundamental research to applications," Hebert said.
The Collins Aerospace Center, established in 2016 and directed by MSE professor Pamir Alpay, is the result of continuing collaboration between UConn and Collins Aerospace, one of the world's largest suppliers of technologically advanced aerospace and defense products. The center offers funding for studies that focus on areas related to materials development and characterization. It also provides an opportunity for firsthand interactions with an industrial partner whose technologies are used in advanced aerospace and defense applications.
This study is one of several related to 3-D printing that UConn MSE has conducted with the help of the Collins Center. Hebert expects that more collaborations will occur.
"We will continue on this trajectory and have new initiatives underway to collaborate with industry," Hebert said.
Author: UKindness – A Resource for Students
You will be redirected to the website shortly.
https://kindness.studentaffairs.uconn.edu
Author: MSE Undergraduate Student Earns National Science Foundation Graduate Research Fellowship
You will be redirected to the article shortly.
Students Earn National Science Foundation Graduate Research Fellowships
Author: MSE Publication is one of the Top 100 Most Downloaded Papers on Physics
Author: Why Choose Material Science and Engineering?
Author: UConn MSE Senior Selected as SOE Student Commencement Speaker
By Ben Crnic
We are very proud to announce that one of our students, Riley Blumenfield, has been selected by the School of Engineering to be the Student Commencement Speaker for the virtual ceremony in May. Blumenfield is an Honors Program STEM Scholar and served as the president for the engineering sorority Phi Sigma Rho. She has also been involved in research on regenerating human limbs with MSE professor Cato Laurencin. In her sophomore summer, she interned at the Naval Undersea Warfare Center in Newport, RI, where she worked with polymer nanocomposites.
Professor Fiona Leek, who has managed MSE undergrad labs and lab classes since October, said, "Riley TAed with us for all 3 of the last semesters.  She has been a truly invaluable  resource for me and many of the students and projects in the labs.  She shared insight on the current classes from both a student and TA perspective and we've had great fun bouncing ideas around for possible future labs. I will definitely miss her next year."
In the future, Blumenfield hopes to continue her research in regenerative engineering. Congratulations Riley!
Author: Maric leads UConn's research, innovation and entrepreneurship
You will be redirected to the article shortly.
https://www.hartfordbusiness.com/article/maric-leads-uconns-research-innovation-and-entrepreneurship
Author: MSE's Metalworking Club Offers a Unique Experience for MSE Students
Author: MSE Professor's Research is More Than What Meets the Eye
By Ben Crnic
Many of the materials that UConn MSE Assistant Professor Seok-Woo Lee works with in his research are invisible to the naked eye. In order to even see them, an electron microscope is required. Some samples are more than 100 times thinner than a human hair. Despite this, the nanomaterials that Lee researches are crucial to producing mechanically robust devices and structures.
According to Lee, creating resilient small materials is important for smaller machines.
"In order to develop a mechanically reliable robot or machine at the nano-/micro-meter scale, we need to know how to create a strong and tough 'small' material," Lee said. His research group is working on understanding how characteristics of materials can influence mechanical behaviors of substances including metals, ceramics, intermetallic compounds, and polymers.
One such way to control mechanical behavior is reducing the size of materials. As a material's size decreases from macro to nano-/micro-meter scales, it usually becomes much stronger and tougher. However, this can change as temperatures become more extreme. Part of Lee's research involves exposing micromaterials such as metals to very cold temperatures, where they become brittle and fracture easily. Lee is attempting to find a way to avoid this. 
It is important to understand how materials may respond in extremely cold environments for applications such as the vacuum of space. One example is called a cryogenic shape memory material, which can recover its original shape even after being largely deformed. The process of recovering its shape by expanding or contracting can be used to create mechanical motion.
"This long-range motion can turn on an electrical switch for a cold, dormant satellite in deep space once it meets a heat source such as a star. Also, this material can be used to move a mechanical component to control a robotic arm or telescope lens that is used under cold environments such as the shadow area of the moon," Lee said.
Although Lee is dedicated to his research, he mainly sees himself as a teacher.
"Teaching is very important to me because I have always believed that I am basically a teacher. Once a student receives a good lecture, they can remember what they learn for a longer time," Lee said.
Lee has received multiple awards for his teaching, including the UConn Mentorship Excellence Award in 2019 and UConn MSE Teaching Excellence of the year in 2017 and 2018. Lee is proud of being recognized for educating.
Lee has both undergraduate and graduate students, and over time, he has learned that they both require different approaches. According to him, the major difference is independence when it comes to performing research.
"A graduate student can design and perform experiments by themselves. However, I usually assign a simple and relatively straightforward research topic to undergraduate students because they are very busy due to their classes. I usually give step-by-step instructions to an undergraduate student, then they can learn the details of the research even without much prior experience," said Lee. The graduate students Lee works with handle the microscopic material that he researches and are able to "pull and push a sample with an extremely precise control of force," Lee said. An electron microscope has to be used in order to see these samples, as they are too small to be visible in a regular optical microscope.
According to Lee, it is fun for him to work with the three undergraduates and five graduate students who are part of his research group. He feels his MSE students should be especially proud of their major.
"I want to tell our MSE students that their decision to study MSE is a great choice. More and more I see that technological breakthroughs require the development of new advanced materials. Creating high-performance engineering devices such as micro-processors, airplanes, satellites, etc. requires sophisticated materials design and processing. Because of this, studying MSE becomes more important in overcoming our technological limits. So, I really think they should be proud to be MSE majors," Lee said.
In addition to his work with students, Lee also collaborates with other faculty members on research. One such project is a cold spray project for the US Army, which he is working on with MSE professors Avinash Dongare, Mark Aindow, and Harold Brody. Lee enjoys these collaborations, which helped influence his decision to come to UConn.
"I chose UConn because of great people here. All of the faculty and students I met during the interview were very nice and friendly to me. I always believe that working with wonderful people is very important, and I thought (and still think) that those people are here at UConn," said Lee. 
Lee discovered materials science when he was in high school. He always wanted to combine his love of physics and chemistry with "making something useful," which was fulfilled by materials science and engineering.
"I found that materials science and engineering is the best program because I can do both science and engineering! Also, I always wondered how matter was formed after the beginning of the universe, and I thought that it would be wonderful if I could design and create a special matter under my own control," Lee said.
This interest followed Lee to his current career, and he is optimistic about his students also being a part of the MSE field.
"They can use this knowledge of materials to improve our world," Lee said.
Author: An MSE Undergrad's Interest in Corrosion Led Him to the Perfect Research Project
By Ben Crnic
When UConn MSE undergraduate student Alexander Perkins was in the spring semester of his junior year, he noticed he had some free time in his schedule. He decided to fill this open spot by joining a research project. This led him to MSE Assistant Professor Lesley Frame, and a corrosion research project that caught his attention. Perkins, now a senior, is working on predicting material loss rates for active corrosion on bridges.
According to Perkins, the main goal is to identify corrosion products as a function of environment and time for different steel compositions and with different protective coatings. Frame's group is looking at specific corrosion products and characterizing them in order to understand the material loss rates better. They are collaborating with CEE assistant professor Arash E. Zaghi and MSE Associate Professor Serge Nakhmanson's research groups on aspects of this project.
"This project will help us understand how to better protect against corrosion of the steel that is used in bridges and how that corrosion impacts the lifetime of the bridge," Perkins said. 
Perkins' specific role in the project is preparing samples for corrosion tests, as well as planning the designs of the experiments for these tests.
Because corrosion is something that is often commonplace, it is Perkins's main research interest.
"It's something you see every day, so I want to know more about it and what causes it," Perkins said.
This fascination was influenced by his MSE classes. Perkins's favorite class so far has been MSE 3020 Failure Analysis, which he took with MSE alumni (Ph.D. '02) and Adjunct Professor Daniel Goberman. Corrosion, in addition to being widespread, is a common cause of failure in materials. This makes Frame's project a perfect fit for Perkins' academic interests.
Perkins became interested in materials science right before he arrived at UConn. While he was in high school, he attended an open house and talked to one of the students at the MSE booth. The demonstrations at the booth caught his attention and MSE seemed more interesting to him than other forms of engineering. 
Now towards the end of his undergraduate career, Perkins is starting to look towards the future. After graduation, he plans to enter either the medical device or aerospace industries.
For MSE students who want to start researching but do not know where to begin, Perkins has some straightforward advice. 
"Just go talk to any professor who you think you'd like to do research with. All the professors in MSE are really approachable and support undergraduate research in their labs. If their lab doesn't end up being a good fit they can recommend another professor to talk to," Perkins said. 
Author: MSE Alumnus Joins External Advisory Board
---
By Ben Crnic
MSE alumnus Dr. Neal Magdefrau is the newest addition to the MSE External Advisory Board. The Board consists of eleven industry representatives and serves to assist the department in accomplishing its three-fold mission in research, teaching, and service, and in strengthening its ties to industry and the community.
Magdefrau, a UConn MSE Ph.D. graduate, is a research scientist, engineer and entrepreneur. As a research scientist in the Measurement Science Group at the United Technologies Research Center (UTRC) his work focused on the application of advanced characterization techniques to the solution of materials-related problems. In addition, Magdefrau founded Electron Microscopy Innovative Technologies in 2014, a company that rents out Scanning Electron Microscopes (SEMs) − the first and only such business in the U.S. that gives customers the option to rent these instruments.
Dr. Magdefrau is an award winner as well. In 2012, he was a recipient of the United Technologies Senior Vice President's Award for outstanding service, given to a small service group by the Chief Technology Officer. Magdefrau holds ten patents, and has more invention disclosures pending. He is also a Division Editor for Volume 10 of the new ASM Handbook, "Materials Characterization", which was released in early 2020.
"I'm truly honored to be selected as the newest member of UConn's MSE External Advisory Board. As a graduate of UConn's 2nd MSE undergraduate class in 2005, I feel that I've been in a position to watch the department grow over the past 15 years," says Magdefrau.
"Having grown up and spent my entire career in Connecticut, I have a lot of drive to help the MSE department continue to produce top-notch materials scientists. Connecticut is also in the midst of a technology industry revitalization and I believe that the UConn MSE department will be a key to providing top talent now and into the future."
Author: MSE Students Recognized at EMA 2020
By Ben Crnic
Two MSE students, Ayana Ghosh and Lucas Enright, won awards at the 11th annual Electronic Materials and Applications (EMA) Conference. The conference was organized by Electronics and Basic Science Divisions of the American Ceramic Society and was held in Orlando, FL at the end of January 2020. Ghosh, a graduate student, was awarded Best Poster for her research on organic ferroelectrics, and Enright, a senior, was recognized as the Best Student Speaker for his talk in the session devoted to 5G telecommunications.
Both Ghosh and Enright attended the conference as part of a larger group of UConn MSE students, and were accompanied by MSE faculty including Associate Professor Serge M. Nakhmanson (Ghosh's Ph.D. advisor) and MSE Department Head Bryan Huey.
Ghosh's winning poster was dedicated to designing novel organic ferroelectrics. Her research focuses on understanding the mechanisms governing the emergence of ferroelectricity in these materials. She uses machine learning and data-driven approaches both to search for potential novel organic ferroelectrics and to establish design principles for achieving new functionalities.
"I try my best to understand what type of information is the most important/suitable to share during poster presentations that would engage the listeners and stir interest surrounding my research," said Ghosh.
Meanwhile, Enright's award-winning talk was on a project he conducted on the measurement of dielectric properties of ceramics at low-millimeter (W-band) frequencies. Originally, his research investigated heating in these materials occurring during the absorption of millimeter waves, but the focus was later shifted to applications in 5G technologies.
Enright's research was conducted in collaboration with the Air Force Research Laboratory's (AFRL) Directed Energy Directorate in Albuquerque, New Mexico, where he was an intern during the summer of 2019.
On winning the Best Student Speaker Award, Enright says "I am honored and flattered. It is really touching to be so well accepted by what seems to be a close-knit technical community who have been extremely welcoming and helpful."
Associate Professor Nakhmanson says "I am delighted by how well our students represent UConn and the MSE department at the annual EMA conferences, which are increasingly becoming a premier international venue for cutting-edge research in ceramics. We go to that conference in numbers pretty much every year and have been fortunate to receive some awards before. However, I consider this visit especially successful, bringing home the best poster award, as well as a special award received by an undergraduate student. This sort of peer recognition clearly shows that UConn MSE is a good place to get your graduate or undergraduate degree in materials science."
Author: Canceled: 7th Annual MSE Banquet, April 3, 2020
Due to the recent university announcements regarding COVID-19, unfortunately, we need to cancel the MSE Banquet scheduled for Friday, 4/3. If you have already registered for the event, please contact Jennifer Steszewski at jennifer.steszewski@uconn.edu regarding your registration reimbursement.
Author: How Working with NASA Led Theresa Nosel to Major in MSE
By Ben Crnic
Before even coming to UConn, MSE sophomore Theresa Nosel was already very much accomplished. After all, she had two internships with NASA under her belt before transferring to the university from Manchester Community College (MCC) for her sophomore year, an achievement that anyone would consider impressive. Ultimately, she put the experience she gained with NASA to good use, as these internships set her on a path to majoring in MSE.
Nosel was able to get her first internship with the help of a program called the NASA Community College Aerospace Scholars program. Even though this was an online program, Nosel was able to go on-site in Virginia, to the NASA Langley Research Center, and then to the NASA Wallops Flight Facility, for a week each as a continuation of the online program. At the latter facility, she met an employee from the NASA Stennis Space Center in Mississippi who was helping with the program. Nosel applied to be an intern there for the spring 2019 semester, and was accepted.
During this internship, Nosel worked in the Office of Education, where she would speak to the community about STEM and the different programs NASA has available for students.
In her summer 2019 internship at NASA, Nosel delved more deeply into research and was first exposed to materials science. In an organic chemistry laboratory at the Glenn Research Center in Ohio, her research focused on making a material called polyimide aerogels and their use  in  additive manufacturing processes.
"To be honest, materials were never something I thought I would be interested in, but then I worked with aerogels and I got a small taste of the incredible things that can be done with materials," Nosel said.
After her internship at Glenn, Nosel transferred to UConn from MCC, where she was originally a chemical engineering major. However, after her experience researching aerogels, she was interested in adding a minor in MSE at UConn. She managed to change her schedule so that she could fit in an introductory course, MSE 2001 (Introduction to Structure, Properties, and Processing of Materials I), which was taught by MSE assistant professor Yuanyuan Zhu. As her first semester at UConn went on, she realized more and more that she wanted to work with materials as well as chemical engineering, and become a double major.
"The MSE class was very interesting and my professor was wonderful, and the more I looked into the applications of materials science, the more I wanted to learn," Nosel said.
Last month Nosel became an MSE major. She thinks her internship programs prior to UConn prepared her for her MSE classes. 
"I went back to Glenn over the winter break to continue research for a few weeks, and going back I felt more confident in what I was doing than before. I knew a lot more about the fundamentals with what was happening in my research than over the summer because of the classes I had taken during the fall semester," Nosel said.
As for now, Nosel is not currently involved in any research at UConn but hopes this will change soon.
 "I think being an undergrad is an excellent time to really explore as many options for research as possible so as to make the most informed decisions on what you want to do afterwards," Nosel said. 
When it comes to her plans beyond her undergraduate career, she expects to pursue a doctorate degree, although she still has to decide her preferred field of study. Currently, she is interested in polymer science.
In addition to inspiring her choice of major, Nosel's internships have influenced her possible career choice as well, as she would be interested in continuing her work at NASA.
"I really enjoy everything I have done at NASA and would be very happy if I could continue that," Nosel said. "In the end, I want to do research and advance science in terms of exploration and sustainability."
From her experiences at NASA, Nosel has also gained some valuable lessons.  She encourages other students to seek out opportunities that they might be interested in, and go for them when they find them, even if they have doubts.
"When I first applied to NASA (and actually every time I have applied for something with NASA) I had every doubt in the world. I never imagined I would be accepted, and I actively prepared myself for the rejection I thought was inevitable. I am still in shock with the opportunities I've been lucky to have been given with NASA, and it is all because I pressed that 'submit' button."
Author: Lesley Frame Voted Vice President of Heat Treat Society
By Ben Crnic
MSE Assistant Professor Lesley Frame was recently voted Vice President of the Heat Treat Society (HTS). HTS is a professional organization that serves members who specialize in thermal processing, whereby metals, ceramics, and other materials are heated and cooled to improve their performance and durability. HTS is an affiliate society of ASM International, one of the largest associations of materials engineers and materials scientists in the world.
According to the November/December issue of Advanced Materials and Processes (AM&P), an ASM International publication, Frame is the first woman in an HTS Officer role. Frame is also the immediate past chair of the HTS Technology and Programming Committee and current chair of ASM's Women in Materials Engineering Committee. 
As Department Head Bryan Huey notes, "Lesley's election is another great example of UConn MSE faculty being recognized by their professional peers for their leadership and expertise."
Author: MSE Senior was One of Two Undergraduates Nationwide to Present in Advanced Round of Heat Treat Society Competition
---
By Ben Crnic
Four students represented UConn MSE in the Fluxtrol Student Research Competition at Heat Treat 19, an event in Detroit organized by the Heat Treat Society (HTS) Technology and Programming Committee. Seniors Indranie Rambarran, Kevin Sala, and Cameron Sanders, as well as 2nd year Ph.D. student Kevin Zhang, each presented posters of their research to international professionals in thermal processing from both academia and industry.
Indranie Rambarran was one of six students selected by the panel of judges for the semi-finalist round of the competition, and one of only 2 undergraduates who made it this far from the entire nationwide field. In her ensuing oral presentation, Rambarran presented research she is conducting with her advisor Lesley Frame. They are focusing on examining residual stresses in a Titanium alloy (Ti 6Al-4V) following heat treating and machining. It is crucial to understand such stresses especially because such titanium alloys are widely used by the aerospace industry. Undesirable residual stresses can result in premature failure of critical parts. "Residual stresses are notoriously difficult to measure accurately, and Indranie's hard work over the summer allowed her to identify ways to reliably measure these stresses in the experimental samples," says Frame.
Her presentation focused on comparing two methods of characterizing the residual stresses. Rambarran first spent a summer collecting X-ray diffraction measurements on the Rigaku SmartLab at the UConn Tech Park. She then spent the fall 2019 semester collecting measurements with a Pulstec X360s X-ray analyzer. The Rigaku used the sin2ψmethod, while the X-ray analyzer used the cos α method. She then compared the two approaches to determine which one measured stresses most effectively.
Rambarran discovered that the cos α method allowed more accurate measurements of residual stresses in the titanium samples than the sin2ψ method. This is partially because it takes the texture of the material microstructure into account.
"I would personally like to thank Dr. Frame because without her, none of this would have been possible! Although I did not win the final prize, making it as far as I did was enough for me to know my research meant a great deal," Rambarran said.
"I am thrilled that UConn made such a good showing at Heat Treat 2019 and I am very proud of Indranie. She was up against Ph.D. students presenting their dissertation research and she did very well in the final presentation round," says Frame.
Author: MSE Undergraduate Interns at Oakridge National Lab
By Ben Crnic
MSE sophomore, Ryan Gordon, has been offered a competitive summer internship at Oakridge National Lab in Tennessee as part of the Science Undergraduate Laboratory Internships (SULI) Program. As an intern, Gordon will be conducting research on the use of molten salts as coolants for nuclear power plants. Specifically, he will investigate the corrosive properties of these salts.
The SULI program offers undergraduate students 10-week summer internships at one of 17 participating laboratories. Students select their preferences for laboratory assignments when they apply to the program. Once they are accepted, they are assigned to a mentor at the lab they are sent to. Since the program is offered to undergraduates, students without extensive prior research experience can still obtain internships.
Gordon will be performing his research alongside Dr. Stephen Raiman and his team. As part of his internship, he will be presenting his work at Oakridge National Lab in front of other SULI participants. His internship culminates with a final written laboratory report detailing his findings.
 "I would just really like to thank Dr. Lesley Frame. She was able to offer me research last year as a freshman with absolutely zero experience. Because of the opportunity she gave me, I was able to learn a tremendous amount and really grow as a student. If it was not for this research position, I never would have been able to get this outstanding internship, and I am extremely grateful," said Gordon.
Author: Forged in Fire; UConn Students Start Metal Working Club
You will be directed to the video shortly.
Forged in Fire; UConn students start metal working club
Author: How a Materials Scientist Steps Out Of His Comfort Zone by Conducting Diverse Research Projects In a User Facility at NCSU
By Ben Crnic
Ching-Chang ("BB") Chung, a 2014 alumnus of UConn's doctoral program in Materials Science and Engineering (MSE), recently became a laboratory manager at North Carolina State University (NCSU) in the Analytical Instrumentation Facility (AIF). As lab manager, Dr. Chung manages X-ray diffraction (XRD) and micro/nano-CT laboratories. He also trains students on the instruments in the lab and assists them with their research, allowing him to work on a wide variety of materials with researchers from diverse fields.
Since Chung is exposed to a wide array of research topics, he constantly learns about new materials. Since becoming lab manager, he has worked with materials ranging from semiconductor thin films to insects.
"On a lucky day, I could be characterizing the crystallinity of polymer fibers in the morning and working on CT imaging of a dinosaur fossil in the afternoon," said Chung.
Dr. Chung notes that transitioning from researcher to lab manager certainly had its challenges. Because he is often involved in fields that are completely outside his background, Chung struggled at first with tackling problems in areas of materials research with which he was unfamiliar.
"In the beginning it was very challenging, but with the accumulation of experience, I have become more confident with different materials," he said.
Chung also enjoys the networking opportunities that his exposure to a diverse range of research projects affords him. He collaborates with researchers from across the globe, many of whom he now regards as friends.
Chung describes his work as "a perfect way to build a strong international network."
As lab manager, Chung doesn't only learn about new materials. He also teaches researchers about how to work with their materials.
"It is fairly important to help people, especially those without an engineering background, to understand the principles of XRD and micro-CT, the limits of their materials and what their data means, etc." said Chung.
Of course, explaining the theoretical underpinnings of XRD and micro-CT to those with no materials science and engineering background is no easy task. Since only a certain number of researchers who use his lab have such background, Chung is constantly trying to improve the way he explains the applications of these techniques.
Chung typically spends half of his day in the laboratory interacting with researchers and explaining to them how to use the XRD equipment. He also helps them design their experiments and perform measurements, and even assists them in interpreting their results. He devotes the rest of his time to his own research and collaborative projects.  Much of this research focuses on functional oxides, especially ferroelectrics. Eventually though, Chung wants to shift about 50 percent of his research to the applications of XRD and micro-CT analytical methods to other materials.
During his time at UConn as a graduate student, Chung's research also focused on ferroelectrics, but he also had a passion for materials characterization. Since UConn's MSE faculty are well known for their research on both ferroelectrics and analytical materials characterization techniques, UConn was a natural fit for Chung when the time came to select a graduate school. He ultimately chose UConn because of the active research environment, as well as because of its beautiful campus.
Chung believes that he learned many important skills at UConn.
 "Aside from the knowledge and technical skills I obtained during my Ph.D. training, the most important transferable skills that I gained that helped me transition to the real world were critical thinking and problem solving," Chung said.
He also benefited from his experiences as a teaching assistant. Indeed, teaching is an important aspect of his duties in his current position.
Chung still keeps in touch with his UConn mentors, especially his dissertation advisor, MSE Associate Department Head George Rossetti. 
 "So many years after, we still keep in close contact with each other and continue to collaborate on research projects," said Chung.
After graduating from UConn, Chung joined the research group of Professor Jacob Jones , who directs the AIF at NCSU, and was one of Rossetti's research collaborators at the time.
"BB's doctoral dissertation research work was especially challenging, involving ceramic processing, analytical characterization, electrical property measurements and the phenomenological theory of ferroelectric materials," said Rossetti.  "Given that BB excelled in each of these areas, it was no surprise that he was immediately snapped up for a post-doctoral position in Professor Jones' group at NCSU."
At first, Chung spent half of his time as a postdoc in Jones's lab, and the other half at AIF managing the lab. Working with Jones exposed Chung to a wide range of research projects and expanded his professional network.
Chung's decision to stay at NCSU was motivated by the school's research opportunities. NCSU has an excellent School of Engineering and research there is only expected to grow. Yet, Chung still looks back fondly on his days at UConn. He even has advice for future students:
"Find out what you want to do with your MS/Ph.D. degree early on at graduate school and have a plan in mind as to how to get there."
Chung also believes that students should take advantage of the many resources UConn provides and attend career fairs to make important connections.
"Reach out to alumni, network and talk to people that hold positions that you might be interested in, ask about their career pathways," Chung said.
As for the future, Chung wants to stay involved in many different research projects and to continue learning new characterization techniques.
"Working with broad research topics will push me out of my comfort zone and diversify my knowledge and analytical skill set."
He doesn't have a specific position at NCSU that he is working towards.
"Rather than aiming for a job title that sounds impressive, I am more interested in the science itself," said Chung.
Author: Ryan Keech Turned his Interest in Sports to a Successful MSE Career
---
By Amanda Song
As a sports fan looking for a college major, Ryan Keech became interested in the design and processing of football helmets and baseball bats in high school. Materials Science and Engineering (MSE) stood out as the right profession for developing improved materials for sporting goods. Then, Ryan learned that UConn has an MSE program, and applied. He completed his bachelor's degree at UConn in 2011 and received his Ph.D. in Materials Science and Engineering from Penn State University in 2016. Today, he works on developing new materials for Intel, a leading technology corporation.
As a Module Integration and Device Yield Engineer at Intel's Portland Technology Development campus in Oregon, Ryan works in a state-of-the-art nanofabrication facility developing new materials to "optimize transistor device performance." With new materials and processing techniques showing performance improvements, he then has to ensure they be manufactured in high volume. Though he's far from his original goal of developing new materials for sporting goods, Ryan has found his true passion.
"It has been most exciting to me to work at the leading edge of science and technology. I work with other experts in various fields across electrical engineering, materials science, and materials characterization to extract as much data and learning as possible from an experiment to position our team for success in our program goals." Ryan and his teams at Intel have already received numerous U.S. patents and filed invention disclosures for the materials and devices at the core of the processor chip technologies used today for communication, travel, and medicine.
"Learning the fundamentals through undergraduate study at UConn MSE was necessary to be prepared for professional work, but there was much more afforded to me and my classmates in the MSE program," Ryan said.
When Ryan first learned that UConn, his preferred school, had an MSE program, he immediately applied. Then, after hearing Professor Bryan Huey present about the field in his freshmen Intro to Engineering course, he knew he chose the right major.
"I just loved the campus, the sports programs, and opportunities which UConn offered. Once I found my interest in MSE, UConn was the clear and perfect fit for me," he said.
While Associate Professor Rainer Hebert was his advisor, Ryan built relationships with all of his professors. One thing he liked about the program was that professors designed open-ended assignments with real world applications and opportunities for team work.
"Professor Brody taught me how to be an engineer – how to solve a problem when you don't have all of the information given to you. Professor Alpay and Professor Hebert challenged us to define our own problem statements (and find their solutions) from general, open ended questions. Professor Huey encouraged thinking outside the box to link various methods of problem solving together," Ryan said.
Overall, Ryan and his classmates learned the materials processing and characterization techniques that are the foundation of their field.
But even with such thorough preparation for the professional world, there was a learning curve at Intel.
"At a major company like Intel, there is emphasis on collecting and sharing data and ideas as quickly as possible," Ryan explained. There are many acronyms and project-specific terminologies used to accelerate experimental planning and interpretation, which can be confusing for new hires. "But overtime you become fluent in the new shorthand language just like the rest of your colleagues," Ryan said.
One practical outcome of Ryan's work is improving clock speed, drive current, and power consumption for chip architects at Intel to have the "best materials and transistors available as building blocks" for their computer processors. "Those chips deliver new capability to innumerous technological efforts around the world," Ryan said.
His time at UConn was filled with countless memories from the lifelong friendships he made. Perhaps the most valuable thing Ryan learned as a student in UConn's MSE program was learning to ask "why," and then finding a way to answer that himself.
"The loop of questioning what I thought I knew and then proving it to myself helped me understand the classroom lessons from different perspectives. The sooner a student starts down that path, I think the more success they'll have," Ryan said.
Author: New UConn Research Center Provides Reliable Data, Realistic Simulations for Manufacturing Industry
You will be redirected to the article shortly.
New UConn Research Center Provides Reliable Data, Realistic Simulations for Manufacturing Industry
Author: Recent Ph.D. Graduate's Work Featured in Journal of Materials Science
By Amanda Song
Congratulations to recent MSE graduate Abhinav Poozhikunnath, Ph.D! Just five days after defending his dissertation, his work was selected by Journal of Materials Science for publication as the cover article for the print issue to appear in February 2020.
The journal cover shows the reactive spray deposition technology (RSDT) process Abhinav used to synthesize Pt-free electrocatalysts described in his research article titled "Characterization and evaluation of Fe–N–C electrocatalysts for oxygen reduction directly synthesized by reactive spray deposition technology." The article has already been published online.
"There is no greater joy for me than to see my students doing well," his advisor and Vice President for Research, Innovation, and Entrepreneurship, Radenka Maric, said in an email. "Seeing the cover page of the journal with our equipment and the flame spray process, one we built from scratch with my students in the Center for Clean Energy Engineering, I cannot express how grateful I am to Leonard Bonville for keeping our students safe and teaching them the best engineering practices while I am serving as a VPR."
"Talk about perfect timing," Abhinav wrote when he shared the news on LinkedIn. "This cover picture represents the culmination of 5 years of research at UConn as part of the Maric research group! It has been a thrill working with Radenka Maric, Leonard Bonville and the team. Now, it's time for me to start the next phase of my career!"
Author: Why the Honors Program was 'Worth the Challenge' for Andrew Levin
---
By Amanda Song
Andrew Levin wanted to research technologies that could combat climate change. Majoring in Materials Science and Engineering united his interests in nature and technology. Joining the honors program provided him with an opportunity to build on those interests. Now, he's investigating materials for renewable energy.
As a seventh semester senior in the honors program, Andrew has had research and internship experiences that helped him to narrow his interests in materials science and engineering (MSE), and to advance his career goals. One thing he wants students to know about the honors program is that it "better prepares you for the future."
The honors program has helped Andrew transition from a student who consumes information, to one who acquires knowledge as an aspiring research scientist.  He is now pursuing graduate study and applying to Ph.D. programs. His long-term career goal is to use advanced materials characterization techniques to improve solar cells, batteries, fuel cells, and thermal energy devices that can enable more sustainable sources of energy. 
"Nature has always inspired awe in me, and I want to do all that I can to both understand and protect it. Materials science and engineering allows me to study the physics, chemistry, and fundamental sciences of what controls materials, and to apply the fundamental science to solve real-world problems."
Andrew entered the honors program when he was admitted to UConn. However, rising sophomore and junior students can also apply to join the program, which provides research, funding, and other enrichment opportunities that enhance the student experience. 
Participation in the honors program comes with challenges. "It has been a good challenge being an MSE honors student. Each semester, one MSE course is designated as an honors course, and I have to complete an honors thesis," Andrew said. 
Nevertheless, the work is rewarding. Andrew has become more confident in his understanding of MSE concepts. "Honors classes generally involve some sort of long-term project that builds upon course material. The projects have consistently improved my understanding and knowledge over course material," he said. For his honors thesis, he chose to write a comprehensive research paper. "It required hard work and was very beneficial in bettering my technical writing skills."
"Andrew is one of the most self-motivated students I have ever seen," said his advisor, Assistant Professor Seok-Woo Lee. "He knows what he needs to do for his career. I hope that he becomes a leader who contributes to the development of new renewable energy materials and leads advances in energy technologies."
The summer after his junior year, Andrew completed an internship at the National Renewable Energy Laboratory (NREL) in Golden, Colorado. As part of the Science Undergraduate Laboratory Internship (SULI) program, funded by the U.S. Department of Energy (DOE), students are paired with scientists at a DOE laboratory to guide them through a research project related to the students' interests. Andrew worked with a mentor to research perovskites, a class of materials that are of intense interest due to unique properties that make them suitable for applications in solar cells, light-emitting diodes, and other electronic devices.
"I gained experience working with a wide range of advanced fabrication and characterization techniques. A research environment such as a national lab promotes constant learning, through discussion with fellow scientists and a constant spreading of knowledge," he said.
The DOE internship, as well as other unique experiences Andrew had as an MSE honors student, really helped him to focus on his future career goals.  Going into the MSE honors program, Andrew struggled to clearly define his goals for combatting climate change, and to find ways to achieve them. But after taking honors classes and completing challenging research, he began to see that graduate school is one way to get there.   
"The UConn MSE environment has made me confident and directed in my career goals. I feel that my foundational knowledge in MSE is strong and that I will be ready for the more advanced coursework in graduate school," he said.
Currently, Andrew, a Holster Scholar, is drawn to working with renewable energy materials and technologies, including solar cells, fuel cells, and thermal systems. "I am enticed by the mysteries of energy materials and their future potential. I aim to complete a Ph.D. in materials science, concentrating in advanced characterization techniques," he said.
For students considering the honors program, Andrew added: "It is a challenge but it is well worth it. It will be stressful at times, but in the long-term your learning experience is enriched and you are better prepared for future challenges."
Author: How One Student's Bladesmithing Hobby Launched a Metalworking Club with over 200 Members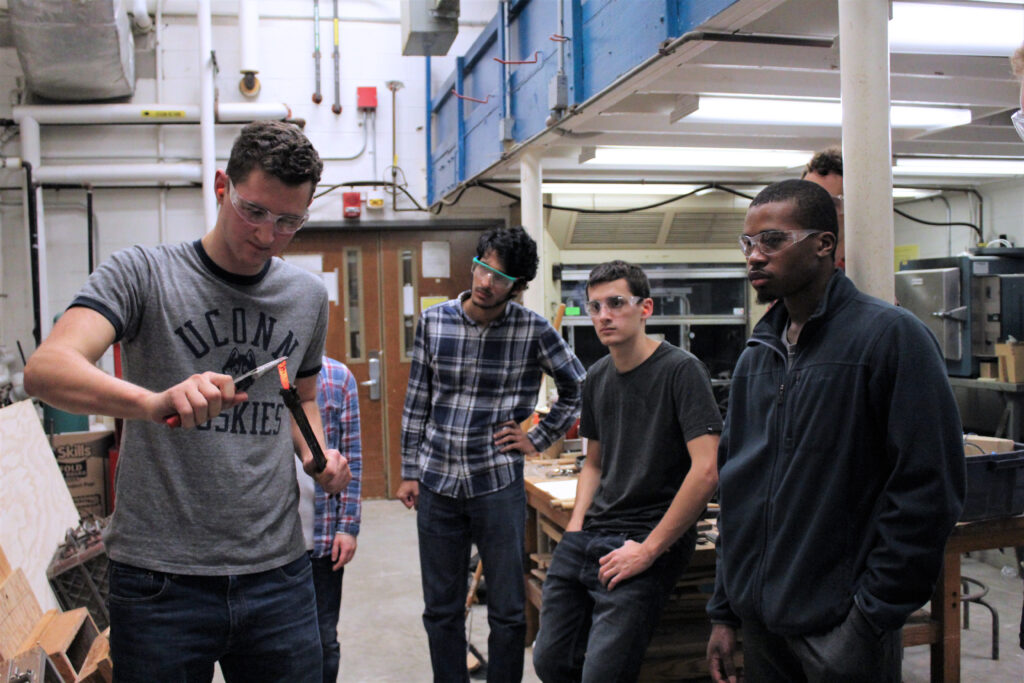 ---
By Amanda Song
Two hundred years ago, one could find a blacksmith in every town or village in America. Handcrafting metal objects, from cooking utensils and candle holders to nails and weapons, was the only way to supply these commodities. Today, machines manufacture most of these products. Shows like Forged in Fire and YouTubers who provide tips and tricks about metalworking stoke the lingering interest in this craft for most. Nevertheless, blacksmithing remains a niche hobby.
However, one student at UConn is trying to expand interest in the historic trade. UConn Materials Science and Engineering undergraduate Sam Bedard launched the Metalworking Club this year to teach people about the craft of blacksmithing and casting in an environment where they can get hands-on experience, and learn about MSE at the same time.
"People within and outside of MSE are thinking about blacksmithing again," Sam said. "It's rewarding to work with your hands and make something, and I think this is part of the overall maker movement."
With the help of Assistant Professor Lesley Frame, who has experience with metals processing and manufacturing, Sam started the Metalworking Club (also known as the Blacksmithing Club) in spring 2019. "It has been wonderful working with Sam on this club.  He is so motivated about blacksmithing.  All I do is provide the conduit for access to department and other University resources and Sam does just about everything else!" says Frame.  This semester, they have over 200 interested students and 50 active students in majors as diverse as business and CLAS. It has been necessary to limit club activities and projects to small groups of students at any given evening meeting due to space constraints in the MSE Foundry – where the blacksmithing and casting activities take place.  As the student interest grows, the Club has been working with the MSE department to find creative ways to expand to accommodate more students.   
Sam, a former environmental science and English double major, became interested in blacksmithing around the same time he switched to an MSE major. He realized he wanted to major in something more hands-on, where he could see the products of his work. He got a research position in Professor Mark Aindow's lab and learned more about metalworking, then enrolled in a summer class.  "I set up my own tools and equipment from watching YouTube videos and started making tools and knives on my own," he said.
However, blacksmithing requires a specific set of tools, and these days, things like anvils are a lot harder to come by.
"Getting an anvil is extremely expensive because most of them were melted down for steel production during World War II," Sam said. "Now they sell for $500 each." Theirs cost $450 and weighs 150 lbs. Sam invested his own resources the first semester, but the cost did not stop Sam from putting together a makeshift forge in his own backyard to practice at home.
"A charcoal forge is a lot easier to set up than a propane forge," Sam said. He began with an old grill he had at home. He cut an opening so he could drill a steel tube inside and use it for the central unit airflow. Then he added insulation and refractory cement to withstand the high heat it takes to forge steel. "I ordered some items from Amazon, and got the rest from home," he said.
On campus, they build and borrow equipment for projects.  In fact, prior to purchasing a propane forge, Sam and the Club members built their own forge from scrap pieces and a propane burner. Professor Hal Brody has worked with the students to provide access to the MSE foundry, and even critiques of their work. Because of the high-interest from students, they usually need to divide group members during meetings: one group works on heat treating, one does metalworking. In addition, they hope to collaborate with the School of Fine Arts to borrow their ceramic heater. While waiting for funding approval from the Undergraduate Student Government (USG), the MSE department has provided funding for startup items like the anvil and a propane forge, and Sam is providing tools from his own resources.
"Once I'd been doing that for a while, showing lab mates, friends and family my work, they recommended I do the bladesmithing competition at TMS," Sam said, referring to the annual meeting of The Minerals, Metals & Materials Society.
While managing meetings with 30-40 group members requires working out a lot of logistics, Sam has experience as the vice president of UConn Material Advantage Chapter. He also participated in environmental campaigns with UConn PIRG (UConn's chapter of the Public Interest Research Group)and the Husky Ambassador Program.
"I'd be doing all this stuff on my own anyway, so I kind of like teaching people and it's nice seeing others interested in this stuff. We're all having fun. It's a good group."
Sam, a fifth-year senior, hopes the group can make it to the annual TMS bladesmithing competition, even if it means he won't be around to see it.
Author: Collaboration to Commercialize Hydrogen Fuel Cells and Electrolyzers
You will be redirected to the article shortly.
Collaboration to Commercialize Hydrogen Fuel Cells and Electrolyzers
Author: How MSE Prepared Michelle Such to Enter a Growing Industry
By Amanda Song 
MSE undergraduate Michelle Such is searching for ways to create aircraft parts more efficiently using 3D printing. Since 3D printing has grown to a multi-billion dollar industry, Michelle's research is right on the money. But exploring new ways to use additive manufacturing for aerospace parts also enables engineers to create custom aircraft parts faster and more cost-effective than before. Ultimately, this allows for lighter aircraft with reduced carbon emissions, and helps speed repairs for older aircraft. Below, Michelle explains how MSE guided her toward this career path. 
What first attracted you to the UConn MSE program?  
 The welcoming faculty attracted me to the MSE department. The professors and lab staff welcome students and encourage us to learn, do research, and find what interests us most in the MSE department. I chose to study Materials Science and Engineering because there are many different career opportunities and industries one can go into with this degree. One acquires a wide range of scientific skills that will help you grow as an engineer.  
How did research help you find a specific interest within MSE?   
Casting has really caught my interest in the Materials Science Department. Professor Harold Brody provided his expert advice on the subject during my independent study project and I gained a wealth of knowledge in his alloy casting course (MSE 4038).  
During 2018, I conducted research under the advisement of Dr. Harold Brody and Adam Wentworth. I researched additive manufacturing technology, capabilities, and limitations, focused on applications in the local aerospace industry with a case study and hands-on experience with FDM 3D printing. Additionally, I researched the investment casting process including: work piece preparation, investment mix processing, mold design, casting defects, microstructure, surface finish, and post processing techniques. 
How did your experience as an MSE undergrad student prepare you for industry?      
As an MSE undergraduate student, we complete a great deal of hands-on projects in the Materials Laboratory. These projects assist with student learning because we work in teams to solve complex engineering problems. For me personally, these projects and the MSE department as a whole have helped me to excel as an engineer, making my undergraduate experience challenging but exciting.  
Parts for airplanes have been investment cast for many years. However, some companies are now researching ways to additively manufacture parts to obtain them with feasible geometries.   
What are your career goals, and how has UConn MSE helped you achieve them?    
After graduating in May 2020, I will be going into industry to be exposed to Materials Science and Engineering in a different environment. Ideally, I would prefer to go into the aerospace industry since my independent study research is heavily used in this industry. I plan on getting a Master's Degree part-time while working in industry full-time. The MSE department has helped me gain experience in multiple areas of Materials Science while being placed in challenging situations. 
How else have you been involved in the community?  
Earlier this year, I was inducted into the Materials Science and Engineering Honors Society, Alpha Sigma Mu. I am Vice President of Alpha Sigma Mu and I am a member of Materials Advantage (UCMA). For volunteer work, I am The Major Experience (TME) Mentor for MSE which involves actively answering undecided students' questions about MSE and advise if the major will be a good fit for them. I have also volunteered for YESS (Young Engineering Science Scholars) and the Explore Engineering Programs, where I presented to high-schoolers about 3D printing and investment casting, instructed and supervised them in the Materials Laboratory, and gave presentations on material classes and applications. 
How was your overall experience as an MSE undergraduate? 
The UConn MSE department strongly promotes student learning. Professors are always eager to answer student's questions and frequently hold office hours for students to go for extra help. The MSE faculty are truly motivated to help students learn and want to see everyone succeed. 
Author: Radenka Maric Named AAAS Fellow
You will be redirected to the article shortly.
Author: MSE e-Bulletin 2019
Welcome to our 2019 Outreach Bulletin! This publication is intended to share news stories and features about departmental accolades, research being conducted by MSE faculty, and alumni interviews that highlight our students' diverse accomplishments post-graduation.
We hope that you will find inspiration in the many ways in which UConn MSE continues to grow and diversify while remaining on the cutting edge of research and innovation.
INSIDE
5   Data Mining for Critical Research Traits: Perseverance and Ability to Handle the Unexpected 
7   A Microscope as a shovel? UConn Researchers Dig It
14 Ulbrich Steel's MSE Alumni Foster Collaboration and Partnership
16 Undergraduate Joe Podbielski Juggles Class, Lab Duties and Working on Blackhawks
24 MSE Research Partners in $12.5M DOE Research Center
41 2018-19 Alumni Briefs
Author: Grad Student Sharon Uwanyuze Wins a Rare Scholarship for Her Work on Refractory Ceramics
Sharon Uwanyuze, a Ph.D. candidate in Assistant Professor Stefan Schaffoener's lab, was one of three students nationwide who received The Refractories Institute Award at the 2019 Fall Institute Meeting in Columbus, Ohio November 6-7.
The award includes a one-time grant of $5,000. They are given based on academic merit and the student's interest and experience in the field of refractories, according to The Refractories Institute (TRI) announcement.
"My thesis is closely tied to TRI's mission: advancing and supporting students who want to further their knowledge in refractory ceramics and then apply that in industry," Sharon said. "They are called 'refractories' because they have great high temperature performance."
Currently, Sharon's research focuses on materials processing of refractory ceramics for titanium metallurgy, with an emphasis on corrosion and mechanical behavior at high temperatures. When she was looking at graduate programs, Sharon spoke to three professors at UConn's MSE department. One of them was Stefan Schaffoener, who works with ceramics and composites focusing on corrosion, and high-temperature materials processing for aerospace applications.
"He works at the interface of ceramics and metals during titanium alloy casting," Sharon said. "At high temperatures, molten titanium can oxidize rapidly." This is a problem for Schaffoener's lab group, because current ceramic casting molds do not sufficiently limit oxidation. Once titanium picks up more than 0.2 wt% oxygen, the toughness at the metal's surface is drastically reduced and it will no longer be suitable for most aerospace applications. Therefore, this surface layer is currently milled away mechanically or chemically. However, if researchers could sufficiently understand and control the melting process and the refractory ceramic composition, this oxidation problem could be mitigated.   
"That challenge initiated the research I'm working on. I synthesize the materials of the ceramic casting molds that titanium is melted in and analyze their properties and performance," Sharon said. For instance, if they use a ceramic mold that forms a barrier between titanium and the ceramic material itself, that prevents further diffusion of oxygen from the mold into titanium, and vice versa. While zirconium oxide-based molds work well with other metals, zirconium  tends to diffuse into highly reactive metals like titanium alloys and contaminate the metal.
"We're now working on other ceramic materials such as calcium zirconate. Zirconia has a high melting temperature and excellent stability. By doping it with other elements we can make it even more stable with titanium," Sharon said.
Earlier this year, Sharon completed a summer internship at Oak Ridge National Laboratory (ORNL), working on ceramic matrix composites for energy-producing (nuclear) applications. She used her knowledge of ceramic processing and properties to work alongside Dr. Stephen Raiman, a Research & Development Associate in Corrosion Science at ORNL.
But her path to the TRI scholarship wasn't always this clear.
"It was exciting to win. I had tried to apply for that scholarship as an undergraduate while working in an Advanced Ceramics laboratory, but I didn't get it. Now they can see I'm truly focused on refractory ceramics."  
As an undergraduate at the University of Alabama at Birmingham, Sharon was a research assistant in an advanced ceramics lab, which was unique in their metal-focused program. She worked on synthesizing yttria-stabilized zirconia for ceramic applications.
"While working as an undergrad research assistant, I was encouraged by my advisor to pursue grad school because I was research-driven and had good grades. It was great advice, and I like to speak to undergrads and show them that grad school is a great possibility," Sharon said.
She had the chance to speak directly to undergraduates when she participated on a panel at UConn's chapter of the National Society of Black Engineers (NSBE) in October. 
"It's important to me because I was shocked to learn that on average, less than 5 percent of Engineering bachelor's degrees go to black students. Our undergraduate program is very diverse, but I think a lot of students may think graduate school is not an option, especially if they're first-generation college students."
Sharon is the first in her family to do a Ph.D., and feels that UConn is a great institution for her. "Here, we have a lot of library resources, top-notch equipment, and a whole building dedicated to characterization and microscopy," she said, referring to the UConn Tech Park. "So we want to encourage undergraduates to look into that too."
Sharon added that the professors in the MSE department are very approachable and willing to mentor students. "In Dr. Schaffoener's group, we currently have three undergraduate research assistants, one of whom I help mentor. I was once in this position as an undergrad, and having research mentors is truly a phenomenal resource," she said.
Sharon plans to use the grant money to invest in a high-power desktop computer for her lab, so she can improve her studying and experiments.
Author: Undergraduate MS&T Awards Include $1750 and Grad School Prep
---
By Amanda Song
Materials Science and Engineering undergraduates won awards totaling $1750 for dome design and research presentations at the annual Materials Science & Technology conference in Portland, Oregon September 29 to October 4.
UConn Materials Advantage (UCMA) goes to MS&T each year to provide undergraduate members with the opportunity to explore MSE topics they might be interested in, and to see what kinds of research and research teams are out there.
UCMA undergraduates Amanda Agui, Samuel Bedard, Lucas Enright, and Justin Hewitt competed in the Geodesic Dome Design Competition against eight teams from universities across the U.S, with a 3D-printed ABS plastic dome.
"Winning best in destruction was not our objective, but I suppose it shows that we optimized our dome for the criteria of the competition," Lucas said.
The domes were judged based on aesthetics, strength-to-cost and strength-to-weight ratios, a presentation and poster, and overall mechanical strength. While they weren't aiming for it, the UCMA team's dome shattered in an impressive explosion that earned them the Best in Destruction award for $500, while the weight-cost-strength ratio of the dome earned them Runner up for $750.
"We realized the advantages of 3D printing and the design created by the 2018 team, which included Zachary Putney, Iwona Wrobel, Jordan Gomes, and Justin Hewitt (also on this year's team). We modified their design and optimized the processing parameters of the dome after printing," Lucas said.
Modifying the prior years' design turned out to be a major advantage. "Many teams casted their domes from molds or had other one-and-done sort of solutions and if they discovered a weakness in their design, it would be expensive and time consuming to correct. We, on the other hand, could tweak our CAD file over and over," Lucas said.
Additionally, Victoria Reichelderfer, a seventh semester MSE undergraduate, won first place in the annual Material Advantage Undergraduate Student Speaking contest. The contest is designed to encourage undergraduate students to present technical papers and to improve their presentation skills.
The award, which includes $500 for first place, recognizes Victoria's presentation on "Phase Field Modeling of Corrosion." In addition to the award, Victoria gained an invaluable experience that will prepare her for her future in graduate school and beyond: she got to present her research in a professional setting for the first time.
"I'm applying to graduate schools now, and I wanted to expose myself to the experience of presenting at a conference," Victoria said. "It was a good experience because I'm going to have to do that in the future." It was her first time attending a conference as an undergraduate.
Her presentation was the culmination of a project she started last spring, while taking her advisor Professor Serge Nakhmanson's graduate level course on phrase transformations of materials. Traditionally, it is challenging and computationally expensive to model phase transformation and corrosion. Victoria's research aims to address this by using computational models to track phase transformation, which helps researchers deepen their understanding of the process.
"Professor Nakhmanson gave me some general advice about presenting. Another grad student, Lukasz Kuna, is a great presenter and he gave me a lot of tips about the look of the presentation, and presenting in a professional setting," Victoria said. Moe developed a video simulation of dendrite corrosion that Victoria used in her presentation, which she believes helped her stand out from the others.  
"I have an interdisciplinary goal. I like biomaterials, but I'm also really interested in the cell biology side and what happens when cells and tissues interact with materials," Victoria said.  While her list of six potential graduate school programs is not yet solidified, Victoria plans to use some of the $500 award to fund her applications.
"Our work in MSE was practically everything that lead to this win," Lucas said. "Our collective backgrounds in materials science gave us knowledge of materials processing and the engineering process as it applies to materials. We knew the properties of the dome we were trying to maximize, and our MSE background made 3D printing a brittle polymer an intuitive choice."
After spending four consecutive days with her peers at the conference, Victoria feels grateful that the MSE program's small class size helped her bond with her classmates.
"I'm excited for what comes after graduation, but I'm going to miss UConn. I chose MSE as a major because the program was small. I know everyone in my classes and there's always someone I can study for an exam with or ask for advice. I hope to find this kind of community again," she said.
Author: From Failure Analysis to Blade Design
By Amanda Song
After spending years analyzing the reasons why helicopter parts broke, Materials Science and Engineering (MSE) alumna Rheanna Ward has learned that failure is rarely the end. In fact, many successful designs and products have resulted from failure. After being involved for several years with analyzing why parts break, Rheanna wanted to transition to the front of the problem by designing blades which can operate under harsh conditions and help rescue people.
"My personal goals are intertwined with work so it would be difficult for me to separate the two. I put a lot of effort into my work and I want to make an impact on the engineering community," Rheanna said.
Since graduating UConn with her BSE in 2015, Rheanna has worked at Sikorsky, a subsidiary of Lockheed Martin, first in Materials & Processing (M&P) conducting failure analysis on aircraft parts (identifying how and why part of an aircraft broke during test, flight, or development), and now in Blade Development designing blades for commercial and military use. Throughout her four years working at the company, she has continued to build on lessons learned in MSE, forge relationships with her coworkers, and learn "more than she could have imagined."
"I enjoyed working on composite failures the most because they were different and not as well documented or understood as metal failures," Rheanna said. "We looked at parts under the light microscope, in the SEM, and pieced everything together to come up with a story on how parts failed."
 "There are people who understand the processing, performance, and structure for composites in depth, but the knowledge is not as widespread as it is about metals," Rheanna said.
During her time in M&P, Rheanna often worked with the Blades Engineering Department, and got to know the manager and team there well. When a position opened up in Blades Development, the manager approached Rheanna and asked her to join their department.
"I had never designed anything before, yet he insisted I would learn how and thought I would like the group. I've been in this position for about a year," Rheanna said, adding that she's happy she stepped out of her comfort zone to delve into blade designing.
In Blades Development, Rheanna and her team take broad requirements about new developmental aircraft and design blades for the appropriate lift and operating conditions. "We rely on other groups to give us input such as how much the blade must lift, if the aircraft will be in a harsh environment (excess sand or saltwater), and if there are certain materials to use," she said. "It's pretty neat to see all the new technologies emerge and see the final product you worked on in the end."
Rheanna credits the group work her MSE instructors assigned as some of the best preparation for industry work. By working together to dissect challenging problems and work out the solution, Rheanna got her first taste of what it would be like after graduating.
"No one designs anything alone, and learning to talk to people and respectfully disagree and present facts on why things should be done a certain way is important." This collaborative effort has enabled her to come up with new ideas for designs or materials. "These new discoveries are allowing us to push the limits of materials and design better, longer lasting parts. I look forward to when we can design parts that have an infinite life."
Rheanna's cohort while in MSE comprised about 30 people per class—today, it's grown to 40 students per class. This small group of students all knew each other well and worked on homework together. "I was able to have class with my best friends every day which was really special. Some of my best memories were sitting in E2, studying with our group, and ordering wings and watching YouTube videos to take a break from our work," Rheanna said.
"My advisor, Professor Alpay, was always there to support me and give me direction whenever I was questioning myself. I owe a lot of my success to him because of all the positivity he offered me when things got tough." Such advice is particularly useful to Rheanna today, as she is pursuing a master's degree part-time, while also working full-time. Rheanna thinks of it as "short-term pain for long-term gain."
After earning her MS and becoming a better designer with CATIA, the design software suite she uses for computer-aided engineering at Sikorsky, Rheanna wants to manage a development program and become an Integrated Product Team lead for the entire helicopter rotor system, which extends beyond blades.
"When I think of where I started four years ago, I believe in five years I will be ready for a whole new set of challenges. We are lucky that Lockheed Martin (who owns Sikorsky) has so many different divisions. I can see myself rotating to Lockheed Space or Missile and Fire Controls at some point," she said.
Since graduating UConn, Rheanna has remained involved in the UConn community. She helped develop senior design projects on behalf of Sikorsky, gave tours to Bridge students—a five-week intensive summer program to prepare students underrepresented in engineering fields for their studies in UConn Engineering—and helps recruit at UConn whenever Sikorsky attends a career fair. She looks forward to Material Advantage Banquets as an alum as well, an event close to her heart because she helped initiate the annual banquet when she was Vice President for Material Advantage in 2014.
When asked what advice she would give future undergraduates, she said, "I try so hard to do everything perfect the first time that sometimes it's difficult to accept I may fail. Ask your peers and teachers for help when you can't figure something out. Not everyone expects an answer immediately. If I don't know the answer to something, I know enough to say, 'I don't know, but I can find out.' And my MSE degree gave me the foundation to then go and solve the problem."
Author: MSE Alumnus and Small Business Entrepreneur Brings a Unique Perspective to the External Advisory Board
---
By Amanda Song
As one of the first graduates of the newly-formed MSE program in 2005, and a subsequent MS and Ph.D. graduate of the program in 2013, Neal Magdefrau has watched UConn's MSE department grow from five students and a few faculty, to 41 faculty and over 250 students.
In the coming year, he will return as the newest member of the External Advisory Board, joining ten other industry partners in working to strengthen the visibility of the UConn MSE Department at the university, state, and national level, and to assist with strategic planning.
During his 12 years at UConn, Neal served as President of the UConn Material Advantage (UCMA), and as a member of ASM and TMS. He completed his Ph.D. thesis titled "Evaluation of Solid Oxide Fuel Cell Interconnect Coatings: Reaction Layer Microstructure, Chemistry and Formation Mechanisms" under the advisory of Professor Mark Aindow. 
The three-time MSE graduate is now a small business entrepreneur and staff engineer and research scientist in the Measurement Science Group at UTRC. He works part-time at UTRC while cultivating his company Electron Microscopy Innovative Technologies, which is the first and only business in the U.S. offering rentals of desktop Scanning Electron Microscopes (SEMs).
"I believe the technology industry in Connecticut is at the beginning of a resurgence, and small technology startups are going to have a major impact in repairing the state's stagnant economy,' Neal said. His business has grown "about 30 percent year-over-year," he said, adding two new SEMs to their rental fleet and recently opening a second office location in Tolland, CT.
Neal has spent most of his time at UTRC working on high temperature materials and coatings for ceramic matrix composites, as well as running programs at UTRC in the areas of bulk metallic glasses (BMGs) and atomic layer deposition (ALD). But what excites him most is working with cutting-edge equipment to solve problems.
"The best days are those where I can help a customer solve an issue that they haven't been able to resolve without using advanced materials characterization.  The reason I started my business is to put more powerful microscopes in the hands of more companies to help them address their R&D and manufacturing needs."
In 2012, Neal received the Senior Vice President's Award, given by the CTO to their small service group for outstanding service. He holds eight patents and has more invention disclosures pending.
In September, Neal was invited to join the External Advisory Board after alumna Alexandra Merkouriou stepped down to continue her research at UConn's Airforce Research Laboratory—Research in Advanced Manufacturing, and to pursue a Ph.D.
Please join us in welcoming Neal Magdefrau to the Board!
Author: Dr. Cato Laurencin Wins the National Academy of Engineering 2019 Simon Ramo Founders Award
You will be redirected to the article shortly.
https://today.uconn.edu/school-stories/dr-cato-laurencin-winner-national-academy-engineering-2019-simon-ramo-founders-award/
Author: Materials Scientist Fiona Leek joins MSE as Assistant Professor-in-Residence
By Amanda Song
The Department of Materials Science and Engineering is pleased to welcome Fiona Leek, Ph.D., a UConn alumna and long-time employee of UConn's Institute of Materials Science, as an assistant professor-in-residence.
In her new role, Leek will teach undergraduate lab courses and manage the MSE laboratories. She will work with other MSE faculty to enhance student research, coordinate outreach programs, and mentor senior design projects. 
After earning her BA in Museum Science & Archaeology at Wesleyan University in CT, Leek worked as textile conservator treating historic textiles including those owned by major museums such as the Metropolitan and the Smithsonian. ­It was this that sparked her interest in materials science.  She went on to earn a master's degree in Textile Science and Engineering from North Carolina State University and master's and doctoral degrees from the Polymer Science Program at UConn. 
Thereafter, Leek worked as a technical expert in the thermal analysis of polymers, foods and pharmaceuticals for T.A. Instruments in Delaware. She later moved to Massachusetts to become a Senior research scientist in corporate analytical at Millipore Corporation, a multinational company providing advanced filtration products to food and pharmaceutical industries and analytical sciences.  Here she managed the polymer analysis facilities and provided polymer expertise for R&D, Manufacturing, QC, Technical Services and Supply Chain,
In 2006, Leek returned to UConn's Institute of Materials Science (IMS) where she served as the Associate Director of the Industrial Affiliates Program (IAP) for 10 years. She worked with scientists and engineers from a wide variety of Connecticut companies to solve various materials-related challenges using the wide range of analytical tools and faculty expertise within IMS. During this time, she also served as a co-advisor for several MSE Senior Design teams and as a mentor for the Society of Polymer Engineers (SPE) Polymer Graduate Student Chapter and the UConn Connects program. In 2016, she joined Travelers' Risk Control Lab as a Senior Forensic Scientist where she investigated materials failures as they relate to loss of property, business and personal injury. 
Please join us in welcoming Fiona Leek to the MSE Department.