Cato T. Laurencin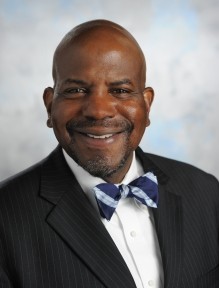 Cato T. Laurencin, M.D., Ph.D.
University Professor and Van Dusen Distinguished Endowed Professor
__________________________________________________
Professor of Materials Science and Engineering
Professor of Chemical and Biomolecular Engineering
Professor of Biomedical Engineering
Albert and Wilda Van Dusen Distinguished Endowed Professor of Orthopaedic Surgery
Chief Executive Officer, The Connecticut Convergence Institute for Translation in Regenerative Engineering
Director, The Raymond and Beverly Sackler Center for Biomedical, Biological, Physical and Engineering Sciences
The University of Connecticut
Ph.D., Massachusetts Institute of Technology (1987), Hugh Hampton Young Fellow
M.D., Harvard Medical School (1987), Magna Cum Laude
University of Connecticut 
263 Farmington Avenue, E7036
Farmington, CT 06030
Office: E7036
Phone: (860) 679-4086
Email: laurencin@uchc.edu
---
Research Interests
Regenerative Engineering
Musculoskeletal Regeneration
Nanotechnology
Polymeric Materials Science
Bioreactor Technology
Drug Delivery Systems
Stem Cell Science and Technology
---
Awards & Honors (
Materials Science & Engineering Related)
Laureate, The National Medal of Technology and Innovation
Elected Member: National Academy of Engineering
Elected Member: National Academy of Medicine
Most Cited Researcher in Materials Science and Engineering Listing (Scopus)
Fellow, The Materials Research Society
Fred Kavli Distinguished Lecturer in Materials Science and Plenary Lecturer, The Materials Research Society
Edward Orton, Jr. Memorial Lecturer, The American Ceramic Society
Lee Hsun Lecturer in Materials Science, Shenyang University
Rustum Roy Lecture: Frontiers of Science and Society, The American Ceramic Society
Distinguished Educator Award: The Engineer's Council
International Fellowships with Distinctions
Fellow, American Institute of Chemical Engineers, 2012
Named one of the 100 Engineers of the Modern Era by the American Institute of Chemical Engineering
Awarded the William Grimes Award from AICHE
Awarded Black Eminent Engineer Award, Awarded Pioneer of Diversity Award
Member, National Organization of Black Chemists and Chemical Engineers
Percy Julian Medal Awarded 2014
Fellow American Institute for Medical and Biological Engineering, 2000
Elected Chair, College of Fellows
Awarded the Pierre Galletti Award from AIMBE
International Fellow, Biomaterials Science and Engineering, 2000
Awarded the Founders Award and the Clemson Award for Contributions to the Biomaterials Literature, Society for Biomaterials
Fellow, Biomedical Engineering Society, 2010
Awarded the Diversity Award, Biomedical Engineering Society
Fellow, Materials Research Society, 2014
Awarded the Kavli Distinguished Plenary Award, 2017
Fellow, American Chemical Society, 2014
Diversity and Science Lecturer 2017
Fellow, National Academy of Inventors 2015, Member
National Selection Committee for NAI 2015-2019
Fellow, American Association for the Advancement of Science 2014
Philip Hauge Abelson Award "for Signal Contributions to Science in America" 2019                 
---
Research Statement
Cato T. Laurencin, M.D., Ph.D. is the 8th designated University Professor in the history of the University of Connecticut. He is Professor of Materials Science and Engineering, Professor of Chemical and Biomolecular Engineering, Professor of Biomedical Engineering, and the Albert and Wilda Van Dusen Distinguished Endowed Professor of Orthopaedic Surgery. He serves as the Chief Executive Officer of the Connecticut Convergence Institute for Translation in Regenerative Engineering and is the Founder and Director of the Raymond and Beverly Sackler Center for Biomedical, Biological, Physical and Engineering Sciences at UCONN.
Dr. Laurencin earned a B.S.E. in Chemical Engineering from Princeton University, a Ph.D. in Biochemical Engineering/Biotechnology from the Massachusetts Institute of Technology where he was a Hugh Hampton Young Fellow, and an M.D., Magna Cum Laude, from the Harvard Medical School, where he received the Robinson Award for Surgery.
           
Dr. Laurencin is the Founder of the Field of Regenerative Engineering.
           
In Materials Science and Engineering, he is a Fellow of the Materials Research Society and has been the Fred Kavli Distinguished Lecturer and Plenary speaker for the Materials Research Society. He is a life member of the American Ceramic Society and has delivered two of their most prestigious lectures. He has served as the Edward Orton, Jr. Memorial Lecturer and the Rustum Roy Lecturer for the American Ceramic Society. He is one the most highly cited researcher in Materials Science and Engineering (Scopus) and his work on engineered materials for soft tissue regeneration was highlighted by National Geographic Magazine in its 100 Scientific Discoveries that Changed the World edition. Dr. Laurencin is   Founder and President of the Regenerative Engineering Society, and is the Editor-in-Chief of Regenerative Engineering and Translational Medicine, published by Springer/Nature.
Dr. Laurencin has been honored by the White House on three occasions. He received the Presidential Faculty Fellow Award from President Bill Clinton for his work bridging engineering and medicine. He received the Presidential Award for Excellence in Engineering, Science and Math Mentoring from President Barack Obama where it was noted that he has trained a generation of underrepresented faculty in engineering. He received the National Medal of Technology and Innovation, our nation's highest honor for technological achievement, for musculoskeletal regeneration, in ceremonies at the White House.
Dr. Laurencin has been funded by the National Institutes of Health, the National Science Foundation and the Department of Defense for over a quarter century. He received the NIH Director's Pioneer Award (the NIH's Highest Award for Innovation) and two NSF Emerging Frontiers in Research and Innovation (the NSF's Highest Award for Innovation) for his work in musculoskeletal regeneration.
Dr. Laurencin has two awards named in his honor.  The Society for Biomaterials established The Cato T. Laurencin, M.D., Ph.D. Travel Fellowship Award given to underrepresented minority students pursuing biomaterials research and theW. Montague Cobb/NMA Institute and the National Medical Association established the Cato T. Laurencin Lifetime Research Achievement Award given at the opening ceremonies of the National Medical Association's Annual Meeting each year.
Dr. Laurencin is an elected member of the National Academy of Engineering and an elected member of the National Academy of Medicine. He is an elected fellow of the Indian National Academy of Engineering, an elected member of the Indian National Academy of Sciences, an elected Fellow of the African Academy of Sciences and an elected Fellow of The World Academy of Sciences. Dr. Laurencin is an Academician and Foreign Member of the Chinese Academy of Engineering.
---
Recent Publications
Injectable nanocomposite analgesic delivery system for musculoskeletal pain management. Khanal, Manakamana; Gohil, Shalini V; Kuyinu, Emmanuel; Kan, Ho-Man; Knight, Brittany E; Baumbauer, Kyle M; Lo, Kevin W-H; Walker, Joseph; Laurencin, Cato T; Nair, Lakshmi S Acta biomaterialia 2018 May;
Biodegradable Piezoelectric Force Sensor. Curry, Eli J; Ke, Kai; Chorsi, Meysam T; Wrobel, Kinga S; Miller, Albert N; Patel, Avi; Kim, Insoo; Feng, Jianlin; Yue, Lixia; Wu, Qian; Kuo, Chia-Ling; Lo, Kevin W-H; Laurencin, Cato T; Ilies, Horea; Purohit, Prashant K; Nguyen, Thanh D Proceedings of the National Academy of Sciences of the United States of America 2018 Jan;
Growth factor delivery strategies for rotator cuff repair and regeneration. Prabhath, Anupama; Vernekar, Varadraj N; Sanchez, Enid; Laurencin, Cato T International journal of pharmaceutics 2018 Jan;
Microsphere-Based Scaffolds in Regenerative Engineering. Gupta, Vineet; Khan, Yusuf; Berkland, Cory J; Laurencin, Cato T; Detamore, Michael S Annual review of biomedical engineering 2017 Jun;19135-161
Engineered stem cell niche matrices for rotator cuff tendon regenerative engineering. Peach, M Sean; Ramos, Daisy M; James, Roshan; Morozowich, Nicole L; Mazzocca, Augustus D; Doty, Steven B; Allcock, Harry R; Kumbar, Sangamesh G; Laurencin, Cato T PloS one 2017 Jan;12(4):e0174789
The past, present and future of ligament regenerative engineering. Mengsteab, Paulos Y; Nair, Lakshmi S; Laurencin, Cato T Regenerative medicine 2016 Dec;11(8):871-881
Nanofiber technology: its transformative role in nanomedicine. James, Roshan; Laurencin, Cato T Nanomedicine (London, England) 2016 Jun;
Animal models of osteoarthritis: classification, update, and measurement of outcomes. Kuyinu, Emmanuel L; Narayanan, Ganesh; Nair, Lakshmi S; Laurencin, Cato T Journal of orthopaedic surgery and research 2016
James, R; Laurencin, CT. Regenerative engineering and bionic limbs. Rare Metals Feb; 34(3): 143-155 (2015). 
Bagshaw, K.I., Hanenbaum, C.I., Carbone, E.J., Lo, K. Laurencin, C.T., Walker, J., and Nair, L.S.: Pain management via local anaesthetics and responsive hydrogels. Ther. Deliv, 6, 165-176, (2015).