S. Pamir Alpay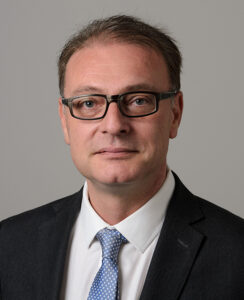 S. Pamir Alpay
Board of Trustees Distinguished Professor
Associate Dean for Research and Industrial Partnerships
Executive Director, UConn Tech Park
Ph.D., University of Maryland (1999)
Innovation Partnership Building at UConn Tech Park
159 Discovery Drive
Storrs, CT 06269
Phone: (860) 486-6917
Email: pamir.alpay@uconn.edu   Web: http://alpay.ims.uconn.edu
---
Research Interests
Multiscale modeling of materials
Ferroic and multiferroic materials
Conducting oxides
Polarizable semiconductors
Tunable dielectrics for microwave devices
Defect microstructures in functional materials
Materials for electrical contacts
Electrothermal properties of materials (IR detection, on-chip heating/cooling)
---
 Awards & Honors
| | |
| --- | --- |
| 2020 | Board of Trustees Distinguished Professor |
| 2020 | Fellow of ASM International |
| 2018 | Elected Fellow of the American Ceramic Society |
| 2018 | UConn-The American Association of Professors (AAUP) Excellence in Career Research and Creativity Award |
| 2017 | General Electric Professor in Advanced Manufacturing |
| 2014 | Elected Fellow of the American Physical Society |
| 2013 | Outstanding Faculty Advisor Award, University of Connecticut |
| 2013 | University of Connecticut Materials Science and Engineering Award for Teaching Excellence |
| 2012 | Elected Member of Connecticut Academy of Science and Engineering |
| 2008-2010 | United Technologies Corporation (UTC) Professor in Engineering Innovation Award |
| 2004 | Outstanding Junior Faculty Award of the School of Engineering, University of Connecticut |
| 2001 | National Science Foundation Faculty Early Career Development (CAREER) Award |
---
Recent Publications
P. Toloueinia, H. Khassaf, A. Shirazi Amin, Z. Tobin, S. P. Alpay, and S. L. Suib, "Moisture‒Induced Structural Degradation in Methylammonium Lead Iodide Perovskite Thin Films," ACS Applied Energy Materials 3, 8240–8248 (2020); https://doi.org/10.1021/acsaem.0c00638
Y. Espinal, S. Vijayan, S. P. Alpay, M. Aindow, and B. Hanrahan "Atomic-Layer Adhesion of Ferroelectric Nanoparticles: A New Approach to Dielectric Composites," J. Mater. Sci. 55,16063–16073 (2020); https://doi.org/10.1007/s10853-020-05145-w
D. Trujillo, A. Ghosh, S. Sahoo, S. M. Nakhmanson, and S. P. Alpay, "Surface Structure and Energetics of Low Index Facets of Bismuth Ferrite," Physical Chemistry Chemical Physics 22, 16400-16406 (2020); https://doi.org/10.1039/D0CP01575J
E. B. Curry, S. Sahoo, C. Herrera, I. Sochnikov, S. P. Alpay, R. J. Hebert, B. G. Willis, J. Qi, and J. N. Hancock, "Optical response of nickel-based superalloy Inconel-718 for applications in additive manufacturing, J. Appl. Phys. 127, 245111 (2020); https://doi.org/10.1063/5.0006006
B. M. Hanrahan, J. Easa, A. Payne, Y. Espinal, S. P Alpay, H. Kareem, C. O'Brien, A. Smith, "Pyroelectric Energy Conversion on PbLa(Zr,Ti)O3from Catalytic Combustion on Nanostructured Iridium Oxide at the Ferroelectric Phase Transition," Cell Reports Physical Science 1, 100075 (2020); https://doi.org/10.1016/j.xcrp.2020.100075
K. Co, H. Khassaf, and S. P. Alpay, "Electrocaloric and Pyroelectric Properties of Barium Zirconate Titanate," J. Appl. Phys. 127, 174102 (2020).
C. J Hung, S. K. Nayak, Y. Sun, C. Fennessy, V. K. Vedula, S. Tulyani, S. – W. Lee; S. P. Alpay, and R. J. Hebert, "Novel Al-X Alloys with Improved Hardness," Materials & Design 192, 108699 (2020)
T. Sahoo. U. Anene, S. K. Nayak, and S. P. Alpay, "Electronic and Optical Properties of Zinc based Hybrid Organic-Inorganic Compounds, Mater. Res. Express 7, 035701 (2020).
Y. Li, C. P. Schulthess, K. Co, S. Sahoo, and S. P. Alpay, "Influence of Octahedral Cation Distribution in montmorillonite on Interlayer Hydrogen Counter-Ion Retention Strength by DFT Simulations," Clays Clay Miner. (2020). https://doi.org/10.1007/s42860-019-00038-9
T. K. Reid, S. P. Alpay A. V. Balatsky, and S. K. Nayak, "First Principles Modeling of Topological Insulators: Structural Optimization and Exchange Correlation Functionals," Phys. Rev. B. 101, 085140 (2020).
T. A. Patel, K. Co, R. J. Hebert, and S. P. Alpay, "Ferroelectric Films on Metal Substrates: The Role of Thermal Expansion Mismatch on Dielectric, Piezoelectric, and Pyroelectric properties," J. Appl. Phys. 126, 134103 (2019).
E. Nykwest and S. P. Alpay, "Towards Magnetic Alumina: Uncovering the Roles of Transition Metal Doping and Electron Hybridization in Spin Delocalization," J. Phys.: Condens. Matter. 31, 245801 (2019). 
A. Ghosh, D. P. Trujillo, H. Choi, S. M. Nakhmanson, S. P. Alpay, and J-X. Zhu, "Electronic and Magnetic Properties of Lanthanum and Strontium Doped Bismuth Ferrite: A First-Principles Study," Scientific Reports 9, 194 (2019).
K. Co, F. Sun, S. P. Alpay, and S. K. Nayak, "Polarization Rotation in Bi4Ti3O12 by Isovalent Doping at the Fluorite Sublattice," Phys Rev. B. 99, 014101 (2019).
S. K. Nayak, C. Hung, R. J. Hebert, and S. P. Alpay, "Atomistic Origins of Guinier-Preston Zone Formation and Morphology in Al-Cu and Al-Ag Alloys from First Principles," Scripta Mater. 162, 235 –240 (2019).