Fiona Leek Selected as Undergraduate Faculty Career Mentor of the Year
By Kyra Arena, Written Communications Assistant
Please join us in congratulating our Director of Undergraduate Laboratories, Professor Fiona Leek, on her selection as this year's Undergraduate Faculty Career Mentor of the Year award.
The student nominated Undergraduate Faculty Career Mentor of the Year award is presented by UConn's Center for Career Development (CDD). Within the past few years, CDD has established an initiative called "Career Everywhere," which recognizes that students search for career advice from a variety of people: faculty, staff, alumni and employee partners. "Career Everywhere" also helps ensure that everyone a student may interact with has the tools and resources to help guide them towards career readiness. Therefore, these individuals deserve to be recognized for their service in assisting students with their career goals.
Professor Leek earned her doctoral degree from the Polymer Science Program at UConn. After working in the field as a technical expert and a Senior research scientist she returned to UConn and served as the Associate Director of the Industrial Affiliates Program (IAP) for 10 years. She worked with scientists and engineers from a wide variety of Connecticut companies to solve various materials-related challenges using the wide range of analytical tools and faculty expertise within IMS. In 2019 she joined the MSE department as director for the undergraduate laboratories.
The Department of Materials Science and Engineering thanks Professor Leek on her commitment to students and her great support for UConn students and their career development.
Fiona Leek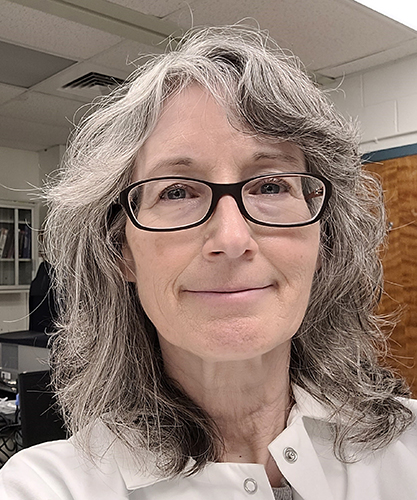 Fiona Leek, Ph.D.
Assistant Professor-in-Residence, 
Director Undergraduate Laboratories
Ph.D., University of Connecticut (1996)
Department of Materials Science & Engineering
97 North Eagleville Road, Unit 3136
Storrs, CT 06269-3136
Office: EII
Phone: 860-486-6937
Email: fiona.leek@uconn.edu
---
Research Interests
Polymer Characterization

Failure Analysis
Materials Scientist Fiona Leek joins MSE as Assistant Professor-in-Residence
By Amanda Song
The Department of Materials Science and Engineering is pleased to welcome Fiona Leek, Ph.D., a UConn alumna and long-time employee of UConn's Institute of Materials Science, as an assistant professor-in-residence.
In her new role, Leek will teach undergraduate lab courses and manage the MSE laboratories. She will work with other MSE faculty to enhance student research, coordinate outreach programs, and mentor senior design projects. 
After earning her BA in Museum Science & Archaeology at Wesleyan University in CT, Leek worked as textile conservator treating historic textiles including those owned by major museums such as the Metropolitan and the Smithsonian. ­It was this that sparked her interest in materials science.  She went on to earn a master's degree in Textile Science and Engineering from North Carolina State University and master's and doctoral degrees from the Polymer Science Program at UConn. 
Thereafter, Leek worked as a technical expert in the thermal analysis of polymers, foods and pharmaceuticals for T.A. Instruments in Delaware. She later moved to Massachusetts to become a Senior research scientist in corporate analytical at Millipore Corporation, a multinational company providing advanced filtration products to food and pharmaceutical industries and analytical sciences.  Here she managed the polymer analysis facilities and provided polymer expertise for R&D, Manufacturing, QC, Technical Services and Supply Chain,
In 2006, Leek returned to UConn's Institute of Materials Science (IMS) where she served as the Associate Director of the Industrial Affiliates Program (IAP) for 10 years. She worked with scientists and engineers from a wide variety of Connecticut companies to solve various materials-related challenges using the wide range of analytical tools and faculty expertise within IMS. During this time, she also served as a co-advisor for several MSE Senior Design teams and as a mentor for the Society of Polymer Engineers (SPE) Polymer Graduate Student Chapter and the UConn Connects program. In 2016, she joined Travelers' Risk Control Lab as a Senior Forensic Scientist where she investigated materials failures as they relate to loss of property, business and personal injury. 
Please join us in welcoming Fiona Leek to the MSE Department.
Undergraduate Student Chose to Study Materials Science and Engineering Over Mechanical Engineering
By Kyra Arena, Written Communications Assistant
Undergraduate student Hale Tresselt didn't always know she wanted to study materials science and engineering. In fact, it was UConn MSE's very own Professor and Interim Associate Department Head, Serge Nakhmanson, who convinced Tresselt to pursue a degree materials science and engineering during the "Exploring Engineering" program for high school students. "Initially I thought I wanted to be a mechanical engineer. That was until I came to UConn and took a tour of the School of Engineering. There I actually met Professor Nakhmanson and he described the Material Science program to me," Tresselt says. "Originally, I wanted to pursue sustainable design. When I spoke to Professor Nakhmanson, I realized that I actually wanted to work in sustainable material research and design. This conversation really propelled my interest in material science further." Nakhmanson, the other professors, facilities and overall community influenced her ultimate decision to pursue her bachelors at UConn MSE.
Once at UConn, her passion for materials science and engineering immediately skyrocketed. "I may be biased but I think materials science is so cool. Everything is made of something and I just love being able to look at things and know why they are made of a certain material or why something has cracked the way it has," Tresselt exclaims.
While Tresselt was inspired by Nakhmanson, another MSE faculty member inspired her as well: Undergraduate Laboratory Director Fiona Leek. "Professor Leek is incredible and I truly cannot say enough good things about her. She provides great and thoughtful feedback and has really improved my writing as an engineer," says Tresselt. "She provides clear direction and organization that is very applicable to time management in the real world. I am so grateful that I have gotten to work with Professor Leek as much as I have."
Currently, Tresselt does research with Nakhmanson alongside PhD student Mohamad Daeipour. Their research involves simulating the effect of different pour temperatures on solidification of cast metals. On campus she is also a part of the Materials Advantage Club and the UConn Women's Ultimate Frisbee Team.
Following her freshman and sophomore year, Tresselt had summer internships at Philips Healthcare, and following her junior year she had a summer internship at the Los Alamos National Lab. "At Philips I did a lot of foam and adhesive testing so most days I would be creating samples and running different tests on their strength," she says. "I learned so much about regulation and just how much thought has to go into every aspect of design and then later tested. I left this job far more aware of the small details that design engineers have to deal with constantly."
While Tresselt loved her internships, unfortunately, the Covid-19 Pandemic made things difficult. "We found ourselves having to find ways to get large amounts of testing done with far fewer days in the office. This made for some extremely long nights," Tresselt says.
But, working at these internships helped Tresselt feel more confident as a woman in materials science and engineering. "My boss was fantastic. She was a young engineer with so much advice to give about being a young woman in a very male dominated field," she says. "I learned so much from her, not only about how to be a better engineer, but about how to present myself with confidence."
Post-graduation, Tresselt wants to continue in academia. "I am hoping to move on to getting my masters and potentially my PhD," she states. "My goal is to help others by researching sustainable materials as well as more sustainable manufacturing processes to help lesson our harm on the environment."
While Tresselt originally wasn't studying materials science and engineering, she is happy that she chose this field. "This degree can take you in so many different directions and provides so much information about things you might not have even thought to wonder about," says Tresselt. While her journey had some bumps along the way, she had many mentors that helped her come out of her shell and bloom into a confident woman in the field of MSE.
Studying at UConn MSE was Ryan Gordon's Best Decision
By Kyra Arena, Written Communications Assistant
Have you ever made a decision that you knew in your heart was the right choice? Well, undergraduate student Ryan Gordon knows the feeling! "The UConn MSE program was the reason I decided upon attending UConn in the first place! I absolutely loved the labs when I toured, the close-knit nature of the students in the program and the professors as well," says Gordon. "Attending UConn was honestly one of the best decisions I have ever made."
Ryan Gordon, a senior graduating this spring, chose to study materials science and engineering because of its versatility. "There is not a single engineering degree that is as useful to a new undergraduate as MSE. Almost every single company across the country needs someone with a materials background," he says.
He has had an incredible time at MSE as a part of Assistant Professor Lesley Frame's research group. The group focuses on structure-processing-property-performance relationships for engineering alloys. Specifically, Gordon focuses on how the fission product, tellurium influences the mechanical properties of a high nickel alloy in molten salt reactors. "Working in the lab with Professor Frame has been an amazing experience, especially for my future career in MSE. I have learned so much from her. I learned how to effectively present research, how to be organized in a lab setting and how to set up and run an effective research project," he says. "Professor Frame and the other members of her lab group molded me into the student and researcher that I am today."
He also praises the mentorship of Undergraduate Laboratory Director Fiona Leek. "Professor Leek has provided me with so much advice when it comes to running a project, I would not be where I am today without her," states Gordon. "My technical writing skills were not the best coming into school, but, thanks to her feedback, I have improved significantly in this area. I would like to thank her greatly for being a fantastic professor and role model."
Likewise, Professor Leek praises Gordon on his development. "The best part of my job is seeing students transform from an enthusiastic, but hesitant sophomore to a confident researcher on graduation. This does not happen with all— it definitely has with Ryan," states Leek. "I know he will do extremely well with whatever he tackles in the future."
Besides research, Gordon has also been involved in the student chapter, University of Connecticut Material Advantage (UCMA). The chapter provides career opportunities and outreach events to educate the general public, specifically K-12, about the field of MSE. Gordon has been the President of UCMA since 2020.
Also, he has had two summer internships during his time at UConn: Texas A&M University and Oak Ridge National Laboratory. "I was not too sure where I wanted to go with my career, but I knew these experiences would help me decide whether research was something that I would enjoy," says Gordon. "These internships showed me that I can run a project on my own, and it allowed me to make great connections as well as figure out the path I wanted to take."
At each internship, Gordon learned how to make informative posters, how to run a project effectively and how to collaborate with lab mates. "My favorite part was honestly the people that I met," he says, "They showed me what it was like to work in a lab as a PhD student and made my summers really informative and fun at the same time."
Speaking of PhD students, Gordon recently accepted a Research Assistantship to pursue a PhD in MSE at the University of Wisconsin-Madison. His research will be focused on materials corrosion in molten salt reactors. Post-graduation he hopes to go into industry and lead a failure analysis group or pursue a career at any one of the National Labs throughout the country.
Gordon gives credit to UConn MSE for preparing him for his new role at the University of Wisconsin-Madison. "The laboratory classes I took with Professor Leek helped to reinforce the necessary lab knowledge such as correct PPE, how to dispose of toxic chemicals and other necessary laboratory procedures," he says. He also claims that working in Professor Frame's research group gave him the essential skills for working in a laboratory.
"As I said, one of the best decisions I have ever made was to attend UConn for my undergraduate degree. The best decision I ever made? That was to do materials science and engineering," he says. If you asked high schooler Gordon where he thought he would be today, the last thing he would have ever said would be that he was pursuing a PhD. "The past four years in MSE here at UConn have completely molded me into a student and person that I am proud of," says Gordon. "I am, and forever will be, thankful for my time here studying materials science and engineering at the University of Connecticut."
Undergraduate Student's Internship Success at IBM
By Kyra Arena, Written Communications Assistant
Each academic year, college students frantically search for summer internships. It's a tricky and stressful endeavor. But UConn's MSE undergraduate student, Ria Paranjape has had not one, not two, but three summer internships at the global technology company, IBM.
Paranjape is a senior studying materials science and engineering after switching from chemical engineering her freshman year. "After arriving at UConn, I learned more about the materials science program through some introductory classes and found that it aligned more closely with what I was interested in pursuing," she says. "Additionally, I knew MSE was an 'up and coming' field, which furthered my interest in the major."
In the field of materials science, Paranjape is most interested in polymers research with a focus in sustainability, and product design and development in materials selection.
Undergraduate Laboratory Director Fiona Leek has provided Paranjape with a positive and enriching experience. "As a professor, she makes a huge effort to show support to her students and help every step of the way," says Paranjape. "She is incredibly passionate about what she does, and it influences myself and my peers to work harder in our major and post-graduation when we're in industry."
When Paranjape was first searching for an internship, she wasn't entirely sure on what she wanted to do. But she picked IBM because they are heavily involved in technology, and materials science is a very important part of that. "My first internship involved studying corrosion resistance, and from there my research narrowed down to what I worked on this previous summer, which was superconductor electroplating for quantum computing applications," she states.
During her first summer at IBM, Paranjape mainly worked in the lab and ran tests on various samples with her manager. However, due to the COVID-19 pandemic, her two following summers were online. Since she could not physically be in the lab, she focused on experiment planning, design of experiments and data analysis.
But the pandemic did not stop Paranjape from enjoying her time at IBM. "I constantly was challenged and had to think about things in ways that I hadn't before, which helped me develop my critical thinking skills in a very welcoming environment," she says. "Everyone I would talk to would be so open to helping me or talking to me about their area of expertise, giving advice, etc. It goes back to how I really appreciated being valued as an intern."
Paranjape has three pieces of advice for MSE students to succeed as an intern: keep an open mind, always ask questions and be confident! "Sometimes you might land a role that isn't exactly what you expected yourself to be doing, but the beauty of materials science is that it can be applied to almost anything," she states. "I tend to get imposter syndrome when I've achieved something because I think I don't deserve it, or I'm not smart enough to be at this place, however being confident in yourself will help alleviate that."
And as for future students, Paranjape recommends studying materials science. "Right now, especially, the field is expanding rapidly and offers so many exciting opportunities right out of undergrad. UConn MSE, specifically, prepares you a career in industry by offering a wide range of materials classes you can take," she says. "The professors make sure to drill important concepts and give you valuable information you can use past graduation. With the new MSE building underway, the growth that the department will have in the near future is incredibly exciting and even more reason to consider the program!"
MSE Undergraduate Earns Her Degree as Both Student and Teaching Assistant
By Gabriela Esposito
Materials Science and Engineering senior Brianna Westenfield began at UConn as a biomedical major; three years later, she is now finishing her final fall semester as an MSE undergraduate student and teaching assistant.
Like most undergrads during their first year, freshman Westenfield was faced with the realization that her intended field of study was not for her. Though she was not fond of biomedical (BME), Westenfield was still interested in materials science. According to her, the next logical choice was MSE. "I'm really glad that I did end up switching because I love MSE and I think I'm a lot happier here than I would have been had I stayed in BME," she says.
While her major in biomedical was short-lived, her lasting interest in engineering was what had initially brought her south of her home state of Mass. When her older siblings went through the college admissions process, Westenfield remembered them touring UConn and the school's great engineering program. With admission and the option of going home for weekends, Westenfield became a Husky.
Though many undergrads change their majors, not many become teaching assistants. After applying for the position last year, Westenfield assisted Professor Serge Nakhmanson during the spring semester with an Introduction to MSE course (MSE 2002). This semester, she assists with the director for MSE's undergraduate laboratories, Professor Fiona Leek in the MSE junior level lab course (MSE 3055).
"It's really rewarding to be able to explain a process to a student in the class in a way that they understand it. It's a great feeling to know that you're helping someone learn something that isn't necessarily easy to understand at the start," Westenfield says.
According to her, it can be difficult when students ask questions that are too deep for even her understanding. "Thankfully, Fiona is a wonderful professor to TA for and is always happy to explain something to all of us," she says.  
Aside from her TA position, Westenfield also volunteers with Multiply Your Options, a program run by UConn's Society of Engineers, to help expose 8th grade girls from throughout the state to engineering. She has volunteered with the organization for all four years she has been at UConn. "I love helping the girls who come to learn and experience things that they may not be able to in their daily lives," she says.
Though teaching is not something that Westenfield has seriously considered as a career, sharing her passion and knowledge in engineering as a mentor has become a theme in her life. "I hope to be able to keep teaching people for a long time, even if it is not necessarily in the traditional way," she says.
Westenfield's own teaching abilities have been inspired by Professor Leek, whom she says has been an influential mentor. "Fiona is an incredible professor and an even better mentor. I never hesitate before asking her advice on anything from academics to industry and things like graduate school, and I really appreciate any and all words of wisdom that she can give," she says.
Since making herself at home in MSE and working under Leek, Westenfield has identified the areas of the field she favors most. She has grown particularly interested in failure and failure analysis. "It's really cool to look at how and why things break and if there is anything you can do to prevent it," she says.
According to Westenfield, she is interested in pursuing her passion for failure analysis after graduation, whether it be through a job in industry or by continuing her academics to earn her graduate degree. 
Outside of the MSE department and her teaching assistant roles, Westenfield feels strongly about empowering women in engineering. Having been in the Society of Women Engineers club all four years at UConn, she has held a leadership position with the club since sophomore year. "I love the mission behind the club and I love to be able to go somewhere and be with other people who understand what it's like to be a woman in engineering," she says.
On top of this, Westenfield participates in the Husky Ambassadors group which runs open houses and the Husky for a Day program. Through this role, she helps prospective students get a taste of what it is like to be a UConn student.
The Husky for a Day program is something that is of particular value to Westenfield who might not have ended up at UConn had she not done it. "I participated in the Husky for a Day when I was a senior in high school and it was one of the main reasons I actually came to UConn, so I love being able to do the same thing for another person," she says.
Despite her many roles related to her career, Westenfield shares that she does in fact have hobbies outside of materials science and engineering which she finds time for. Interestingly, she is passionate about the arts. According to her, she enjoys painting, sketching, and reading.
Finding the time for these activities may be something that also discourages undergraduates from pursuing a TA position. However, Westenfield says that it is not as overwhelming as you might think. "It can be a little worrisome the first time you do it, but it's actually a lot of fun. It's really interesting to actually see the other side of things, and it gives you a bit of perspective when it comes to your own TA's and professors," she says.
For those who are unsure about the field of MSE and much less sure about helping teach it, Westenfield says they give it a chance. "I especially see it in my friends who only minored in MSE, but they tend to wish that they had gone into MSE fully."
"MSE is really a fantastic place to be. Yes, the program is well ranked amongst other colleges and the research that's happening in UConn MSE is incredible, but honestly it's the people that really make the program," says Westenfield. 
MSE Undergraduate Seeks to Reduce COVID-19 Transmission through Research on Air Filtration Systems
By: Katie Nejati, Student Written Communications Assistant
---
Robert Williams is one of 17 students selected for the University Scholars Program (USP), a challenging and prestigious program for undergraduates at the University of Connecticut. Working in the Adamson Research Group under the supervision of professors Douglas Adamson (Chemistry) and Seok-Woo Lee (MSE), he has been conducting research over the past year on a project entitled "HEPA Filtration Through Graphene Addition". 
What started as an idea conceived during his application for admission to the scholars program has developed into promising research area with the potential to reduce the impacts of the ongoing pandemic. His research centers on improving high-efficiency particulate air (HEPA) filtration systems used to remove pollutants from heating, ventilation, and air conditioning systems. Initially, Williams intended to focus his work on improving the efficiency of these filters at certain particle sizes. He later recognized, however, that his research might also have implications for reducing COVID-19 transmission. By combining HEPA filters with electrostatic precipitation technology, Williams seeks to develop a filtration system can capture small airborne virus-containing respiratory droplets. His work on this topic involves a collaboration with Johns Manville, a company based in Denver, Colorado that manufactures insulation, fibers, and other engineered materials, including the nonwoven products used in filters. 
Williams was initially a biology major, but soon realized that his career interests were better aligned with materials science and engineering. He is currently an MSE undergraduate honors student and is pursuing a concentration in biomaterials and a minor in molecular and cell biology. He believes his background in MSE will uniquely prepare him to attain his career goals. After graduation, he plans to attend medical school, and hopes to pursue research in biomaterials for applications in orthopedics. He also believes that graphene, one of the materials used in his USP filtration project, has the potential to pave the way for other advances in medicine. "To be on the forefront of research that I could potentially apply during medical school is really neat" he says. Apart from advancing his career aspirations, Williams says he chose to complete his undergraduate degree in MSE because the department provides a close-knit academic environment where he is able to get to know both his professors and his peers in many one-on-one interactions. 
Williams attributes his success in academics and admission to the USP to his research advisors and other members of the MSE faculty. In particular, he acknowledges Dr. Fiona Leek, Director of the MSE Undergraduate Laboratory, for providing him with valuable experience in a laboratory setting and instilling in him an appreciation for the skills needed in research. His advisors, Drs. Lee and Adamson, were his biggest motivators, giving him the reassurance he needed to realize his potential. Without them, he would not have had the confidence to apply for the scholars program, and so would not have acquired the skills and independence he presently enjoys.  
Williams now recognizes that nearly any idea can have unseen potential, and with proper guidance, may result in a new research direction. Thus, he encourages every student with an exciting idea, and the curiosity and drive to pursue it, to apply to the University Scholars Program.
Faculty
UConn MSE Senior Selected as SOE Student Commencement Speaker
By Ben Crnic
We are very proud to announce that one of our students, Riley Blumenfield, has been selected by the School of Engineering to be the Student Commencement Speaker for the virtual ceremony in May. Blumenfield is an Honors Program STEM Scholar and served as the president for the engineering sorority Phi Sigma Rho. She has also been involved in research on regenerating human limbs with MSE professor Cato Laurencin. In her sophomore summer, she interned at the Naval Undersea Warfare Center in Newport, RI, where she worked with polymer nanocomposites.
Professor Fiona Leek, who has managed MSE undergrad labs and lab classes since October, said, "Riley TAed with us for all 3 of the last semesters.  She has been a truly invaluable  resource for me and many of the students and projects in the labs.  She shared insight on the current classes from both a student and TA perspective and we've had great fun bouncing ideas around for possible future labs. I will definitely miss her next year."
In the future, Blumenfield hopes to continue her research in regenerative engineering. Congratulations Riley!
Faculty_old
 
Name, Title
Email
Research Topic
 
Mark Aindow
Professor
Executive Director for Innovation, External Engagement, and Industry Relations


Defects and Interfaces, Microstructural Development in Alloys and Thin Films & Electron Microscopy

 
S. Pamir Alpay
Associate Dean for Research and Industrial Partnerships;
GE Professor in Advanced Manufacturing; Executive Director, UConn IPB/Tech Park

Materials Modeling, Functional Materials, Metallurgy

 
Harold D. Brody


Distinguished Professor

Materials Processing, Alloy Casting and Solidification & Process Models

 
Avinash M. Dongare
Associate Professor
United Technologies Corporation (UTC) Professor in Engineering Innovation


Atomic Scale Modeling, Mesoscale Modeling, Microstructural Evolution, Mechanics of Materials, Defects, Interfaces, Materials Under Extreme Environments

 
Lesley D. Frame
Assistant Professor

Metals Processing, Manufacturing, Corrosion, Residual Stress, Phase Transformations, Structure – Property – Processing Relationships

 
Pu-Xian Gao


Professor

Nanomaterials Synthesis, Characterization and Manipulation, Nanotechnology for Energy, Environmental and Biomedical Applications

 


Rainer Hebert


Associate Professor, Castleman Professor in Engineering Innovation, Director of Additive Manufacturing Innovation Center, and Associate Director of IMS

Phase Transformations, Metals & alloys, Metalic Glasses & Severe Plastic Deformation Processing

 
Bryan D. Huey


Department Head, Professor

Scanning Probe Microscopy, Photovoltaics, Data Storage Dynamics, Nano-Bio-Mechanics, Functional Ceramics

 
Jasna Jankovic
Assistant Professor

Advanced Imaging and Spectroscopy Techniques, Nanomaterials for Clean Energy Applications, Fuel Cells, Batteries, Structure-Property-Performance Correlation

 



Theo Z. Kattamis




Professor

Solidification and Metals Joining, Materials Processing, Thin Coatings & Tribology

 
Cato T. Laurencin, M.D., Ph.D.


University Professor and Van Dusen Distinguished Endowed Professor

Advanced Biomaterials, Tissue Engineering, Biodegradable Polymers, Nanotechnology

 
Seok-Woo Lee
Assistant Professor,

Castleman Term Professor in Engineering Innovation

 

Mechanical Behavior of Materials at Multi-Length Scales, In-situ Cryogenic Nanomechanical Characterization, Computer Simulations of Dislocations, Single Crystal Growth, Laser-beam Lithography, Polymer Nanocomposites

 
Fiona Leek


Director Undergraduate Laboratories, Assistant Professor-in-Residence

Polymer Characterization and Failure Analysis

 


Radenka Maric


Vice President for Research, Innovation, and Entrepreneurship, CT Clean Energy Fund Professor of Sustainable Energy

Novel Materials for High Temperature Fuel Cells

 


Serge M. Nakhmanson


Associate Professor and Director for Undergraduate Studies

Multiscale Modeling of Materials, Multifunctional Ferroics, Soft Materials

 
Volkan Ortalan
Associate Professor

Ultrafast Electron Microscopy, Aberration-corrected In-situ TEM, Heterogeneous Catalysts, Materials Under Extreme Conditions, Polymers, Low-dimensional Materials, Additive Manufacturing

 
George A. Rossetti Jr.
Associate Department Head,
Associate Professor

Dielectric & Piezoelectric Ceramics, Ferroelectricity, Phenomenological Modeling, Electrical & Thermophysical Properties Characterization

 
Stefan Schaffoener
Assistant Professor

Ceramics and composites, Corrosion, High temperature materials processing

 
Prabhakar Singh


UTC Endowed Chair Professor

High Temperature Materials, Oxidation and Corrosion, Electrochemistry, Solid Oxide Fuel Cells

 
Yuanyuan Zhu
Assistant Professor




Advanced and In-situ STEM, Deep Learning, Heterogenous Catalysis, Irradiation Effects, Functional Nanomaterials

 
 
 

Faculty with Affiliate Appointments

 
Yusuf Khan


Associate Professor, Department of Orthopaedic Surgery, UConn Health Center

Tissue Engineering, Biocompatible and Biodegradable Scaffolds

 
Sangamesh Kumbar


Associate Professor, Department of Orthopaedic Surgery, UConn Health Center

Synthesis and Characterization of Novel Biomaterials for Tissue Engineering and Drug Delivery Applications

 
Lakshmi Nair


Associate Professor, Department of Orthopaedic Surgery, UConn Health Center

Regenerative Engineering, Injectable Hydrogels, Nanostructured Materials, Drug Delivery

 

Syam Nukavarapu
Associate Professor, Biomedical Engineering

Biomaterials, Engineered Matrices, Tissue Engineering

 
 
 

Additional Faculty in MSE Graduate Program

 

Menka Jain
Associate Professor, Department of Physics

Synthesis, Characterizations, and Understanding Structure-Property Relationships of Various Interesting Functional and Multifunctional Materials (i.e. Dielectric, Ferroelectric, Ferromagnetic, Multiferroic, Magnetoelectric, Thermoelectric)

 
Liisa T. Kuhn


Associate Professor of Biomedical Engineering

Biomaterial Scaffolds for Drug Delivery and Bone Tissue Engineering

 
Jeffrey McCutcheon


Associate Professor

Membrane Separations, Polymer Electrospinning, Forward Osmosis/Osmotic Power

 

Richard Parnas
Professor

Biofuels Process Design, Biodegradable Polymers, Pervaporation Membranes, and Biomass Extraction

 
Steven L. Suib


Director of IMS, Board of Trustees Professor, Professor of Chemistry

Solid State Inorganic Chemistry, Zeolites and Microporous Materials, Environmental Chemistry, Plasma Chemistry and Catalysis, Semiconductors, Inorganic Photocatalysis, Batteries, Ceramics

 
Brian Willis


Associate Professor

Nanotechnology, Nanofabrication, Photocatalysis, Plasmonics

 
 
 

Teaching, Research & Adjunct Faculty

 
 

Ryan M. Deacon
Adjunct Professor

Alloy Development, High Temperature Corrosion, Materials Characterization with Electrons and X-rays

 
Maurice Gell


Research Professor

Advanced Coatings Technology Development for Enhanced Durability, Superior Thermal Barrier Coatings

 
Daniel Goberman


Adjunct Professor

High Temperature Environmental Barrier Coatings for Aerospace Applications

 
Weiming Lu
Adjunct Professor

Carbon Materials and their Applications

 
Rajiv Naik


Adjunct Professor

Composite Materials, Materials Design, Mechanical Properties

 
Greg Ojard


Adjunct Professor

Experimental Characterization of Mechanical Properties of Advanced Materials

 
Rampi Ramprasad
Research Professor

Rational Materials Design Using First Principles and Data-driven Methods

 
Diane J. Van Scoter


Associate Professor in Residence, MEM

Process Improvement and Development of STEM Teaching Methods and Materials

 
Mei Wei


Research Professor

Tissue Engineering, Scaffolds, Biomimetic Coatings, Ceramic-Polymer Composites, Nanomaterials, Drug Delivery

 
 
 

Emeritus Faculty

 
 
 
C. Barry Carter
Emeritus Professor

Interfaces & Defects; Metals, Ceramics, Materials and Semiconducters; Nanomaterials; TEM, SEM and AFM. Materials for Energy Products and Storage; MSE Education

 
 

James M. Galligan




Emeritus Professor

 
 
 

Norbert D. Greene




Emeritus Professor

 
 
Eric Jordan


United Technologies Professor of Advanced Materials Processing

Mechanical Behavior of Materials, High Temperature Materials, Thermal Barrier Coatings, Thermal Spray Processing and Properties, and Nano Crystalline Materials

 

Harris L. Marcus




Emeritus Professor

Freeform Fabrication, Mechanical Behavior, Fatigue, Nanotechnology & Photonic Crystals

 
 

John E. Morral




Emeritus Professor

 
 
 

Donald Potter




Emeritus Professor

Materials Characterization, AFM, SEM, TEM, XRD

 
Senior Design Day 2015
MSE seniors presented their senior design projects on Friday, May 1st, 2015 at Gampel Pavilion. With a total of 21 projects and 41 students participating, the event showcased the department's exeptional student talent.
Congratulations to our graduating seniors and the MSE Senior Design Project final presentation winners!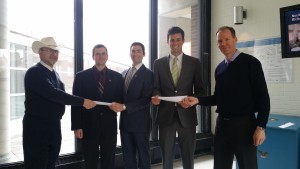 1st Prize: $1.500
Zeiss MultiSEM Sample Mount by Eric Bousfield, Stephen Ecsedy, and Kyle Keeley
Industry Sponsor: Carl Zeiss Microscopy, LLC
Industry Advisor: Pascal Anger, Dr. Kyle Crosby
Faculty Advisor: Prof. Puxian Gao
.
.
.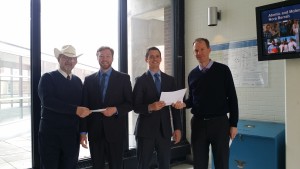 2nd Prize: $1.000
Impact Testing of Circuit Breaker Enclosures to Simulate Short Circuit Conditions by Douglas Hendrix and Nicholas DeMello
Industry Sponsor: GE Energy Management
Industry Advisor: Haritha Namduri
Faculty Advisor: Prof. Bryan Huey
.
.
.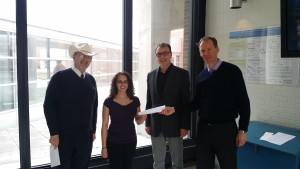 3rd Prize: $750
Bimodal HDPE Resin Grades for Bottle Weight Reduction and Equivalency by Alexandra Merkouriou
Industry Sponsor: Unilever
Industry Advisor: Warren Kleeman, Julie Zaniewski
Faculty Advisor: Prof. Pamir Alpay
.
.
Other Capstone Design Projects:
Additive Metal Processing for Production of Surgical Device Components by Pamela Dyer and Andrew Fasano
Industry Sponsor: Covidien
Industry Advisor: Dr. William Powers
Faculty Advisor: Prof. Rainer Hebert
---
Salt Penetrometry for Design of Reduced Defect Filters by Marc Bennett, Noveen Delaram, and Jason Monnes
Industry Sponsor: KX -Technologies, Inc
Industry Advisor: Bruce Taylor, William Li
Faculty Advisor: Prof. Rampi Ramprasad, Dr. Fiona Leek
---
Marmon Utility ESP Cable Systems by Cody Andelin and Jackson McMillan
Industry Sponsor: Marmon Utility-Kerite Pump Cable
Industry Advisor: Mohamed Alameh, Michael Norton
Faculty Advisor: Prof. Prabhakar Singh
---
Al-Li Alloy Peening and Impact on HCF Behavior by Timothy James
Industry Sponsor: Pratt & Whitney
Industry Advisor: James Hensen
Faculty Advisor: Prof. Avinash Dongare
---
Impact of Alloy Overaging on Mechanical Properties by Riordan Hoffman and James Lee
Industry Sponsor: Pratt & Whitney
Industry Advisor: Dr. Max A. Kaplan
Faculty Advisor: Prof. Seok-Woo Lee
---
Temperature and Time Limitations on PTFE Material by Luke McCarthy and Samuel Wentworth
Industry Sponsor: Pratt & Whitney
Industry Advisor: Curtis Riewe
Faculty Advisor: Prof. Serge Nakhmanson
---
Oxidation Effects on Nickel Base Superalloys at Intermediate Temperatures by Benjamin Bedard
Industry Sponsor: Pratt & Whitney
Industry Advisor: Dr. Mario Bochiechi
Faculty Advisor: Prof. Mark Aindow
---
Local Heat Treatment by James Kos
Industry Sponsor: PTR-Precision Technologies, Inc
Industry Advisor: Amber Black, Gary LaFlamme, John Rugh
Faculty Advisor: Prof. Pamir Alpay
---
Hydrogen Embrittlement of Cu Cables by Samantha Brantley and Wieslaw Kapalczinksi
Industry Sponsor: Rockbestos-Suprenant Cable Corporation, Inc
Industry Advisor: Daniel Masakowski, Ivan Stannard
Faculty Advisor: Prof. Rainer Hebert
---
Tooling and Processing Optimization for Complex Geometry, Nonferrous Castings by Kevin La and Lauren Salisbury
Industry Sponsor: Sikorsky Aircraft Corporation and Sikorsky Innovations, Inc
Industry Advisor: William Fallon, Paul Inguanti
Faculty Advisor: Prof. Hal Brody
---
Design of Stress Relief Heat Treatments of Austenitic Stainless Steels by Allie Clark and Jennifer Heiser
Industry Sponsor: Ulbrich Stainless Steels and Special Metals, Inc.
Industry Advisor: Sean Ketchum, Will Keenan
Faculty Advisor: Prof. Hal Brody
---
DMLS In 718 Heat Treatment by Jordan Parley and Timothy Siu
Industry Sponsor: UTC Aerospace Systems
Industry Advisor: Dr. Sergey Mironets
Faculty Advisor: Prof. Rainer Hebert
---
Evaluation of Electrical Discharge Machining (EDM) of Aerospace Alloys by Eric Anderson and David Twohill
Industry Sponsor: UTC Aerospace Systems
Industry Advisor: Stephen Pasakarnis
Faculty Advisor: Prof. Seok-Woo Lee
---
Mechanical Properties of AL6061 with Al4043 Welds by Benjamin Bilancieri, Terry Ng, and Nicholas Poulos
Industry Sponsor: UTC Aerospace Systems
Industry Advisor: Callie Benson
Faculty Advisor: Prof. Rainer Hebert, Prof. Theo Kattamis
---
UTAS Additive Manufacturing of a Cold Plate by Gabrielle Charno and Spencer Lambrecht
Industry Sponsor: UTC Aerospace Systems
Industry Advisor: Colette Fennessy
Faculty Advisor: Prof. Rainer Hebert
---
Improving Tensile Strength Consistency Around High Carbon Steel Rings by Brenden Mil-Homens and Joseph Pacheco
Industry Sponsor: Nucor
Industry Advisor: Charlie Hyatt
Faculty Advisor: Prof. Rainer Hebert
---
Non-Destructive Test for Incoming Nylon Fabrics Prior to Metalizing by Rheanna Ward and Kacie Wells
Industry Sponsor: Swift Textile Metallizing
Industry Advisor: Antonio Luna
Faculty Advisor: Prof. Rainer Hebert, Dr. Fiona Leek
---
Improved Methods of Pretreating Polymer Fiber Prior to Metalizing by Alexander Westlund and Bartek Wojciechowski
Industry Sponsor: Swift Textile Metallizing
Industry Advisor: Antonio Luna
Faculty Advisor: Prof. Radenka Maric
MSE Senior Capstone Design 2013
On May 3rd and 10th, Materials Science and Engineering (MSE) students, faculty, and industry advisors convened to observe the final Capstone Design Project presentations. The Senior Capstone Design Project course educates UCONN's MSE students in innovation in the materials engineering arena, leadership, and provides the students with a deep exposure to real-life challenges. Through their final year, students planned, designed, and researched projects dealing with unsolved material issues local companies face. The 19 projects were sponsored by UTC Aerospace Systems, Sikorsky, Rockbestos-Suprenant Cable, Delta Industries, and Ulbrich Stainless Steels and Specialty Metals, among others. The projects involved materials ranging from carbon fiber composites, nickel-based superalloys to yttria-stabilized zirconia thermal barrier coatings. Challenges also encompassed the modeling of the heat flow in electron beam welds and the casting of objects in complex geometries.
The MSE department presented awards to the top three student project presentations. 1st place ($1500) was awarded to Gabriel Paun for his project  A Predictive Model for Specification and Control of Advanced Electron Beam Welding sponsored by PTR-Precision Technologies, Inc. The project's goal was to use an advanced electron beam welding process to join and repair nickel based superalloy, which is the material used in aircraft turbine blades. Paun focused on using computer simulation to simulate heat flow during welding, and analyze the results to predict welding parameters which would be output to control PTR's newest welding system, which can fire multiple simultaneous electron beams.
The 2nd place ($1000) was awarded to Bryan Liggett for his project entitled Design Method to Predict End Properties in 300 Series Stainless Steels Based on Specific Chemistries. Liggett presented results that indicated that variations within the chemical composition ranges allowed by the standards set for stainless steel grades can alter their strengthening behavior during manufacturing. Typically these complex commercial alloys contain at least seven variable alloying elements that significantly their response to rolling and drawing processes.  A method to predict steel behavior during processing has been proposed and its potential advantages and drawbacks were discussed. Ulbrich's Shaped Wire Division sponsored this study.
The 3rd place ($750) was awarded to Jason Chan for his project presentation A Predictive Model for Filtration Efficiency sponsored by KX-Technologies. Chan presented that filtration is one way to address one of today's biggest issues with water in developing and developed nations. The performance of these filters is affected by factors such as flow rate and total flow volume, and more importantly, by the materials that comprise the filters. There is clearly a need to optimize and understand the capabilities of these filters. Such an understanding would save time from constant testing, reduce costs, and provide insight on their performance. Chan proposed an empirical model to predict the performance of these filters.
Faculty member Dr. Harold Brody maintains strong collaborative relationships with local companies to provide students with real-world problems and with industry advisors to work with MSE faculty to guide the students through their Senior Capstone Projects. "We are very appreciative of the continuing strong support of regional industry for our educational program, which is unique among public universities in New England.  I am pleased to see so many graduates of the UConn-MSE program advance to leadership positions and to return to campus as industry advisors to our Capstone Design Project students," says Professor Brody.
MSE thanks the Senior Capstone Design Judges 2013:
Robert Klancko, Klancko and Klancko Associates
Thomas Cameron, Ultimate Ni/Ti
Jason Brown, General Dynamics-Electric Boat
Edward Kurz, UConn-IMS Associates Program
All Senior Design Projects 2013
Title: Welding Process Qualification

Sponsor:
Industry Advisors:
Faculty Advisor:
MSE Student:

Delta-Industries
James Janiak and Joseph Gangi
Prof. Harold D. Brody
Melissa Farnham
Title: Corrective Action for Surface Corrosion of 7075 Forgings
Sponsor:                 Consolidated Industries
Industry Advisors:   Tim McHenry, Christopher W. Jackson, Graham Clark
Faculty Advisor:      Prof. Prabhakar Singh
MSE Student:         Kayla Molnar
Title: Corrosion Reduction in Concentrated Solar Power
Sponsor:                  Alstom Power
Industry Advisor:      Dr. Ripi Singh
Faculty Advisor:       Prof. Prabhakar Singh
MSE Student:          Alexander Franchino
Title: Materials and Device Design for Next Generation Ultrasonic Transducers
Sponsor:                 United Technology Research Center
Industry Advisors:   Dr. Joseph Mantese and Dr. Tony Vincitore
Faculty Advisor:      Dr. George Rossetti
MSE Student:         Kayla Nicewicz
Title: Develop Criteria for Selection of Polymeric Compound for Specific Cable Applications
Sponsor:                 General Cable Corporation
Industry Advisors:   Koksal Tonyali and Chris Medling
Faculty Advisor:      Prof. Mei Wei
MSE Student:         Timothy Plourde
Title: Design of a Wear Resistance Coating for Diesel Fuel Injection Application
Sponsor:                 Stanadyne Corporation
Industry Advisors:   Angie Cheung and Joseph Paganini
Faculty Advisor:       Prof. Avinash Dongare
MSE Students:        Connor O'Neill and Patrick Brueckner
Title: High Temperature Aging of Carbon Fiber / Bismaleimide Composites
Sponsor:                 UTC-Aerospace Systems
Industry Advisors:   Michael Folsom and David Grulke
Faculty Advisors:     Prof. Puxian Gao
MSE Student:          David Wikholm
Title: Design Characteristics of Alternate Anaerobic Adhesives
Sponsor:                 UTC Aerospace Systems
Industry Advisors:   Michael Folsom and David Grulke
Faculty Advisor:       Prof. Bryan Huey
MSE Students:        Zackary Hixon, Jacob Wrubel and Stephen Consoles           
Title: Design a Method to Predict End Properties in 300 Series Stainless Steels Based on Specific Chemistries
Sponsor:                 Ulbrich Stainless Steels & Specialty Metals – Shaped Wire
Industry Advisors:   Erica Pehmoeller and Chris DeConti
Faculty Advisor:      Prof. C. Barry Carter
MSE Student:         Bryan Liggett
Title: Bonded Joint Design
[Multidisciplinary MSE, ME, and MEM]
Sponsor:                 Sikorsky Aircraft Corporation and Sikorsky innovations, Inc
Industry Advisors:   Paul Inguanti, Dr. Michael Urban, William Fallon
Faculty Advisors:     Profs. H.D. Brody (MSE), E. Jordan (ME), and Z. Bzymek (MEM)
MSE Students:        Ryan Adams, Blake Knox, and Scott Sperl
ME/MEM Students: Nikolay Kolev, Michael Minopoli, Wade Moore, and Ryan McGuire
Title: Aluminum Brazing
[Multidisciplinary MSE and ME]
Sponsor:                 Sikorsky Aircraft Corporation and Sikorsky innovations, Inc
Industry Advisors:   Paul Inguanti, Dr. Michael Urban, William Fallon
Faculty Advisors:     Prof. Theo Kattamis (MSE) and Prof. Eric Jordan (ME)
MSE Students:       Jillian Falcetti, Adam Marco, and Brian Becerra
ME Students:          Haruka Kanesaka, Ashley LaPlante, and Eric Parsons
Title: Thermal Barrier Coatings for Thermoset Composite Materials
Sponsor:                  Sikorsky Aircraft Corporation and Sikorsky innovations, Inc
Industry Advisors:    Paul Inguanti, Dr. Michael Urban, William Fallon
Faculty Advisor:       Prof. Radenka Maric
MSE Student:          Erik Rogoff
Title: Nondestructive Detection of Ply Wrinkles in Thick Composite Laminates
Sponsor:                 Sikorsky Aircraft Corporation and Sikorsky innovations, Inc
Industry Advisors:   Paul Inguanti, Dr. Michael Urban, William Fallon
Faculty Advisor:      Prof. Bryan Huey
MSE Students:       Cody Donecker and Stephen Wieczerzak
Title: Tooling and Processing Optimization for Complex Geometry, Nonferrous Castings
Sponsor:                  Sikorsky Aircraft Corporation and Sikorsky innovations, Inc
Industry Advisors:    Zachary Stone, Tapas Mukherji, Paul Inguanti, William Fallon
Faculty Advisor:       Prof. Harold D. Brody
MSE Students:        Drew Capolupo and Timothy Batt
Title: A Predictive Model for Filtration Efficiency
Sponsor:                 KX -Technologies, Inc
Industry Advisors:   Andrew Lombardo and Dr. Frank Brigano
Faculty Advisor:       Prof. Pamir Alpay
MSE Student:          Jason Chan
Title: Design Paradigm for Oxidation Resistance
Sponsor:                 Pratt and Whitney Aircraft
Industry Advisors:   Daryl Slade Stolz
Faculty Advisor:       Prof. Rainer Hebert
MSE Student:          Austin Poucher
Title: A Predictive Model for Specification and Control of Advanced Electron Beam Welding
Sponsor:                 PTR-Precision Technologies, Inc
Industry Advisors:   John Rugh and Gary LaFlamme
Faculty Advisor:       Prof. Pamir Alpay
MSE Student:          Gabriel Paun
Title: Improved Sunlight Resistance for Cable Jacket Compounds
Sponsor:                 Rockbestos-Suprenant Cable Corporation, Inc
Industry Advisors:   Dr. Daniel Masakowski
Faculty Advisors:     Prof. R. Ramprasad and Dr. Fiona Leek
MSE Student:          Brandon Moffitt
Title: Improve Predictive Criteria Relating Chemistry and Process Parameters to Strength of Hot Rolled Steel Reinforcing Bar
Sponsor:                 Nucor Steel Connecticut
Industry Advisors:   John Brasell and Charles Hyatt
Faculty Advisor:       Prof. Harris Marcus
MSE Students:        Cody Unger and Nicholas Santoro
Senior Design