Senior Design Day 2015
MSE seniors presented their senior design projects on Friday, May 1st, 2015 at Gampel Pavilion. With a total of 21 projects and 41 students participating, the event showcased the department's exeptional student talent.
Congratulations to our graduating seniors and the MSE Senior Design Project final presentation winners!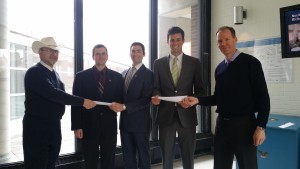 1st Prize: $1.500
Zeiss MultiSEM Sample Mount by Eric Bousfield, Stephen Ecsedy, and Kyle Keeley
Industry Sponsor: Carl Zeiss Microscopy, LLC
Industry Advisor: Pascal Anger, Dr. Kyle Crosby
Faculty Advisor: Prof. Puxian Gao
.
.
.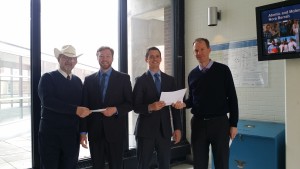 2nd Prize: $1.000
Impact Testing of Circuit Breaker Enclosures to Simulate Short Circuit Conditions by Douglas Hendrix and Nicholas DeMello
Industry Sponsor: GE Energy Management
Industry Advisor: Haritha Namduri
Faculty Advisor: Prof. Bryan Huey
.
.
.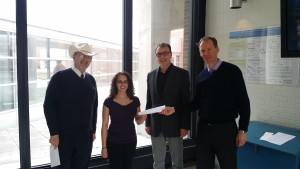 3rd Prize: $750
Bimodal HDPE Resin Grades for Bottle Weight Reduction and Equivalency by Alexandra Merkouriou
Industry Sponsor: Unilever
Industry Advisor: Warren Kleeman, Julie Zaniewski
Faculty Advisor: Prof. Pamir Alpay
.
.
Other Capstone Design Projects:
Additive Metal Processing for Production of Surgical Device Components by Pamela Dyer and Andrew Fasano
Industry Sponsor: Covidien
Industry Advisor: Dr. William Powers
Faculty Advisor: Prof. Rainer Hebert
---
Salt Penetrometry for Design of Reduced Defect Filters by Marc Bennett, Noveen Delaram, and Jason Monnes
Industry Sponsor: KX -Technologies, Inc
Industry Advisor: Bruce Taylor, William Li
Faculty Advisor: Prof. Rampi Ramprasad, Dr. Fiona Leek
---
Marmon Utility ESP Cable Systems by Cody Andelin and Jackson McMillan
Industry Sponsor: Marmon Utility-Kerite Pump Cable
Industry Advisor: Mohamed Alameh, Michael Norton
Faculty Advisor: Prof. Prabhakar Singh
---
Al-Li Alloy Peening and Impact on HCF Behavior by Timothy James
Industry Sponsor: Pratt & Whitney
Industry Advisor: James Hensen
Faculty Advisor: Prof. Avinash Dongare
---
Impact of Alloy Overaging on Mechanical Properties by Riordan Hoffman and James Lee
Industry Sponsor: Pratt & Whitney
Industry Advisor: Dr. Max A. Kaplan
Faculty Advisor: Prof. Seok-Woo Lee
---
Temperature and Time Limitations on PTFE Material by Luke McCarthy and Samuel Wentworth
Industry Sponsor: Pratt & Whitney
Industry Advisor: Curtis Riewe
Faculty Advisor: Prof. Serge Nakhmanson
---
Oxidation Effects on Nickel Base Superalloys at Intermediate Temperatures by Benjamin Bedard
Industry Sponsor: Pratt & Whitney
Industry Advisor: Dr. Mario Bochiechi
Faculty Advisor: Prof. Mark Aindow
---
Local Heat Treatment by James Kos
Industry Sponsor: PTR-Precision Technologies, Inc
Industry Advisor: Amber Black, Gary LaFlamme, John Rugh
Faculty Advisor: Prof. Pamir Alpay
---
Hydrogen Embrittlement of Cu Cables by Samantha Brantley and Wieslaw Kapalczinksi
Industry Sponsor: Rockbestos-Suprenant Cable Corporation, Inc
Industry Advisor: Daniel Masakowski, Ivan Stannard
Faculty Advisor: Prof. Rainer Hebert
---
Tooling and Processing Optimization for Complex Geometry, Nonferrous Castings by Kevin La and Lauren Salisbury
Industry Sponsor: Sikorsky Aircraft Corporation and Sikorsky Innovations, Inc
Industry Advisor: William Fallon, Paul Inguanti
Faculty Advisor: Prof. Hal Brody
---
Design of Stress Relief Heat Treatments of Austenitic Stainless Steels by Allie Clark and Jennifer Heiser
Industry Sponsor: Ulbrich Stainless Steels and Special Metals, Inc.
Industry Advisor: Sean Ketchum, Will Keenan
Faculty Advisor: Prof. Hal Brody
---
DMLS In 718 Heat Treatment by Jordan Parley and Timothy Siu
Industry Sponsor: UTC Aerospace Systems
Industry Advisor: Dr. Sergey Mironets
Faculty Advisor: Prof. Rainer Hebert
---
Evaluation of Electrical Discharge Machining (EDM) of Aerospace Alloys by Eric Anderson and David Twohill
Industry Sponsor: UTC Aerospace Systems
Industry Advisor: Stephen Pasakarnis
Faculty Advisor: Prof. Seok-Woo Lee
---
Mechanical Properties of AL6061 with Al4043 Welds by Benjamin Bilancieri, Terry Ng, and Nicholas Poulos
Industry Sponsor: UTC Aerospace Systems
Industry Advisor: Callie Benson
Faculty Advisor: Prof. Rainer Hebert, Prof. Theo Kattamis
---
UTAS Additive Manufacturing of a Cold Plate by Gabrielle Charno and Spencer Lambrecht
Industry Sponsor: UTC Aerospace Systems
Industry Advisor: Colette Fennessy
Faculty Advisor: Prof. Rainer Hebert
---
Improving Tensile Strength Consistency Around High Carbon Steel Rings by Brenden Mil-Homens and Joseph Pacheco
Industry Sponsor: Nucor
Industry Advisor: Charlie Hyatt
Faculty Advisor: Prof. Rainer Hebert
---
Non-Destructive Test for Incoming Nylon Fabrics Prior to Metalizing by Rheanna Ward and Kacie Wells
Industry Sponsor: Swift Textile Metallizing
Industry Advisor: Antonio Luna
Faculty Advisor: Prof. Rainer Hebert, Dr. Fiona Leek
---
Improved Methods of Pretreating Polymer Fiber Prior to Metalizing by Alexander Westlund and Bartek Wojciechowski
Industry Sponsor: Swift Textile Metallizing
Industry Advisor: Antonio Luna
Faculty Advisor: Prof. Radenka Maric
Published: May 27, 2015
Categories: industry, news, undergraduate students
Available Archives