Professor Aindow Named Associate Director of IMS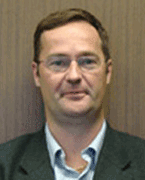 Dr. Mark Aindow has been appointed as Associate Director of the Institute of Materials Science. Dr. Aindow was educated at the University of Liverpool in England, did postdoctoral research at Case Western Reserve University and The Ohio State University, and spent nine years on the faculty at The University of Birmingham in England. He joined UConn in 1999, was Director of the MSE Program in the former CMBE Department from 2006-2009, and is currently Professor of MSE. He also serves as Deputy Editor-in-Chief of the Journal of Materials Science.
Dr. Aindow's research involves the study of microstructural development in engineering materials using, primarily, electron microscopy techniques. His active programs include studies of advanced aluminum alloys, conducting oxides, nano-structured coatings and catalytic nano-materials. He has published over 300 peer reviewed papers in journals and conference proceedings, and has graduated 27 PhDs. He has held visiting appointments at the Chinese Academy of Sciences, National Taiwan University and Yale University.
Published: August 26, 2013
Categories: faculty, news, promotion
Available Archives