MSE Student Spotlight Feature: Rose Cersonsky
By Giorgina Paiella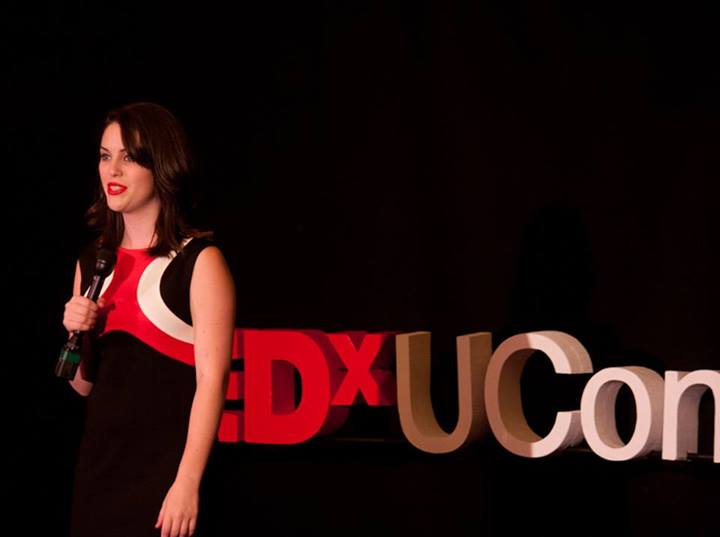 Rose Cersonsky is one of UConn MSE's most outstanding students. A senior MSE major minoring in computer science, Rose will be graduating this coming May with impressive accomplishments nearly too numerous to list.
Rose is an academically driven member of the Honors Program and has been named a Babbidge Scholar and New England Scholar during her time at UConn. She is the recipient of numerous scholarships and awards, including the Art McEvily Academic Scholarship and GE Advanced Materials Endowment Scholarship. Rose was a Rhodes Scholarship nominee and Marshall Scholarship Finalist, as well as a finalist for the Donald L. McCollough Leadership Award. She was recently named the School of Engineering's Outstanding Female Scholar.
Rose has completed research in the Self-Assembled Functional Nanomaterials Laboratory under Dr. Mu-Ping Nieh and Hyunsook Jang. She has also interned twice at Pratt and Whitney in East Hartford, CT in the areas of structural alloys and polymeric materials. Rose's senior honors thesis examines Optimizing Polymer Fluorescence for Explosives Detection and her senior design project is titled Design Rules for Composites from RTM Polyimides. Rose counts Professor Serge Nakhmanson and Professor Mark Aindow among her favorite professors within the department.
Dr. Nakhmanson, Rose's senior design project advisor, states, "In her studies and research activities, Rose demonstrates levels of maturity and inquisitiveness that are uncommon for her age. She is one of the most diligent people that I have met and she is always a pleasure to work with."
Outside of MSE, Rose is a member of Alpha Sigma Mu and tutor at the UConn Engineering Tutoring Center. She has served as United Technologies Corporation Engineering Ambassador, Vice President of curation of TEDxUConn, and multiple positions in UConn Engineering Ambassadors. In addition to her many involvements pertaining to engineering outreach and campus leadership, she has acted, danced, and participated in several productions at The Gary- The Olivia Theater at the Abbey of Regina Laudis in Bethlehem, CT and as part of UConn Dramatic PAWS (Producing, Writing, and Acting Students).
Rose has been selected for the prestigious honor of commencement speaker at the 2014 Engineering Commencement ceremony on Saturday, May 10. After graduation, she will be pursuing her Ph.D. in Macromolecular Science and Engineering at the University of Michigan. The department wishes her all the best in her future endeavors!
Published: May 12, 2014
Categories: news, undergraduate students
Available Archives