MSE Professor Syam Nukavarapu Receives Mentoring Award from the Connecticut Institute for Clinical and Translational Science
By Giorgina Paiella
Congratulations to Professor Syam Nukavarapu, recipient of a Mentoring (M1) award from the Connecticut Institute for Clinical and Translational Science (CICATS.)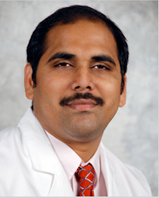 Dr. Nukavarapu is an Assistant Professor in the Department of Orthopedic Surgery at the UConn Health Center and the Materials Science and Engineering department. He received his Ph.D. in Materials Science from the Indian Institute of Science, India, later holding postdoctoral positions in the Department of Materials Science and Engineering at Lehigh University and the department of Orthopedic Surgery at the University of Virginia (UVA) in Charlottesville, Virginia. Dr. Nukavarapu's research group explores tissue engineering and regenerative medicine-based solutions for tissue repair and regeneration, with a particular focus on the design of new scaffold systems and effective strategies for bone and osteochondral tissue engineering.
The M1 Mentoring Award is part of a new and innovative program launched by the Connecticut Institute for Clinical and Translational Science (CICATS) at UConn. The award aims to augment and maintain successful research-funded faculty who serve as mentors with the goal of increasing the presence of minority students otherwise underrepresented among academic scientists.
The award program assists in developing a group of accomplished investigators who will work to develop an enhanced academic environment that will elevate and reward mentorship at the university and the region at large.
Professor Nukavarapu is among three recipients selected to receive a three-year M1 award. Each recipient will receive $50,000 per year for mentoring activities, including mentorship of individual students, participation in various CICATS initiatives, and minority student mentorship training. The award includes support for student-related activities geared toward enhancing academic growth, including research training and travel to scientific meetings and conferences.
Published: April 7, 2014
Categories: awards, faculty, news
Available Archives