Undergraduate Daniel Violette Awarded the James B. Willett Educational Memorial Scholarship Award
By Giorgina Paiella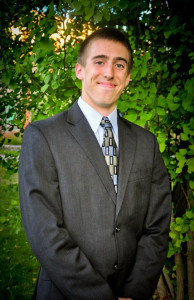 The Department of Material Science and Engineering is pleased to announce that UConn senior Daniel Violette (Engineering Physics) has been awarded the James B. Willett Educational Memorial Scholarship Award, a prestigious accomplishment awarded on behalf of the Universities Space Research Association (USRA).
Founded in 1969, USRA's mission is to advance the space-related sciences and exploration by way of innovative research, technology, and educational programs. Through its member institutions, USRA promotes cooperation and collaboration among universities, research organizations, and the United States government with the goal of increasing knowledge in space science and exploration. All USRA scholarships are awarded to students who have exhibited career interests in science or engineering, with a particular focus on either space research or space science education.
The James B. Willett Educational Memorial Scholarship Award honors the late Dr. James B. Willett. A native of Lexington, Kentucky, Willett received his B.S. degree in physics and astronomy from the University of Kentucky in 1962 and continued on to earn a Ph.D. in physics from Indiana University in 1969. He was an accomplished astrophysicist who collaborated with USRA through his work at the Jet Propulsion Laboratory and NASA headquarters. The award consists of a letter of recognition from the organization and a check for $1,500. 
With the encouragement of Dr. Harold Brody, Distinguished Professor of Materials Science and Engineering, Violette applied to the scholarship by way of the USRA's website. The scholarship committee was impressed with Violette's application, namely his scholastic records, letter detailing his educational and career goals, and supplementing letters of recommendation. He was selected as the recipient of the scholarship from a large pool of applicants and a highly competitive selection process. 
Congratulations to Daniel Violette on his accomplishment! The department wishes him all the best in his future academic and career endeavors.
Published: October 7, 2013
Categories: awards, news, undergraduate students
Available Archives