UConn MSE Department Contributes to Green Campus Initiatives
By Giorgina Paiella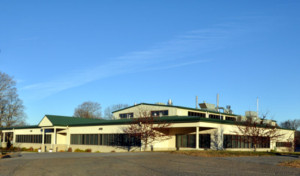 Initially founded as the Connecticut Global Fuel Cell Center in 2001, the Center for Clean Energy Engineering (C2E2) has played a key role in sustainability at the University of Connecticut. The Center's green campus ventures include a variety of projects, including carbon capture, natural resource conservation, power management, smart power transmission, fuel cells, and solar and wind energy.
This past July heralded the official launch by Governor Dannel Malloy of the Fraunhofer Center for Energy Innovation (CEI) at UConn, with the goal of accelerating statewide, national, and global adoption and deployment of cost-effective, sustainable energy technologies. The Center was established through a partnership among UConn, the State of Connecticut Department of Energy and Environmental Protection, and Fraunhofer USA (U.S. subsidiary of Fraunhofer-Gesellschaft, Europe's largest applied R&D organization). The Fraunhofer Center is one of only seven Fraunhofer research centers in the nation, focusing on advanced technologies pertaining to energy storage, fuel cells, in-stream hydro and power management and distribution. Currently located in Depot Campus, there are plans to relocate the Fraunhofer Center to the UConn Technology Park once it opens.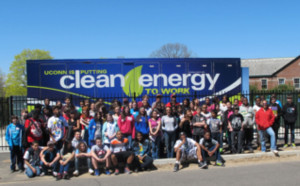 In August C2E2 also received $2.14 million in state funding to create an independent microgrid system with the goal of enhancing UConn's ability to provide power to the surrounding community in storm-related emergencies.  UConn was one of nine grant recipients chosen from more than 20 institutional and municipal applicants to receive this award.  The microgrid will allow core Depot Campus buildings to stay operational when the state faces major storm-related outages and will provide warming centers for the public.
The Department of Materials Science and Engineering (MSE) is heavily engaged in C2E2 efforts, with many MSE affiliated faculty involved in research and engineering at the Center. 

Professor Prabhakar Singh is the Center Director and United Technologies Corporation (UTC) Endowed Chair Professor of Fuel Cell Technology in the MSE department at UConn. Professor Singh conducts research in high temperature energy systems with focus on systems efficiency, long term operation, and functional and structural materials for aggressive environments. His research interests also include solid- liquid- gas interactions, clean and efficient electrochemical energy conversion and storage systems including advanced fuel cells, clean combustion, concentrated solar thermal storage, hydrocarbon processing and utilization, high temperature coatings, and novel synthesis techniques. Professor Singh's current research programs include the quantification of oxide vaporization in humidified environments, accelerated corrosion under dual atmosphere exposure conditions, electrode- electrolyte interface degradation under electrolysis conditions, and enzymatic sulfur cleanup from bio-derived fuels and carbon capture utilizing a solid- liquid agglomerated adsorbent.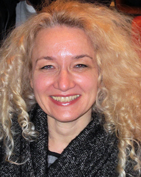 Professor Radenka Maric, CT Clean Energy Fund Professor of Sustainable Energy, also contributes to sustainable campus efforts. Dr. Maric holds appointments in both the MSE and Chemical and Biomolecular Engineering (CBE) Departments. Her research focuses on the development of improved materials and processing techniques for the manufacture of fuel cells as well as innovative processing of materials using reactive spray deposition technology (RSDT).  Professor Maric has concentrated on the investigation of a wide variety of electrode processes, with particular emphasis on the study and modification of electrode surfaces in order to achieve the formation of new thin film materials with interesting and useful properties. She also studies the impact of the processing conditions on electrode surface characteristics and other electrochemical reactions. The focus of this work has also been to develop a deeper understanding of electrochemical reaction kinetics and mechanisms.  Her current research engages with fuel cells and batteries, hydrogen generation, nanomaterials and thin film coating, ceramic processing, electrochemical sensors, and gasification and biofuels.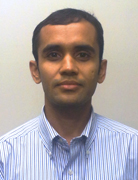 Another key member of MSE at the Center for Clean Energy Engineering is Professor Manoj Mahapatra who is leading his research in advanced functional materials development for applications in clean and efficient solid oxide fuel cell power systems, oxygen transport membranes for oxycombustion and reliable seals for high temperature large scale stationary energy storage. In September 2013, Professor Manoj Mahapatra joined the team as an Assistant Professor in Residence.  Professor Mahapatra also teaches MSE4034 Corrosion Environmental Protection in the masters of Engineering discipline. 
Published: December 30, 2013
Categories: awards, facilities, news, research
Available Archives