UCONN MRS Chapter Recognized for Outreach Activities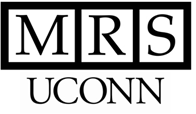 The UCONN Student Chapter of the Materials Research Society (MRS) is highly dedicated to outreach activities, and recently, their efforts have garnered a lot of positive attention. This spring UConn MRS proposed an outreach-based Special Project for 2013 encompassing two main initiatives. Society members will lead undergraduate students on two field trips to local industries, as well as planning three talks by industry representatives. The idea for this project arose to address a problem many MRS members noticed: that undergraduate students are torn when choosing between careers in industry and academia. MRS hopes this project will provide students with useful information and hands-on experience to guide their decisions.
This project proposal received $400 in funding from the national Materials Research Society, as well as generous awards from the UConn School of Engineering and the Materials Science and Engineering Department. The program was also endorsed by Associate Dean for Research and Graduate Education Dr. Michael Accorsi, who applauded the outreach activity of the UConn MRS Chapter. In the future, UConn MRS hopes to extend its outreach activities even further, visiting high schools in the Hartford area and other universities in Connecticut.
Published: April 8, 2013
Categories: awards, news, undergraduate students
Available Archives