UConn Material Advantage Tours Laser Joining Technologies
By Giorgina Paiella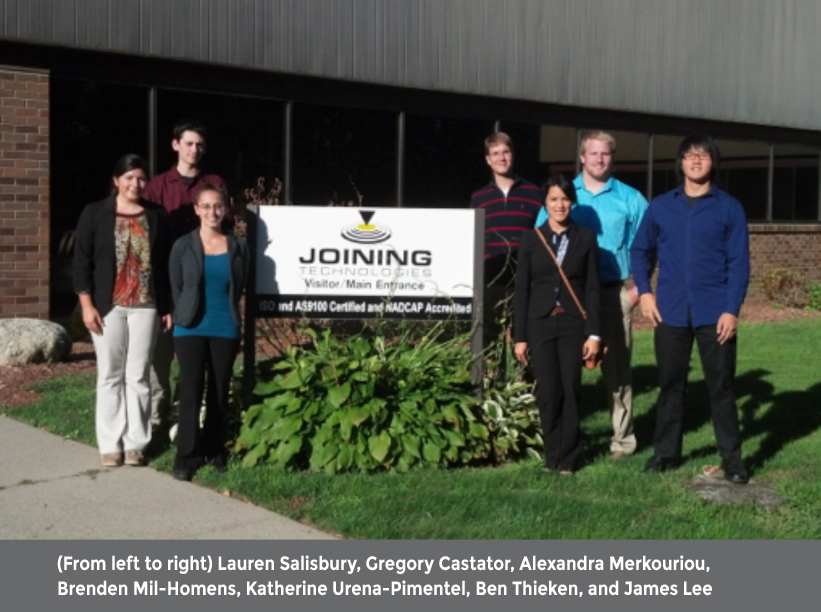 UConn members of Material Advantage had the unique opportunity to tour Laser Joining Technologies in conjunction with the ASM Hartford chapter.
The informative and educational tour of the company's facilities in East Granby, Connecticut allowed students to view laser welding and electron beam welding systems. Such systems are utilized in a variety of fields and applications, including medical devices, wind turbines, and pistol manufacturing. The additive manufacturing, also known as 3D printing, facility was undergoing quality control inspections at the time of the tour, but the group hopes to organize another trip to view this futuristic technology.
Material Advantage would like to thank Matt Francoeur and John Lucas for a fantastic tour and their willingness to answer student questions.
The Material Advantage Student Program is an organization for students who want to optimize their Materials Engineering experience. For a single, low membership fee, Material Advantage provides access to several distinguished engineering societies, including The American Ceramic Society and The Materials Information Society.
The UConn chapter of Material Advantage is one of the most active and successful chapters in the nation, garnering the prestigious "Chapter of Excellence" award from 2008-2010, in addition to the "World Materials Day Outreach Award" for each of the past eight years. The chapter focuses on outreach and membership development, featuring activities such as panel discussions on future career options in the field and local outreach among K-12 students.
Membership is open to all students and can be explored here. The chapter can also be reached at: Alexandra.Merkouriou@uconn.edu
Published: October 28, 2013
Categories: industry, news, outreach, undergraduate students
Available Archives