Thermal Barrier Coatings for Gas-Turbine Engine Applications The Most Frequently Cited Paper on Thermal Barrier Coatings of All Time
By Giorgina Paiella
It is a distinguished achievement to be published in one of the world's top scientific journals. Producing a groundbreaking paper that would become seminal to future research is an even more remarkable accomplishment.
With over 959 citations, Thermal Barrier Coatings for Gas-Turbine Engine Applications, written by Dr. Nitin P. Padture, Dr. Maury Gell, and Dr. Eric H. Jordan, is the most influential paper ever written on the topic of thermal barrier coatings (TBCs). The paper first appeared in Science in April 2002, marking its twelfth year of publication this year.
"The three of us were able to provide such a paper that combines engineering
applications along with the scientific understanding," MSE Professor Gell states. "We are pleased that other investigators have found it so useful."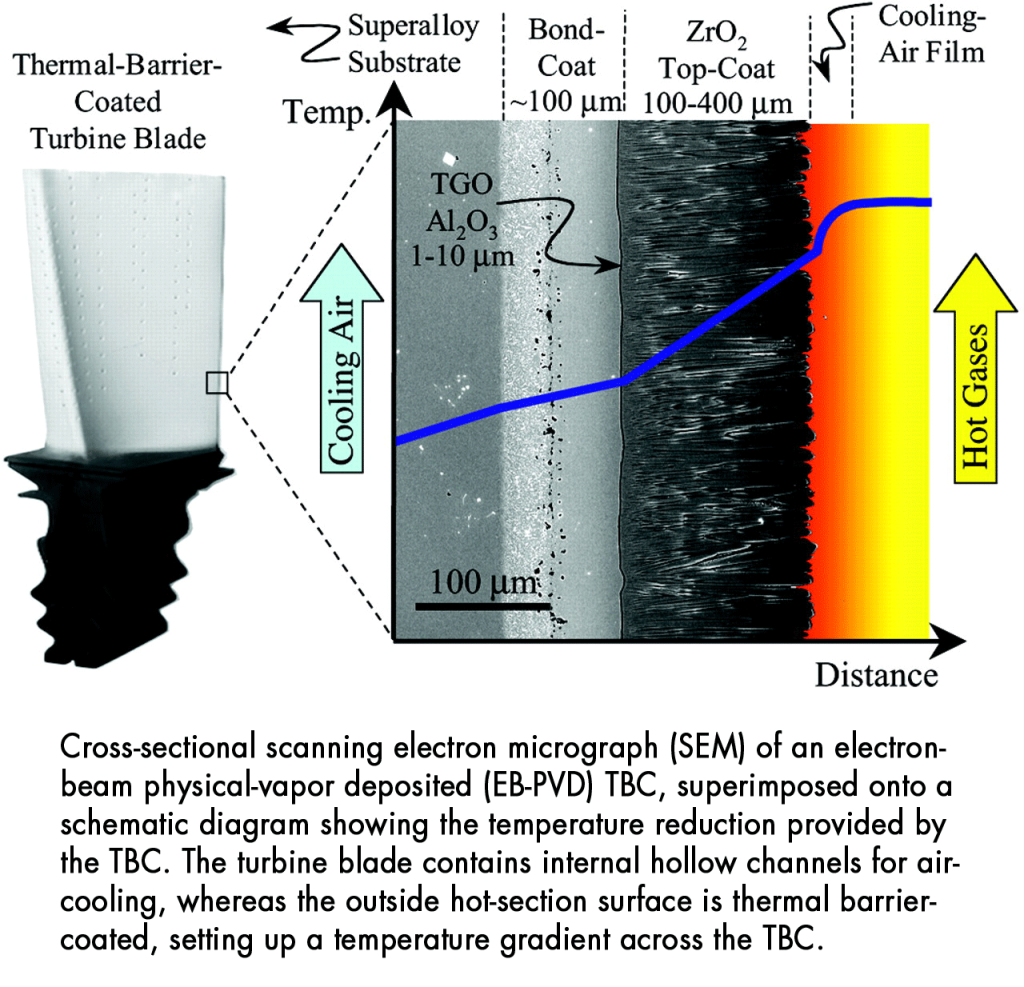 Among the many different types of coatings, TBCs operate in the demanding, high-temperature environments of aircraft and industrial gas-turbine engines. TBCs are highly advanced material systems that insulate and protect turbine and combustor engine components from corrosion, wear, and erosion and improve the energy efficiency and durability of these engine components. The paper reviews the structure, properties, and failure mechanisms of TBCs, examining limitations and future directions to improve upon these important structures.
After retiring from Pratt and Whitney nearly 21 years ago, Professor Gell came to UConn to pursue his interest in high temperature materials research, including the field of TBCs. Drs. Gell, Jordan, and Padture collaborated as a research team to advance the science and technology of thermal barrier coatings. Their research was supported for many years by funding from the Office of Naval Research and the Department of Energy. Dr. Padture was approached at a Gordon Research Conference, an international forum for the discussion and presentation of innovative scientific research, to prepare a review paper on the state-of-the-art understanding of thermal barrier coatings.
Professor Jordan, United Technologies Professor of Advanced Materials Processing, reflects: "We prepared the article with great care knowing it was going in such a prominent place. Fortunately we collectively had many decades of experience in the field including both academic and industrial experience."
The full article can be accessed at: http://www.sciencemag.org/content/296/5566/280.full
Published: April 30, 2014
Categories: news, publications
Available Archives