Student Spotlight: MSE Undergraduate Gabrielle Charno
By Giorgina Paiella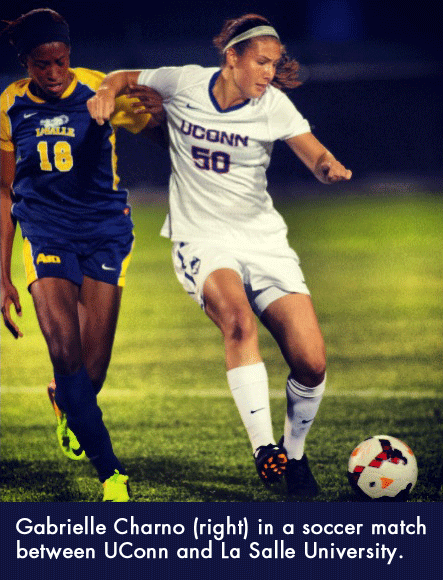 Balancing rigorous academic work and an involved extracurricular life can be a difficult task for any college student. Excelling under these circumstances is an even rarer find. MSE junior Gabrielle Charno exemplifies a well-rounded student both on and off the field, simultaneously juggling MSE courses and a spot on the UConn women's soccer team. "She is one of the few MSE students who plays a sport and balances a hectic schedule," states lab manager Adam Wentworth. "She works extremely hard to complete all assignments, is humble about her accomplishments, and is a prime example of a focused student."
In Mechanical Behavior Laboratory (MSE 3056), Gabrielle worked on geopolymer analysis in conjunction with lab partner Daniel Violette. Their research project, Mechanical Strength and Microstructure of Geopolymers as a Function of Water Concentration and Curing Temperature, investigated how processing conditions, including curing time, temperature, and water concentration, affect the microstructure and properties of geopolymer samples.
Of the classes that she has taken thus far, Gabrielle counts Phase Transformation Kinetics with Professor Theo Kattamis (MSE 3003) and Mechanical Behavior Laboratory with Professor Theresa Hennessey and Mr. Adam Wentworth among her favorite engineering courses.
When she is not spending time in the MSE labs, Gabrielle plays defensive center midfield on the women's soccer team. She is a team representative for the student athlete advisory committee (SAAC) and a study hall leader for her team. Gabrielle also participates in FOCUS, the St. Thomas Aquinas Catholic Church campus outreach group.
Published: March 28, 2014
Categories: news, undergraduate students
Available Archives