Student Spotlight: MSE Undergraduate Doug Hendrix
By Giorgina Paiella
The MSE department is home to many talented students who excel both in and out of the classroom setting. One such student is junior Doug Hendrix, who stands out for his strong academic performance as well as his campus involvement.
Doug is the recipient of two prestigious School of Engineering (SOE) scholarships: the Art McEvily Scholarship and the Paul Krenicki Scholarship. Of his experiences at UConn thus far, he has enjoyed interactive lab work the most. MSE lab manager Adam Wentworth (UConn MSE B.S., 2009, and MSE M.S., 2011) notes that Doug is a hardworking student who "allows the quality of his work to speak for itself."
For his work in MSE 3056, Mechanical Behavior Laboratory, Doug completed a project with fellow student Anthony Manni investigating storage density of analog vs. digital media. As far as a favorite class at UConn, he counts Applied Thermodynamics of Materials (MSE 3001) with Dr. Harold Brody as one of the most challenging yet rewarding classes that he has taken.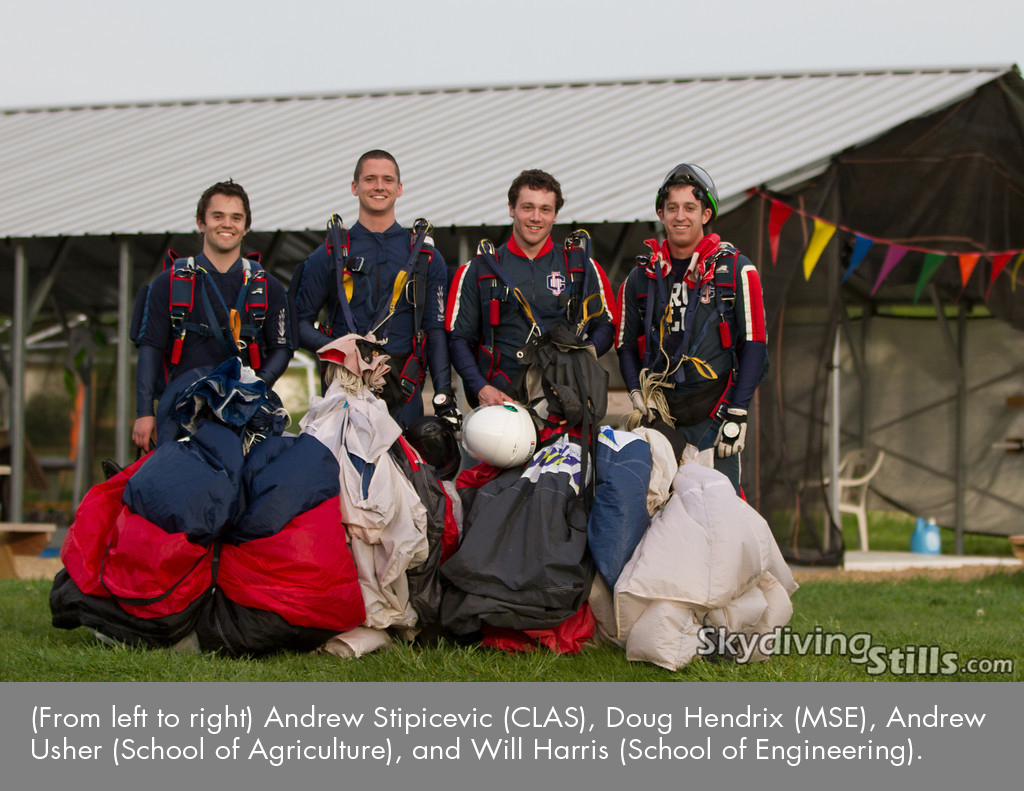 Outside of MSE, Doug is the president of the UConn Skydiving club, a student organization that aims to make skydiving affordable and accessible to UConn students. Competitive licensed jumpers represent UConn in competitions around the U.S., including an annual competition in the U.S. Parachute Association Collegiate National. In the most recent competition, which took place last month in Lake Wales, Florida, the UConn team received third place in 4-way formation skydiving, first place in 6-way formation skydiving, and Doug placed first in sport accuracy. The team also competed for a few weeks in New Hampshire at a wind tunnel meet and received third place in 4-way advanced. In addition to his involvement on the skydiving team, Doug also serves as a supervisor of intramural sports at the student recreation center.
Learn more about UConn Skydiving club at: http://www.uconnskydiving.com
Published: February 24, 2014
Categories: news, undergraduate students
Available Archives