Steven L. Suib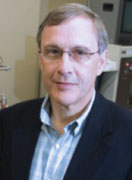 Steven L. Suib
Director of IMS
Board of Trustees Distinguished Professor
Department of Chemistry
25 King Hill Road, Storrs, CT 06269
Office: G02CC
Phone: (860) 486-2797
Email: steven.suib@uconn.edu  Web: https://suibgroup.uconn.edu
---
Research Interests
Synthesis by molecular design of environmentally friendly catalysts, surfaces, ceramics, adhesives and other materials.
Characterization of the structural, surface, bulk, optical, magnetic, electronic, morphologic and thermal properties of these materials is also a vital part of this work.
Synthesis, characterization, and catalytic studies of porous transition metal oxide materials is being pursued.
Redox catalytic cycles developed based on changes in oxidation states of these materials. Some of the catalytic reactions include activation of CO2, water splitting, selective oxidation of hydrocarbons, gas oil cracking, Fischer tropsch, biomass conversion, and others.
Microwave heating being used to make novel nano-size materials as well as to drive catalytic reactions. Other applications include adsorption, sensors, and battery materials.
---
Awards & Honors
| | |
| --- | --- |
| 2011 | Elected Chair for the Applied Chemical Technology Subdivision (ACTS) of the American Chemical Society (ACS) |
---
Recent Publications
Substrate Control of Anisotropic Resistivity in Heteroepitaxial Nanostructured Arrays of Cryptomelane Manganese Oxide on Strontium Titanate, AE Espinal, YG Yan, LC Zhang, L Espinal, A Morey, BO Wells, M Aindow, SL Suib, Small 10: 66-72 (2014).
Formation of Platinum (Pt) Nanocluster Coatings on K-OMS-2 Manganese Oxide Membranes by Reactive Spray Deposition Technique (RSDT) for Extended Stability during CO Oxidation, HF Garces, J Roller, CK King'ondu, S Dharmarathna, RA Ristau, R Jain, R Maric and SL Suib, Adv Chem Eng Sci 4: 23-35 (2014).
Manganese Octahedral Molecular Sieve (OMS-2) Catalysts for Selective Aerobic Oxidation of Thiols to Disulfides, S Dharmarathna, CK King'ondu, L Pahalagedara, C-H Kuo, Y Zhang, SL Suib, Applied Catalysis B 147: 124-131 (2014).
AS Poyraz, C-H Kuo, S Biswas, CK King'ondu, SL Suib, A General Approach to Crystalline and Monomodal Pore Size Mesoporous Materials. Nat. Commun. 4:2952 doi: 10.1038/ncomms3952 (2013).
Large-Scale Synthesis of Silver Manganese Oxide Nanofibers and Their Oxygen Reduction Properties, H Huang, Y Meng, A Labonte, A Dobley and SL Suib, J Phys Chem C 117: 25352–25359 (2013).
An investigation into a multilayered BN/Si3N4/BN interfacial coating, TP Coons, JW Reutenauer, B Flandermeyer, MA Kmetz, E Prevost, SL Suib, J Mater Sci. 48: 6194-6202 (2013).
SO Owalude, EO Odebunmi, UB Eke, AL Rheingold, N Opembe, SL Suib, Syntheses and X-ray crystal structures of two ruthenium(II) complexes derived from acetonitrile and dimethylphenylphosphonite, J Organomet Chem. 739: 21-25 (2013).
Influence of Silver on the Catalytic Properties of the Cryptomelane and Ag-Hollandite Types Manganese Oxides OMS-2 in the Low-Temperature CO Oxidation,M Ozacar, AS Poyraz, HC Genuino, C-H Kuo, Y Meng, S-L Suib, Applied Catalysis A 462: 64-74 (2013).
Titania Condensation by a Bio-Inspired Synthetic Block Copolymer, CC Hire, HC Genuino, SL Suib, DH Adamson, Chem Mater. 25: 2056-2063 (2013).
Selective Hydrogenation of CO2 and CO to Useful Light Olefins over Octahedral Molecular Sieve Manganese Oxide Supported Iron Catalysts, B Hu, S Frueh, HF Garces, LC Zhang, M Aindow, C Brooks, E Kreidler and SL Suib, Applied Catalysis B 132-133: 54-61 (2013).