Professor Hebert Appointed Director of Additive Manufacturing Innovation Center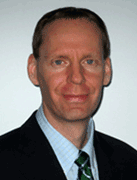 We are pleased to announce the appointment of Dr. Rainer Hebert as Director of the recently established Pratt & Whitney Additive Manufacturing Innovation Center (AMIC) at UConn. The AMIC will serve as hub for discovery, design innovations, advanced materials and new processes for Pratt & Whitney and as a test bed for other companies seeking to explore the capabilities and advantages of additive manufacturing for prototyping and focused production of parts. The center will become an anchor partner within the Innovation Partnership Building in the UConn Tech Park in the years ahead, enabling partnerships with a greater number of manufacturing businesses across Connecticut.


Dr. Rainer Hebert joined UConn in 2006. Over the last 15 years Rainer's research has focused on the phase stability of metallic materials including the crystallization behavior of metallic glasses under thermal and mechanical loads and phase formations during intense plastic deformation and wear.
He currently serves as the MSE Director of Undergraduate Studies and as the vice chair of the ASM Hartford Chapter. He is UConn's representative to the National Additive Manufacturing Innovation Institute (NAMII).
Published: September 10, 2013
Categories: faculty, industry, news, outreach, promotion
Available Archives