New MSE Directors of Undergraduate and Graduate Studies
The Materials Science and Engineering Department is very pleased to announce that Dr. Rainer Hebert and Dr. Bryan Huey have agreed to serve as the Director of Undergraduate Studies and Director of Graduate Studies, respectively.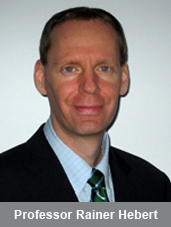 Rainer Hebert joined UConn in 2006. Over the last 15 years Rainer's research has focused on the phase stability of metallic materials including the crystallization behavior of metallic glasses under thermal and mechanical loads and phase formations during intense plastic deformation and wear. The phase stability theme has been recently extended to the area of additive manufacturing as a result of ties to Pratt & Whitney's Engineering Integrated Solutions Group and to the Connecticut Center for Advanced Technology. Rainer has been active with ASM International for the last 15 years and currently serves as the vice chair of the ASM Hartford Chapter. Rainer's research has been funded mainly from NSF and the Department of Homeland Security. He has published over 40 peer-reviewed articles, one book chapter, and articles in the Hartford Courant and various materials sites on the internet.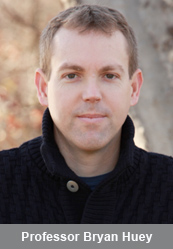 Bryan Huey has been with UConn MSE since 2004. He established the NanoMeasurements lab, an IMS user facility for Atomic Force Microscopy (AFM), which includes the fastest AFM in the United States. Focusing on developments and applications of AFM, Huey's group has been funded by NSF, DOE, and industrial partners to work at interfaces with a wide range of disciplines, including projects on future data storage systems, MEMS, drug delivery, biomechanics, tribology, composites, high-strain rate alloy testing, etc. Bryan has over 50 publications, organized last year's Electronic Materials and Applications (EMA) conference, and is the upcoming vice-chair of the Basic Science Division of the American Ceramic Society.
We also would like to thank Dr. Mei Wei and Dr. Puxian Gao for their services to MSE as the Directors of Undergraduate and Graduate Studies in the past year. Mei has been appointed as the Associate Dean for Research and Graduate Education and Puxian will be on a well-deserved sabbatical leave in the next academic year.
With my best regards,
S. Pamir Alpay
Published: June 3, 2013
Categories: faculty, news, promotion
Available Archives