MSE Welcomes Xueju "Sophie" Wang to the Department
By Harrison Raskin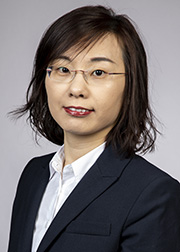 We are pleased to welcome our newest faculty member Xueju "Sophie" Wang who joins our department as an assistant professor this fall.
Wang brings an impressive academic background to MSE. In 2016 she received her Ph.D. in mechanical engineering from the Georgia Institute of Technology. After completing her post-doctoral research at Northwestern University, she served as an assistant professor of mechanical and aerospace engineering at the University of Missouri, Columbia.  
Wang's research group conducts interdisciplinary research on mechanics, materials, and structures for energy and human health applications. Their current research interests include mechanics and materials for multi-physics systems such as in energy storage and conversion, design and manufacturing of 3D stretchable, programmable architectures and electronics, and soft materials and systems.
Wang is the author of over 20 publications, and she holds multiple patents and disclosures. In addition, her research has been recognized through awards from the professional society, including ASME Haythornthwaite Foundation Research Initiation Award and Gary L. Cloud Scholarship Award from the Society of Experimental Mechanics.
"I am very excited about joining the MSE department and the Institute of Materials Science at UConn. I look forward to interacting with our great undergraduate and graduate students and collaborating with our faculty members", Wang says.
Her expertise and extensive research interests will prove essential for our department's growth and development. Please join us in welcoming her!
Published: September 4, 2020
Categories: faculty, new faculty, news
Available Archives