MSE Welcomes Dr. Venkat Vedula to Industrial Advisory Board
By Giorgina Paiella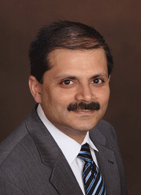 The department is pleased to welcome Dr. Venkat Vedula as its newest MSE industrial advisory board member. Comprised of eight highly reputable industry partners, the board works to augment the visibility of the UConn Materials Science and Engineering department at the university, state, and national level.
Dr. Vedula is the director of materials engineering at UTC Aerospace Systems. The department is responsible for developing advanced materials technologies and supporting materials and processes requirements for aerospace programs, including compliance with materials of concern.
Dr. Vedula started his career at United Technologies Corporation (UTC) in 2000 as a senior engineer at the United Technologies Research Center (UTRC) in East Hartford, CT and has held positions of increasing responsibility throughout his tenure. He joined Hamilton Sundstrand in 2011 as chief engineer of materials engineering.
Dr. Vedula earned a master's degree in engineering from SUNY Buffalo, a doctorate in materials science and engineering from Pennsylvania State University, and a master's degree in business from Rensselaer Polytechnic Institute. He is the author of fourteen peer reviewed technical publications and has seven patents issued and pending.
Upon joining the board, Dr. Vedula notes, "I am very excited about the opportunity to work with the MSE faculty and the industrial advisory board to advance the academic research program and align with industry needs."
Published: August 15, 2014
Available Archives