MSE Scholarship Established in Honor of Dr. Owen Devereux
By Giorgina Paiella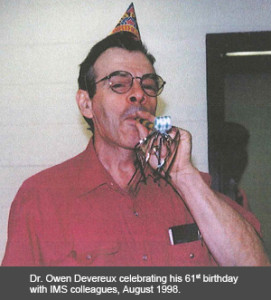 A new scholarship fund has been established in honor of the late Dr. Owen F. Devereux. Dr. Devereux, who passed away in June of 2012, joined the University of Connecticut in 1968 as an associate professor in the newly established Metallurgy Department and charter member of the Institute of Materials Science (IMS).
Dr. Devereux made substantial contributions to the growth and prominence of the department during his three-decade long career as a distinguished faculty member, including a 13-year tenure as department head. Spanning his long career at UConn, Dr. Devereux authored a successful textbook, Topics in Metallurgical Thermodynamics, founded a TMS/ASM student chapter, and formed the first departmental Industrial Advisory Committee. Prior to his 1999 retirement, Dr. Devereux established a plan in the 1990s to revitalize and reinvigorate the department, contributing to his legacy.
As the department and the institute reached a thirty-year milestone, many of the pioneering metallurgy faculty members were reaching retirement age. Dr. Devereux established a strategy to revitalize and reinvigorate the program. Through his surveys of Connecticut engineering employers, he discovered that despite a high demand for local entry-level engineering professionals, this demand was filled by MSE graduates from universities outside of New England. His plan led to the establishment of a Materials Science and Engineering (MSE) major, an innovative feat that set UConn apart among public universities in the Northeast.
The UConn MSE department now ranks among the top 25 public programs in the nation. Graduates are highly sought-after to fill materials engineering jobs and graduate education positions. Dr. Harold Brody, Distinguished MSE Professor and former colleague of Dr. Devereux, reflects, "Owen envisioned the department rising to a top 10 nationally recognized program, and I believe his efforts put the department on a trajectory likely to fulfill that vision."
The Dr. Owen Devereux Scholarship will be awarded to two exceptional MSE undergraduate students each year. As Dr. Brody states:
The purpose of the Owen F. Devereux scholarships is to honor the legacy of Professor Devereux and to support his vision that the University of Connecticut would educate materials engineering professionals to contribute to and lead the economic vitality of the region. The awarding of these merit based scholarships will be aimed to attract and retain high achieving students as majors in MSE and to continue the University of Connecticut as the premier source of materials engineering professionals for the region.
To contribute toward the scholarship fund, please contact Rachel Marshall at rmarshall@foundation.uconn.edu or (860) 486-2983.
Published: March 5, 2014
Categories: awards, faculty, news
Available Archives