MSE Industrial Advisory Board Meeting
By Giorgina Paiella
The UConn MSE Industrial Advisory Board convened for a meeting on Monday, September 30th. The Industrial Advisory Board, comprised of seven industry partners, works to augment the visibility of the Department of Materials Science and Engineering on the university, state, and national scale. In attendance were members of the board, MSE faculty members, and student organization chapter representatives.
MSE Department Head Dr. Pamir Alpay provided a report detailing a current overview of the Department. MSE currently has 16 full-time faculty members, 120 undergraduate students, and 80 graduate students, including 62 full-time Ph.D. students. The Capstone Senior Design Projects have also been assigned, with 26 students participating.
Dr. Steven Suib, Director of the Institute of Materials Science (IMS) and Distinguished Professor of Chemistry and IMS Associate Director and MSE Professor Dr. Mark Aindow reported on the different components of IMS. Dr. Suib also discussed Next Generation Connecticut developments, funding opportunities, and the UConn Technology Park.
Dr. Mei Wei, MSE Professor and Associate Dean for Research and Graduate Education, led a question and answer session regarding activities in the School of Engineering. She reported that the SOE is expanding dramatically, with 18 new faculty hired last year and 16 faculty searches planned for this year. The Next Generation Connecticut Plan to expand undergraduate enrollment in the STEM fields by 50% will also produce hundreds of new jobs at the university.
Faculty research presentations were delivered by MSE Professors Dr. Serge Nakhmanson and Dr. George Rossetti. Dr. Rainer Hebert, MSE Professor and Pratt and Whitney Additive Manufacturing Innovation (AMIC) Director conducted an AMIC question and answer session. Student representatives of Materials Advantage and the Materials Research Society had the opportunity to meet with Industrial Advisory Board Members before the meeting was adjourned.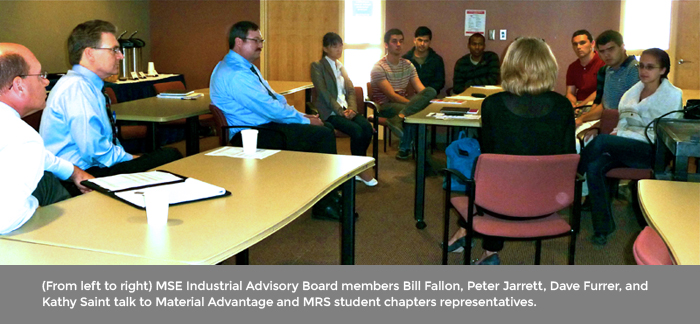 Published: November 6, 2013
Categories: faculty, industry, news
Available Archives