MSE Honors Scholar is Nominee for 2013 Rhodes and Marshall Scholarships
By  kgk00001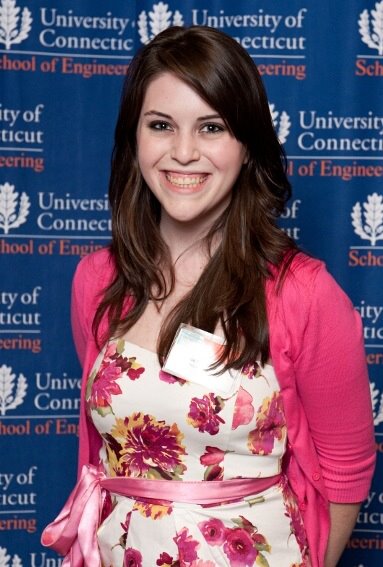 Each year, an interdisciplinary faculty committee at the University of Connecticut reviews applications for nomination and selects top students to compete for the prestigious Rhodes, Marshall and Mitchell Scholarships. The Rhodes Scholarship is awarded to 32 students nationally and funds graduate education at the University of Oxford in the UK.  The Marshall Scholarship is awarded to up to 40 students nationally and funds graduate education most anywhere in the UK. The Mitchell Scholarship is awarded to 12 students nationally and funds graduate education in Ireland and Northern Ireland.
Rose Cersonsky (ENGR '14) from Oxford, CT, is an honors scholar with a major in Materials Science and Engineering and a minor in Computer Science. A one-time Babbidge Scholar and two-time New England Scholar, and a member of Alpha Sigma Mu, she is the recipient of several awards including the Art McEvily Academic Scholarship and the GE Advanced Materials Endowment Scholarship. Her interest in materials science has led to internships working in Polymeric Materials and Structural Alloys at Pratt & Whitney and research on polymer films and nitrogen-based explosives (bombs!) conducted at UConn labs. As a member of UConn's Engineering Ambassadors and Leader of the UTC Engineering Ambassadors Presentation Team, she has worked to spread her passion about all topics in engineering to middle and high school students in Connecticut. She has also been active in tutoring fellow university students in math computer science and materials science. However, her enthusiasm is not limited to computational and materials sciences but extends to the artistic realm as well. For the past four years, she has been involved in a regional theater group, The Gary-The Olivia Theater at the Abbey of Regina Laudis in Bethlehem, CT, most recently playing a lead role in the production of Fiorello! In addition to her research, outreach, and acting endeavors, Rose recently added completion of a 20k road race to her list of accomplishments. She aspires to apply her passion for materials science to a career in textile engineering and developing designs for either NASA or Puma…or both.
Rose is a nominee for the Rhodes and Marshall Scholarships.
Published: September 16, 2013
Categories: awards, news, undergraduate students
Available Archives