MSE Department Welcomes Academic Advisor Mariel Notar-Francesco
By Giorgina Paiella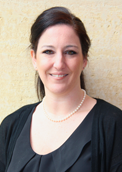 The department proudly welcomes academic advisor Mariel Notar-Francesco to its staff! A Connecticut native, Ms. Francesco was appointed last month to the MSE and CBE departments and the Management and Engineering for Manufacturing (MEM) program. She is one of five new professional advisors who will assist School of Engineering students throughout their academic careers.
Ms. Notar-Francesco earned her bachelor's degree in psychology and sociology and master's degree in counseling for student development in higher education from Central Connecticut State University. She joins UConn after three years at Brown University, where she advised undergraduates aspiring to careers in medicine and law and assisted students on all aspects of the medical, dental, osteopathic, veterinary, and law school application process. Prior to her position at Brown, Ms. Notar-Francesco first spent about five years at CCSU working various roles in the Office of the Registrar. She gained valuable experience as an interim degree evaluator, working with half of the senior class on the fulfillment of course requirements and other academic aspects of the graduation process.
"I have a very holistic approach to advising," Ms. Notar-Francesco states. "My students/advisees can reach out to me about almost anything, not just for help choosing classes. I believe my role provides them with a connection to campus that extends throughout their entire undergraduate career, whether they're experiencing difficulty in a class, dealing with roommate issues, or just having trouble acclimating to campus."
While she will serve as an academic advisor to the incoming class of freshman and the rising class of sophomores, Ms. Notar-Francesco encourages MSE students, regardless of their class standing, to visit or get in touch.
Published: April 21, 2014
Available Archives