MSE Alumna Dr. Anne Silberstein Named to Academy of Distinguished Engineers
By Giorgina Paiella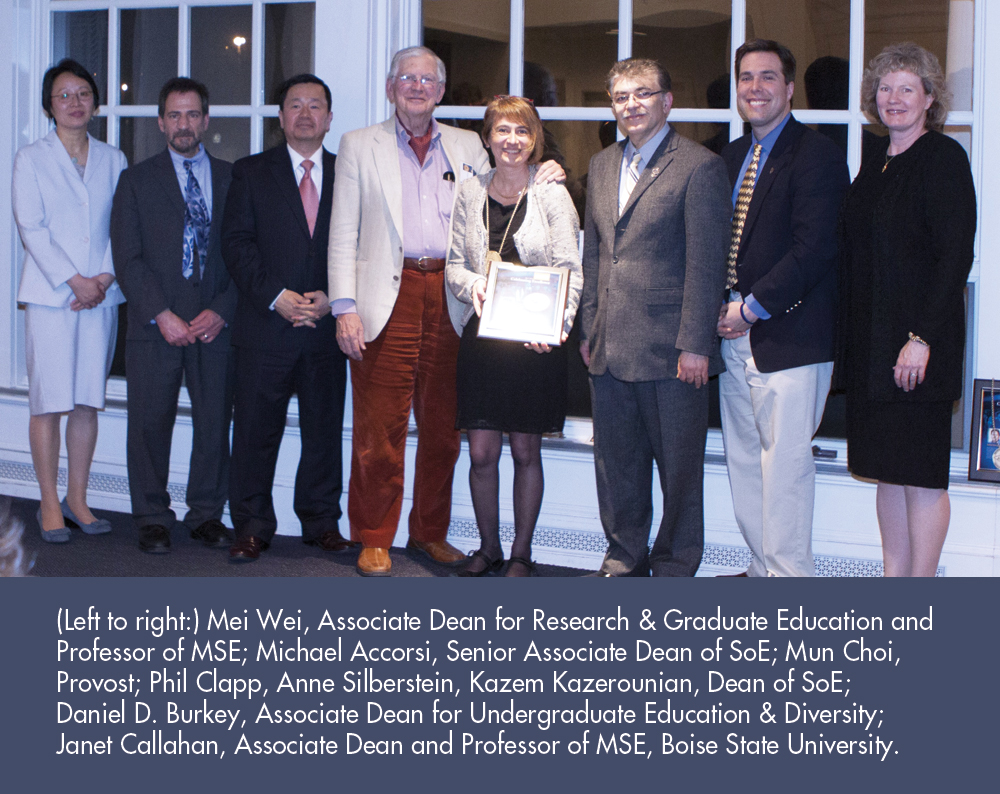 Congratulations to Dr. Anne Silberstein, 2014 inductee to the UConn School of Engineering Academy of Distinguished Engineers.
Founded in 2003, the Academy of Distinguished Engineers honors UConn School of Engineering alumni whose careers are shaped by outstanding, sustained contributions to the engineering discipline through education, research, policy, or service.
Dr. Silberstein received her Ph.D. in Materials Science and Engineering in 1988. Prior to joining UConn, she graduated in 1984 with a master's degree in materials science from the Institut National des Sciences Appliquées (INSA) in Lyon, France.
Dr. Silberstein currently works for Saint-Gobain, a French company founded in 1665 under Louis XIV to produce the mirrors comprising the Hall of Mirrors at the Palace of Versailles. The large, multi-national company now produces a variety of construction and high-performance materials, operates in 64 countries, and is home to over 190,000 employees.
Dr. Silberstein is the International Training Manager for one of the four sectors of the company, presiding over 47,000 people and 25 percent of Saint-Gobain turnover. She collaborates with HR directors of the 55 countries included in the sector to ensure that employees acquire vital technical and managerial skills through local and central organizations. Dr. Silberstein's multicultural experiences, including her fluency in French, English, and German, contribute to her success in serving international markets.
On receiving this distinction, Dr. Silberstein states, "To be identified and selected to receive this award has come as a huge surprise, and is a great honor for me."
Published: May 28, 2014
Categories: alumni, awards, news
Available Archives