KX Technologies Taps into MSE Student Talent
By Giorgina Paiella
The Senior Capstone Program is the culminating experience of a UConn School of Engineering student's education. Over two semesters, senior students take the Senior Design Project course, where they learn about the principles of design, engineering ethics, professional communication, and other real-life engineering lessons. UConn MSE students are educated in materials engineering innovations, learn key leadership skills, and are immersed in the real-life challenges that engineers face.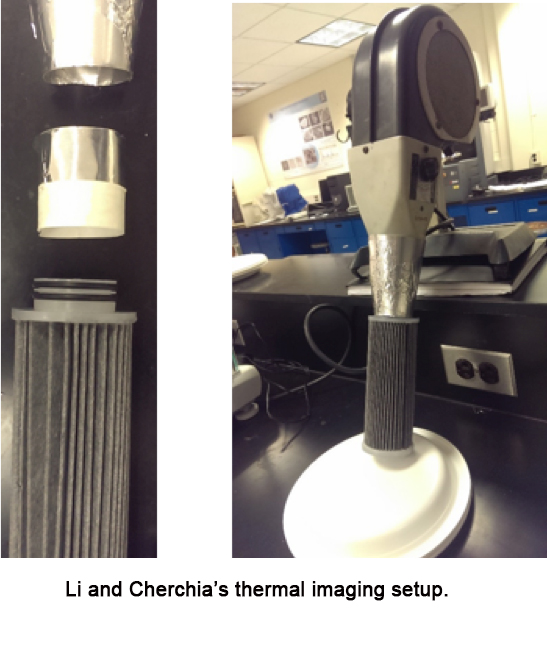 Throughout their final year, students plan, design, and research a project addressing a problem or unsolved issue facing local companies. They identify a problem facing engineers and propose solutions, developing faculty and industry mentor relationships along the way.
MSE students frequently produce exemplary Senior Design Projects in response to challenging materials problems. 2014 MSE graduates William Li and Nicholas Cherchia's project, Select Sealant and Design Quality Control Process for Manufacturing Filter Cartridges, was sponsored by KX Technologies of West Haven. Initially established in 1989 and later incorporated into the Marmon group, KXT provides innovative technologies and custom-designed filtration systems. The company has served as a sponsor for UConn MSE senior design projects for the past two years and a sponsor for a project in the UConn Chemical Engineering department this year.
KXT makes water filter cartridges that are tested for defects using "bubble-point testing." Li and Cherchia's objective was to explore faster, more accurate testing methods as alternatives to the bubble-point process. The team's first approach used thermal imaging to capture hot air being blown through the filter, with defects appearing as "hot spots" on the thermal image. They also tested MRI and X-Ray CT technology to produce high-resolution, three-dimensional images of the sample, producing favorable results for these tested methods. Thermography proved to be the most promising solution for defect detection in water filters, capable of detecting micron-sized defects with the lowest initial and running costs. X-Ray CT produced exciting images, but was deemed cost-ineffective for in-situ quality control testing.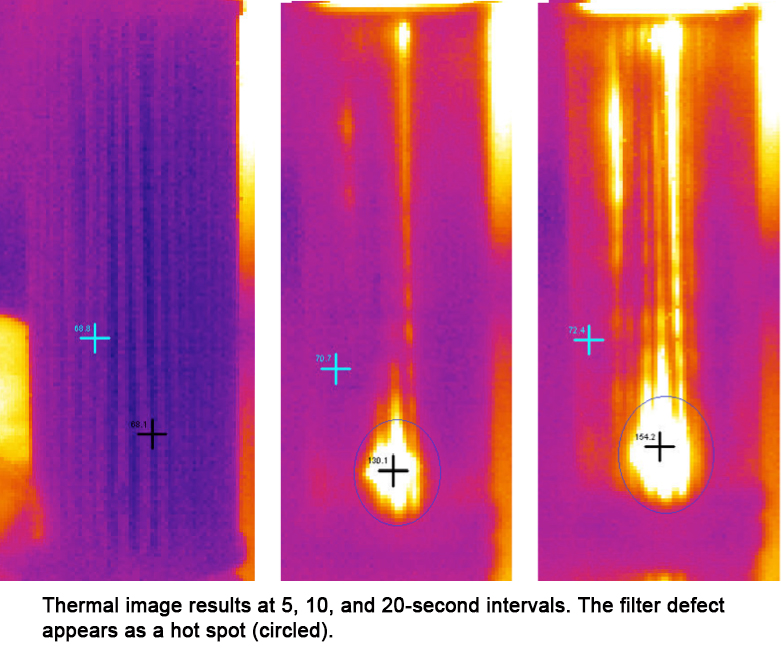 Li and Cherchia were invited by KXT to speak at the Marmon Water Technology Council meeting in February. The Marmon Group consists of Graver Technologies, EcoWater Systems, and KX Technologies. "We wanted to create an opportunity where the students not only can present the work they did but also have the opportunity to interface with potential employers," states industry advisor Dr. Frank Brigano.
The professional relationships established throughout the project and the opportunity to speak at the Marmon Water meeting proved especially valuable when Will was offered employment at KXT.
"The MSE senior projects are an excellent way to interview a person," notes Dr. Brigano. "We had a school year to see how the student interfaced with us and the faculty advisor, how they follow up on project activities, their thought processes, etc. Not only did we get valuable results from their project, but we also got a way to trial a person. It is extremely expensive to hire an individual. The process of using the senior programs at MSE reduces the hiring risk."
Capstone design projects not only provide employers with the opportunity to hire skilled, engaged MSE students, but also create an essential collaboration between academia and industry at the university.
As Dr. Brigano reflects: "Our hiring Will Li signifies the importance we value on our relationship with the University of Connecticut. We are very proud to be able to sponsor senior projects and associate with the University of Connecticut. All of the students that we have worked with at UConn have been extraordinary. We have been extremely pleased with the quality of the students, their work, and with the faculty advisors. We are committed to being a long term "investor" in the UConn MSE program, its students, and the university."
Published: July 11, 2014
Categories: industry, news, research, undergraduate students
Available Archives