Keramos Chapter Founded at UConn
By Giorgina Paiella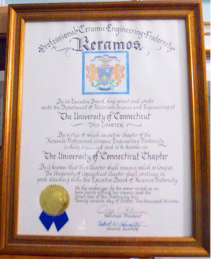 Ms. Sapna Gupta, a Materials Science and Engineering (MSE) graduate student, has founded a University of Connecticut chapter of Keramos with the support of her team leaders and chapter advisor Professor Prabhakar Singh. The chapter was formally announced during the Materials Science and Technology (MS&T '13) conference in Montreal, Canada.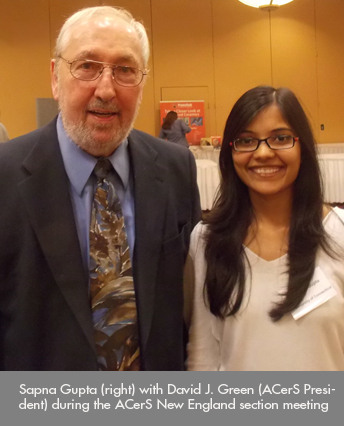 Keramos, the National Professional Ceramic Engineering Fraternity, aims to stimulate scholarship, character, and development in students while promoting interest in the professional aspects of ceramic engineering, technology, and science. There are currently 12 student chapters across the country actively promoting the ideals of Keramos and ceramic engineering.
Ms. Gupta is a Ph.D. candidate in the MSE Department and Center for Clean Energy Engineering who worked with the Keramos Board of Directors to create an UConn Keramos chapter. She is pursuing research toward the development of clean and efficient energy systems, with a focus on high temperature ceramic materials and the development of advanced concepts and designs for new processes. Ms. Gupta presently works on the development and characterization of advanced ionically, electronically, and mixed conducting ceramic oxides for applications in high temperature electrochemical systems under the supervision of Professor Prabhakar Singh, Director of the Center for Clean Energy Engineering and Fraunhofer Center for Energy Innovation. Ms. Gupta is also a current finance Committee Chair of The American Ceramic Society (ACerS) President's Council of Student Advisors (PCSA) and was recently invited to the ACerS New England section meeting to provide a brief introduction on PCSA goals and activities.
She hopes to use the chapter as a platform to encourage and promote involvement and participation of students and faculty members from diverse backgrounds with the common goal of encouraging the future growth of Keramos and The American Ceramic Society. She states, "I am very proud to be a part of the ACerS, Keramos and PCSA. My desire is to contribute to the advancement of science and technology through research, development, and education, thereby serving mankind."
Congratulations and best of luck to the chapter! The leadership positions for the organization are as follows:
President: Sapna Gupta
Vice President: Austin McDannald
Treasurer: Nasser Khakpash
Secretary: Alan Harris
Herald: Chen Jiang
For more information on Keramos, visit http://ceramics.org/classes/keramos. Contact Sapna Gupta for UConn Keramos chapter details and information on how to become a member.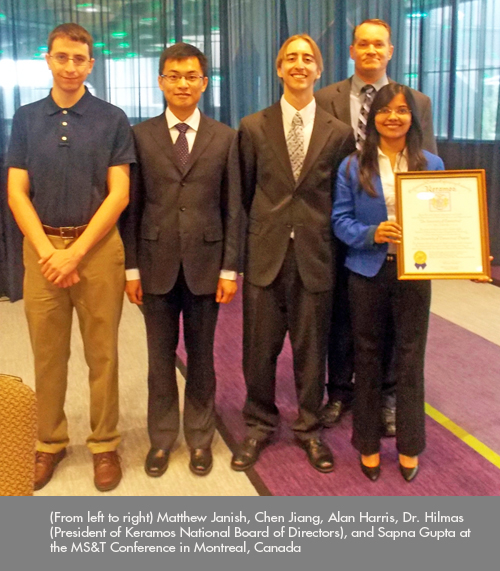 Published: November 15, 2013
Categories: news, student chapter, undergraduate students
Available Archives