"It is up to you how far you go": Engineering Graduates Celebrate 2014 Commencement
By Giorgina Paiella
On Saturday, May 10th, approximately 400 undergraduates in the School of Engineering celebrated the culmination of their four years at UConn. Over 5,000 graduates, family members, and friends gathered in Gampel Pavilion for a day that will remembered as one of great triumph for the graduates, supplemented by unique and unforgettable speeches.
NASA astronaut Rick Mastracchio (ENG '82) delivered a keynote address to the 2014 graduates from the International Space Station, orbiting 260 miles above the Earth. After graduating from UConn with a bachelor's degree in electrical engineering and computer engineering, Mastracchio first began a career with Hamilton Standard (now UTC Aerospace Systems). He then transferred to Houston, where he supported 17 NASA missions as a flight controller and was later accepted into the astronaut corps in 1996. "It is up to you how far you go," Mastracchio told the graduates, reflecting on the hard work and perseverance required to reach any goal.
Mastracchio was presented with an honorary doctorate degree by Kazem Kazerounian, Dean of the School of Engineering, and Provost Mun Choi, which Mastracchio's wife, Candace, accepted on his behalf.
Kazerounian delivered a speech to the graduates on engineering's important role in solving problems facing humankind: "In many ways, the future of humanity is entrusted to you. That gives me comfort," Kazerounian stated.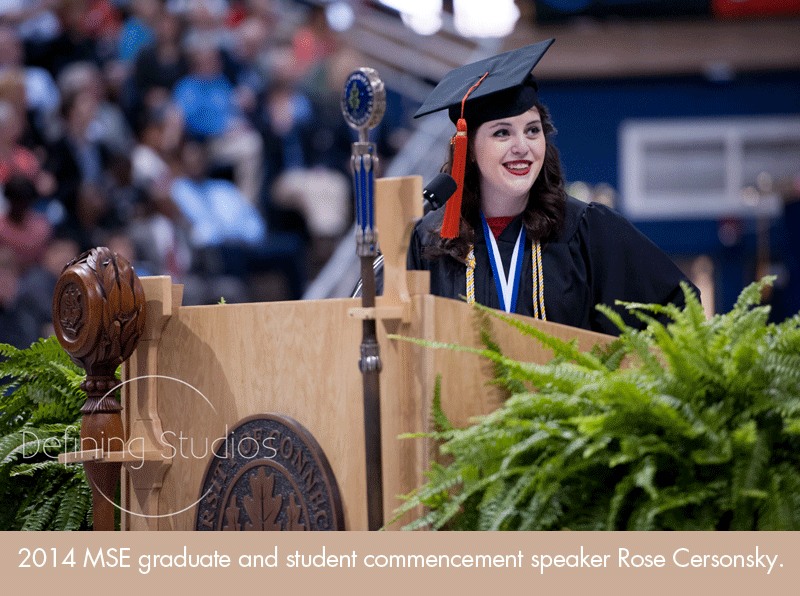 2014 MSE graduate and student commencement speaker Rose Cersonsky reflected on her rich experiences as a UConn engineering student:
At UConn, I have learned that camaraderie is at the heart of personal growth and success. "No man is an island, entire of itself"; I did not get to where I am alone… I have learned much about patience, empathy, and most importantly, loyalty from the amazing people that have surrounded me these four years. And you can often find these lessons in the most unlikely of partnerships.
Rose finished her speech emphasizing the human element vital to the graduates' future aspirations, a message unifying each of the Commencement speeches:
The brains of this audience may be home to the greatest innovations of the future, but I have no doubt in what I say next. The greatest mark that we leave on this world is the impact that we have on those around us. Thank you and congratulations to everyone in this room, together we have done something great.
Congratulations and best of luck to the class of 2014!
Published: May 16, 2014
Categories: commencement, news, undergraduate students
Available Archives