Experience Eurotech: Three MSE Undergraduates in Germany
By Amanda Campanaro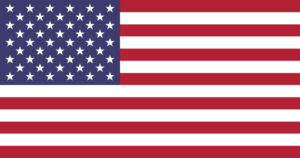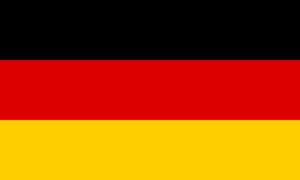 After a year studying abroad in Germany as part of the Eurotech program, three MSE undergraduates are prepared for global careers in engineering. Andrew Jeffery, Benjamin Thieken, and Alex Kinstler are undergraduate materials science and engineering majors in the Eurotech program who spent the year at the Eberhard Karls University of Tübingen, Baden-Württemberg, one of the most famous and oldest universities in Germany. Below, they discuss their experience working, studying, and living in Germany.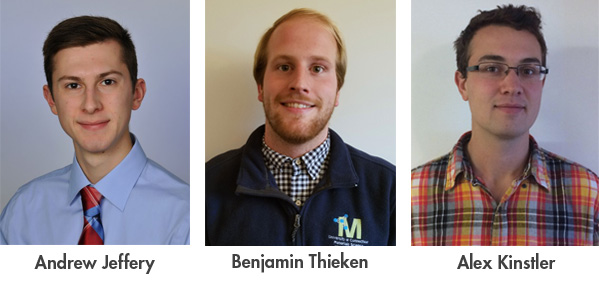 1. What is it like studying at the University of Tübingen?
Andrew: Classes only met once a week, which made it tougher to learn the material.  You have to spend a lot of time studying outside of class to be prepared for tests. The best opportunity to learn the language and culture wasn't actually in the classroom, but
exploring our surrounding city and meeting German people. However, because we were Americans, everyone wanted to speak English with us.
Benjamin: There are fewer school clubsand activities to participate in at Tübingen University than at UConn. There were no traditional dorm rooms, but two students shared a bedroom in a flat with three or five other flatmates. The beer was cheaper and tasted much better.
Alex: German semesters are set up differently. The last three weeks were rigorous, but the rest of the semester was more enjoyable.
 2. How did your MSE classes at UConn prepare you for studying at Tübingen University?
Andrew: We only took German as a foreign language (DaF) courses while studying in Tübingen, to prepare for our internship the next semester. Our MSE classes really played a role during the internship. Since I was a process engineering intern, my job required me to use transferable skills that we have developed as engineers such as problem solving, persistence to problems, and quick thinking.
Ben: I only studied German language at Tübingen, they don't offer engineering courses there. I focused on perfecting my German so I could communicate better at my internship.  
Alex: Tübingen is not a technical university, and we knew going in that we wouldn't be taking engineering classes. We focused on improving our German language skills. Having gained a thorough understanding of engineering fundamentals at UConn helped me get the most out of my internship. Specifically, the work we do in laboratory classes, such as grinding, polishing, or etching characterization, helped me assimilate at my company. I surprised my coworkers with how quickly and correctly I could conduct characterization. 
3. You completed an internship during the last six months of your visit. How did your MSE education prepare you for the work?
Andrew: I worked at an auto parts engineering firm, MAHLE, in the capital city of Stuttgart where I tested turbo charger air filter systems. I was responsible for testing parts for systems from many different customers, including the luxury vehicle companies Mercedes-Benz, BMW, and Maserati. Project management was also a major part of my internship. I learned from my bosses how a multitude of tasks should be handled in a company with over 76,000 employees.
Ben: I worked in the automotive electronics department of BOSCH, a leading global supplier of technology and services, located in Reutlingen a town outside of Tübingen. During my internship, I discovered how important it is to be a part of international business, and it was a good indication of what work will be like after graduating from UConn. My independent work involved three projects that dealt with material properties through mechanical testing, which drew on my education from UConn. My daily duties included test creation through parameters and process manipulation to find desired material properties. It was a pleasure working with the intelligent and passionate professionals at BOSCH. My time in Germany has only enhanced my desire to learn about materials science.
Alex: I was also an intern at MAHLE, an auto parts manufacturer. My department was located in Stuttgart-Feuerbach and specialized in the design, production, and repair of heat exchangers (radiators) for cars and trucks. Specifically, I performed metallography in the examination of broken parts and parts still in design. I was also responsible for the metallography of a high-temperature brazing project, for which I needed to develop a DoE (Design of Experiment) in order to find the best brazing material and parameters for a Nickel based brazing alloy.
4. Why was this experience important to you?
Andrew: I have always wanted to go abroad and explore a new culture. German culture is particularly important to me because I am of German heritage and have a few relatives living there. German engineering is the standard in engineering, in my opinion, so from an academic perspective it was the obvious choice for me. I wouldn't trade this experience for anything else, it was the highlight of my studies at UConn.
Ben: If I could not have gone abroad in college, I would not do it for a long time after. The Eurotech program coincides with my studies in Engineering and German so well that the decision to go abroad was easy for me.
Alex: I learned how German people live. This is important for me, because I was still deciding if I wanted to move to Germany after graduating. Finding out how German natives live helped me make up my mind.
5. How will you build upon this experience in your future?
Andrew: This internship has shown me how a company in Germany operates. Most people have the chance to visit other countries, but we actually lived there, got to befriend the people we were working with and experience both the culture and the workplace from an insider's viewpoint. I don't know what position I am going to have after college, but I want to work for a German company that has a branch in the United States, and then be able to make business trips to Germany. I want to build on my international business experience and acquired German language skills.   
Ben: This experience will help me in my future career because I have broadened my professional network. I got to know many professionals in engineering and other fields, like medicine. I also want to work for a German company with a branch in the United States, so I can travel between the two countries for business.
Alex: This experience showed me what it is like to be an engineer in Germany. If I had not had the opportunity to intern but only to study in Germany, I might not have chosen to start my life there after graduating. This trip was the turning point that opened a whole country's worth of doors. I always knew I wanted to do more in Germany but I didn't know I wanted to move there until I returned to the United States and suddenly felt culture-withdrawal. I'm moving to Germany in August.
Image credits:
Tübingen, view from Stiftskirche
Street view of Reutlingen
Mercedes-Benz SLS AMG
Maserati Grantourismo
BMW Z4 

Published: October 26, 2016
Categories: news, undergraduate students
Available Archives