Dr. Mei Wei Promoted to Associate Dean for Research and Education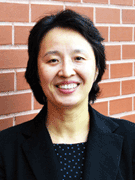 Dr. Mei Wei, professor and undergraduate committee chair of the Materials Science and Engineering (MSE) Department, has been appointed the UConn School of Engineering Associate Dean for Research and Graduate Education.
Dr. Wei joined UConn MSE in 2002 as an Assistant Professor, and was promoted to Professor in 2012. During her time at UCONN, Dr. Wei's research has focused on biomaterials, tissue engineering, biomaterial-cell interactions, and in vivo performance of biomaterials. She is also affiliated with the UConn Health Center Institute for Regenerative Engineering, working intensively on bone regeneration and scaffolding research. MSE congratulates Dr. Wei on her new position within the School of Engineering.
Published: April 17, 2013
Categories: faculty, news, promotion
Available Archives