Dr. Ghanshyam Pilania Received Outstanding Graduate Student Award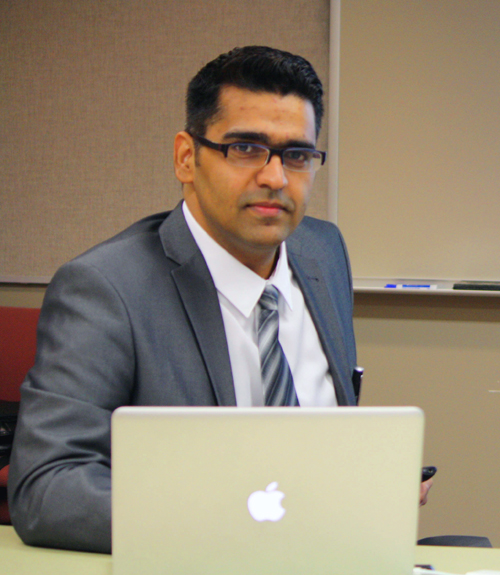 Dr. Ghanshyam Pilania received the 2012 Materials Science and Engineering (MSE) Department's Outstanding Graduate Student Award for his excellent research work and outstanding academic record.
Ghanshyam joined Professor R. Ramprasad's group in the fall of 2007, after having graduated with a Bachelor of Technology degree in Metallurgical and Materials Engineering from Indian Institute of Technology, Roorkee (India). At UConn, Ghanshyam's research work focused on designing and understanding microscopic properties of advanced materials by means of quantum mechanical computations. Some technologically relevant problems targeted in the work included the exploration of catalytic mechanisms for industrially important reactions, designing high energy density capacitor dielectric materials, understanding the shape control of nanostructures, and elucidating the polarization control within nano-ferroelectric materials.  He defended his dissertation entitled "Physics and Chemistry of ABO3 Nanostructures from First Priniples" in May 2012.
"Dr. Ghanshyam Pilania's doctoral work has lead to the discovery of new polarization ordering in ferroelectric complex oxide nanostructures, and to new computational methodologies to quantitatively predict the atomic-level surface structures of complex oxides" Professor Ramprasad says, "The former has implications for advanced digital data storage, and the latter is expected to provide a pathway for the optimization of complex oxide compositions for catalysis applications."
Ghanshyam's doctoral work resulted in 11 publications in leading journals such as the Journal of Materials Science, Nano Letters, The Journal of Physical Chemistry, Physical Review B, and Surface Science. Proving his commitment to academic excellence throughout his graduate studies, Ghanshyam maintained an outstanding cumulative GPA of 4.16.
In addition to his research work, Ghanshyam has been an active member of the Materials Research Society's (MRS) Student Chapter and frequently volunteered for several outreach activities. He served as the chapter president for the term 2011-2012.
Ghanshyam showed a special ability in communicating his research through poster and oral presentations. He was awarded the best poster of the symposium award at the MRS Fall 2011 meeting and won second place in the ASM Hartford sponsored Student Speaking Contest in 2010. He was also able to secure an NSF Travel Grant Award to visit the Fritz-Haber-Institute of the Max Planck Society, Berlin, Germany in July 2011. Also, in recognition of his academic achievements, he was recently inducted into the Alpha Sigma Mu professional honors society at UConn.
Dr. Ghanshyam Pilani is currently working as a postdoctoral research fellow in Professor R. Ramprasad's group and is looking forward to a career in academia.
Published: December 21, 2012
Available Archives