A. Jon Goldberg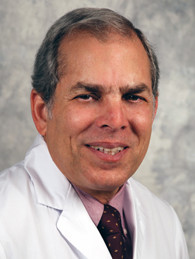 A. Jon Goldberg
Professor
Department of Reconstructive Sciences
Ph.D., University of Michigan
University of Connecticut Health Center
263 Farmington Avenue
Farmington, CT 06030
Phone: (860) 679-4455
Email: goldberg@uchc.edu
---
Research Interests
Dr. Goldberg's research interests focus on studies of structure-property relationships, the development of new dental materials and more recently biomaterial-cell interactions. The work on new dental materials has involved titanium alloys for orthodontic application, fiber-reinforced composites (FRC) for various dental clinical applications, biocatalyzed mineralization and use of high performance polyphenylene polymers in orthodontics.
Dr. Goldberg's more recent work in the area of tissue engineering is a collaboration with Drs. Liisa Kuhn, David Rowe and others. These programs are studying how engineered scaffolds can be designed to influence cell behavior. In particular, lineage-specific green fluorescent proteins (GFP) are used to quantify cell differentiation on biomaterials.
---
Recent Publications
Advincula, M.C.; Patel, P.; Mather, P.T.; Mattson, T. and Goldberg, A.J. 2009. Polypeptide-catalyzed silica for dental applications. J. Biomed. Mat. Res. Part B: Applied Biomaterials 88B (Feb):321-331.
Goldberg, A.J.; Advincula, M.C.; Komabayashi, T.; Patel, P.A.; Mather, P.T.; Goberman, D.G.; and Kazemi, R.B. 2009 (April). Polypeptide-catalyzed biosilicification of dentin surfaces. J. Dent Res. 88(4):377-381.
Patel, P.A.; Eckart, J.; Advincula, M.C.; Goldberg, A.J.; and Mather, P.T. 2009 (Feb). Rapid synthesis of polymer-silica hybrid nanofibers by biomimetic mineralization. Polymer 50: 1214-1222.
Kuhn, L.T.; Liu, Y.; Advincula, M.; Wang, Y.-H.; Maye, P.; and Goldberg, A.J. 2010. A non-destructive method for evaluating in vitro osteoblast differentiation on biomaterials using osteoblast-specific fluorescence. Tissue Engineering-Methods (In press).
Burstone, C.J.; Liebler, S.A.H.; and Goldberg, A.J. 2010. Polyphenylene polymers as aesthetic orthodontic arch wires. Amer. J. Orthodon. & Dent. Orthoped. (In press).
Goldberg, A.J.; Liu, Y.; Advincula, M.C.; Gronowicz, G.; Habibovic, P.; and Kuhn, L.T. 2010 (June). Fabrication and characterization of hydroxyapatite-coated polystyrene disks for use in osteoprogenitor cell culture. J. Biomat. Sci.: Polymer Ed. 21(10):1371-1387.